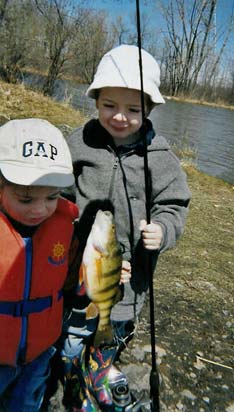 Click here for more perch fishing pics.
Perch are another great way to initiate children into fishing, because they are so abundant and are always willing to hit most baits thrown at them. Furthermore, younger kids love to catch more fish, regardless of size, numbers are a lot more impressive to them. Perch are abundant in most rivers and many lakes thought Quebec and Ontario, and bite under almost any conditions, year round.
Techniques: Perch are quite simple to catch on most days. In Quebec and Ontario, target shallow water between May to September for smaller perch, deeper water for the "big ones". From October to April, the big ones are usually shallower. If you fish with worms use small hooks, if you fish with minnows, use hooks 2-4 sizes bigger. Use light sinkers, to ensure that you feel them biting, and keep a large bucket, as perch are quite tasty, especially if you have the patience to make boneless fillet out of the larger ones.