With the couple fishing trips up North I did in the past few weeks, I haven't had any time for carp fishing since mid June. As I have a few guided carp fishing outings in the upcoming weeks, I got my eldest son Ari into boilie production for the outings.
My home made boilies have outfished the store bought brand and even corn, every time I fished them. Though it's quite a tedious job to produce them, I do so for my customers that hope / expect to land decent numbers of carp on each outing.
I've been experimenting with different flavors and scents, so I had Ari make a few batches of different flavors for my upcoming outings. Rather than wait until the outings to start testing them, Ari and I headed out for the day with 3 flavors to test against each other.
When I'm out with clients, I'll usually stick with what's working best for a given spot. However, when testing, I figured mixing it up as much as possible would yield the most accurate results. The guidelines for our testing were as follows:
With 3 flavors and only 2 rods allowed (mine and Ari's), we would start by trying my Hazelnut/cream boilies against my garlic/cayenne boilies. Each time a fish hit, we would switch the rods over, to determine whether the hit was do to the flavor/color or due to the spot it was cast to.
The day started off real quick, first carp was on withing 5 minutes, we caught 4 in the first hour or so. A storm Thunderstorm and cold front blew in slowing things down a bit, but when it calmed down we caught 3 more carp. 4 carp were caught on the Hazelnut cream boilies, and 3 on the garlic cayenne boilies.
As I was running low on garlic cayenne, we now switched that rod to chocolate/cinnamon boilies. Caught 4 more carp, 2 on each flavour. Late in the day, we ran out of hazelnut cream, so I used the last few garlic cayenne boilies, Ari landed his biggest one of the day at 21 lbs.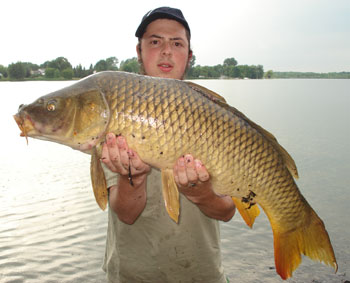 Basically, the comparison test fishing with my boilies leads me to conclude that the flavour, scent and color had little to do with the success of the boilies. The spots we cast the lines to both performed equally well too. I believe that the boilies success is due to the pure, wholesome base mix that I'm using, as opposed to what the store brand shelf life boilies may be putting in theirs. We ended up with 12 carp for the day in about 7.5 hours of fishing, most between 10-20 lbs.