With my wife away with most of our kids, I took advantage and headed up North with my eldest son Ari. Plan was to attempt to catch at least 1 trophy sized pike, which we deemed as any pike tipping the scale at 10 lbs or over.
We chose Lac Wahoo, a lake known to have some pike reaching over 25 lbs. The lake is not too large, so relatively simple to fish. We left early Monday morning, about 3:00 AM. We reached the town of Grand Remous a bit before 6:00 AM, took the long dirt road up to Le Domaine Shannon, which is about 75 KM up into the forest, crossing some of La Verendrye reserve, as well as ZEC Petawaga. We reached the main camp shortly after 7:00 AM, checked in, and headed off to Lac Wahoo, which if about 40 minutes drive from the main camp.
Lac Wahoo has only one cabin on it, so we had the entire lake to ourselves. The cabin is a very basic setup, 2 bunk beds, table, chairs, stove and fridge/freezer. There is no power in the cabin, everything including the lights are run on propane. No plumbing either, which means having to use the outhouse for nature call, and the lake for bathing.
I brought up my small motor, a sonar, and a slew of artillery in my tacklebox that I rarely get a chance to use.
Catching trophy sized pike on Lac Wahoo may be relatively easy in May, but we were there in the middle of the summer, which would make our goal quite a challenge. We got settled, had breakfast, and headed out on our quest for our trophy pike.
Day 1:
We decided to troll around the entire lake to get an idea of what we were dealing with. Turned out that the lake is a Mesotrophic lake, with a maximum depth of about 50 feet. Most of the surrounding shoreline is shallow weed cover, sunken trees are extremely rare on this lake, which make casting to ambush points a bit more of a challenge.
Ari caught the first pike of the trip trolling a Canadian Wiggler, a small 2-3 lbs fish. A short while later, I caught a nice 6.25 lbs pike, which we kept for lunch.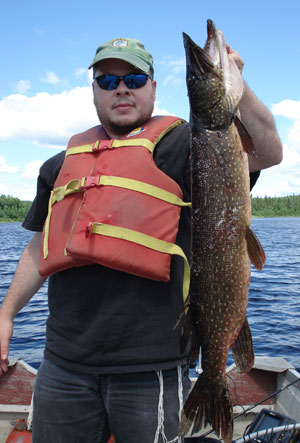 We kept trolling for most of the day, all we caught were more small pike, and a few small walleyes.
After heading for shore to fillet the pike for lunch, we eventually headed out for the evening bite, plan was to cast a variety of lures. First spot we hit was the one where I caught the biggest pike of the day. On my first cast, a couple a huge splashes around my Zara Spook and I had another big pike on the line. Unfortunately, it spit my lure under the boat after putting up a nice fight taking drag. I wasn't lucky enough to get a glimpse of the fish, so it will remain one of those mysteries I'll probably think of late at night while trying to fall asleep.
The smaller pike we hitting extremely aggressively, but with their mouths closed. We landed about 20 pike on 60-70 hits, all of them were hooked on the outside of their jaws, some even in the top of the head. No more big pike on day 1.
Casting off the shore in front of our cabin at sunset, I caught a 16 inch walleye on a Zara spook, first time that's ever happened to me. We kept it for shore lunch the following day.
Day 2:
Temperature was cold overnight, but warming quickly. Fishing was starting to slow down, not much success trolling or casting, except for some more small pike.
After lunch, Ari decided to shore fish a small outflow creek near our cabin, where Lac Wahoo flows into Lac Boss. I decided to try to nap, told him to wake me if he caught anything interesting. Sure enough, 20 minutes into my nap, Ari wakes me up holding up a nice 6 lbs pike he caught casting a Heddon Dying Flutter. He was quite excited at the topwater hit, apparently the pike tail danced at the way in, as the water in the creek is shallow. Too bad I missed the action, but I was now filleting our second keeper instead of napping.
Headed back for some more evening fishing, much of the same story as earlier on, only small pike, but less aggressive than the previous day.
Day 3:
We headed to another lake on the territory. The lake is catch and release only, in order to keep it a trophy lake, usually reserved for guided outings only. Serge (the owner) was kind enough to offer us a day on that lake when we checked in, so we took him up on his offer.
After a good 1/2 hour drive on the rough dirt roads, we finally found the path leading to the lake. We had to carry all our gear, sonar, food and drinks, luckily the boat already had a motor mounted on it, so I didn't need to haul mine along. After a short walk through the woods, we reached the boat.
Again, our plan was to troll around the entire lake, turns out that it was similar in size and structure to Lac Wahoo, but a bit shallower and without any islands. I tied on a old 6 inch Rapala Husky Jerk that Avi found while shore fishing a few weeks ago. After polishing it and putting on new Gamakatsu ultra sharp treble hooks, it was ready for action. Sure enough, I got hit within a few minutes, a nice 16 inch walleye: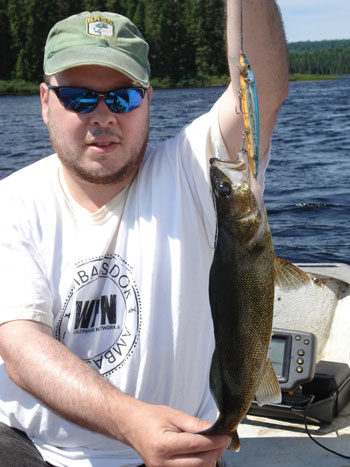 I caught 5 more walleye on that pass, then eventually our first pike of the day, a nice 7 lbs fish: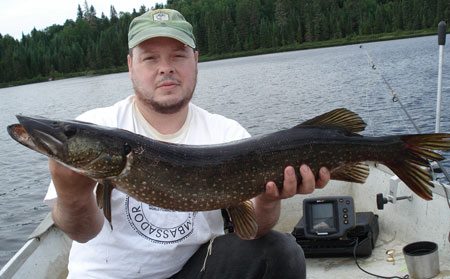 Trolling back around the lake was tough, as we were fighting high winds in a small boat. Not knowing where shoals started or ended didn't make our life much easier. Just as we were finishing our first pass around the lake, Ari got his first hit of the day on a Rapala X Rap deep diver. He thought he'd hooked into a log, until the "log" started moving. Turned out to be a nice 8 lbs pike, biggest of the day, and Ari's biggest pike to date: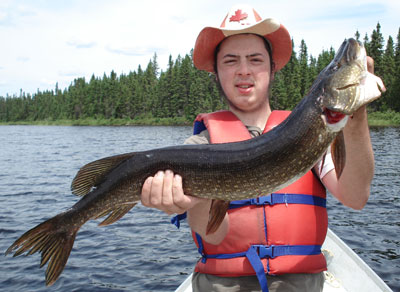 We caught another 10 pike or so, most in the 2-4 lbs range, as well as some more walleye. Only one of our fish was caught casting, the others were all caught on the troll. We had to leave early enough to make our way back before sundown, last thing I wanted was to risk getting lost or stuck after dark on unnamed forest roads in the middle of nowhere.
We made it back just around sunset, I set up a fire to grill our burgers, while Ari decided to try shore fishing the spot where he caught his pike the previous day. Sure enough, he got another hit on his Dying Flutter, but this time the pike cut his line a stole the lure, as fishing the lure with a leader is impossible.
Day 4:
Fish were just shut about down with the heat wave that had moved in. I was already in my bathing suit for the morning outing, I knew that our chances of landing a trophy pike in this sort of weather were next to nil. Still, I took the time to cast and troll some big lures. Surprisingly, my Musky Jitterbug paid off, caught this suicidal pike that attacked it while casting: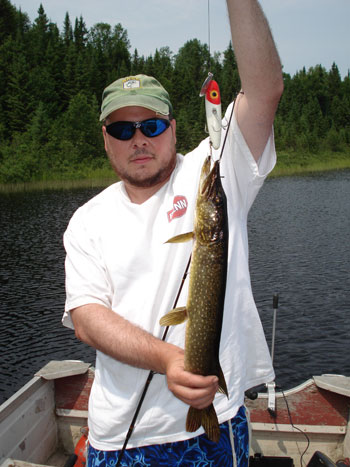 Caught some more on small weedless frogs, until my frogs were eventually destroyed by the pike.
After lunch, Ari decided to try his shore spot using a Heddon Torpedo. It eventually paid off, he landed a small 3 lbs pike. Incredibly, it had his dying flutter still hooked in it's mouth, so he got his lure back, released the fish, and will have an incredible story to tell for the rest of his life. Apparently, the pike in his that spot seem to have a taste for Heddon lures...
After the pike stopped biting in his spot, Ari decided to try fishing with worms for the first time in the trip. He found a sweet spot around the end of some riffles, caught about 80 lake mulets in an hour, most in the 4-6 inch range.
Eventually, we headed out for our last chance at our trophy pike. With the ground temperature at 36 Celcius, we knew our chances were close to none. Casting wasn't effective, so we went back to trolling. First fish was a suicidal 8 inch walleye that hit my 6 inch Husky Jerk: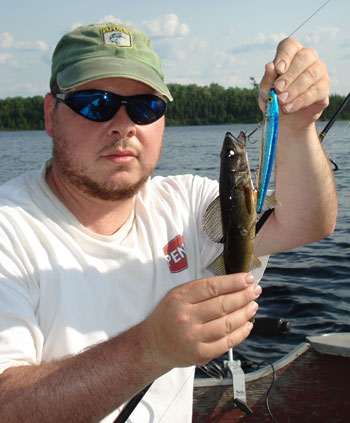 We caught a few more pike, including another 4.5 lbs fish that we kept. After some more casting just before dark, we called it a trip.
Turns out that the first day of the trip was the best, as we was the tail end of a cold front. As the heat moved in day after day, fishing for big pike that need cold, well oxygenated water, got a lot tougher. I don't doubt that there are some monster pike in Lac Wahoo, the number of "hammer handles" attest to it. However, early and late season fishing is surely the best time to chase those trophy fish, as opposed to the dead center of summer. Unfortunately, I can't take of for weeks at a time to chase pike when my kids are in school, so I'll have to live with planning my fishing trips during the summer for the foreseeable future. May that be my biggest problem...
Despite us not catching our trophy pike, we had a great time, and still managed to get into some good fishing despite the conditions. We got to spend some quality father/son time together, which I really enjoyed, as Ari is away for school in the U.S. 10 months of the year.
I highly recommend Le Domaine Shannon for anyone interested in fishing for walleye or trophy in a clean, pristine setting of the deep woods of Quebec. For more information on or to contact Le Domaine Shannon, click: http://freshwaterphil.com/ledomaineshannon.cfm