With most of my work out of the way after last week's mini fishing vacation, and some nice sunny weather in the forecast, I was contemplating where to fish this week. Just as I was weighing my options, the phone rang. It was my Friend Mike, who runs Musky Mike Charters, inviting me out to fish for musky. His timing couldn't have been better, I took him up on his offer and we headed out this morning.
Musky fishing is not your typical day of catching fish. Many muskies stay inactive most of the day, only to turn on to feed during short windows of opportunity, mainly based on moon phases. Mike swears by these phases, and predicted that today's prime time of opportunity should be between 1:00 PM and 3:00 PM.
We got started trolling big musky lures around 9:30 AM. We hit many spots he had marked in his GPS, all without success. After making multiple passes at a given spot, we gunned it over the the next spot in Mike's 21 foot Lund boat. Equipped with a 175 HP Mercury outboard, we managed to hit speeds over 50 mph.
We trolled all morning and into the early afternoon. 1:00 PM rolled by, not much change. Finally, we got the first hit at 2:00 PM. I grabbed the rod, musky on! Not too much of a fight, we had a chunky 40 inch male musky in the net within minutes.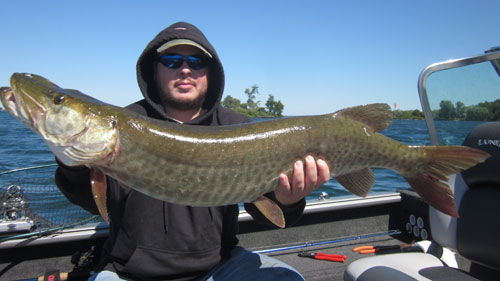 Mike tagged the fish, as he is participating in a government mandated musky study. After a quick pic, we revived and released the musky.
We Attmepted a second pass at that spot. Sure enough, we had another musky on the line within minutes. A bit of a better fight, the female musky was slighty larger at 42 inches, we a real neat leopard pattern of marking on it's back.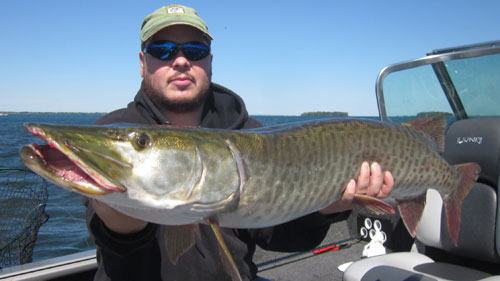 Still not a giant, but at least they were getting bigger.
We set up for a third pass, not much else going on for about half hour, Mike decided to head off to another spot. Just as I was about to bring in my rod, it went off. Mike threw the boat back into gear to ensure that it was on, but I was 100% sure... When the fish surfaced, I knew it was the one I've been waiting for. It charged the boat, which made my life a bit easier, but I noticed it wasn't hooked to well. Just as Mike tried to net it, it darted away, and somehow got it's big head, along with the lure stuck on the outside corner of the net.
It was now impossible to net the thrashing fish conventionally. Mike passed the net over to me, somehow managed to grab the big musky by it's tail, and flipped it over into the net. The brute force of the angry musky managed to snap the lure in half: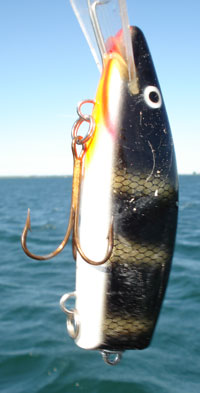 We finally got the big musky into the boat, my first trophy musky measured in at 52 inches, a nice fat female probably weighing close to 35 lbs!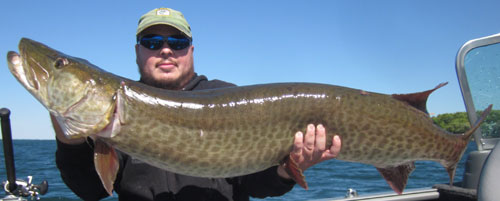 Needless to say, I was more than thrilled at seeing a musky that size, let alone being the one to fight and land it. We called it a day shortly after.
Though I've fished with Mike a number of time before, his unbelievable expertise fishing for muskies never ceases to amaze me. His prediction was extremely accurate, as all 3 fish were caught between 2:00PM and 3:00 PM. Not to mention his being able to find and target finicky fish in Canada's biggest river, and having the gear necessary to land a safely release them to fight another day.
Musky season is just starting to heat up with the cooling water temperatures. Big muskies are going to start feeding heavily before the winter.
I highly recommend Mike to anyone looking to catch trophy sized muskies. Contact mike by clicking: http://freshwaterphil.com/contactmike.cfm