With hurricane Sandy bringing in a wet cold front to end a week long warm spell, I decided to catch the tail end of the "warm" water before it drop into the 40's. Planned to test my new rainsuit, weather forecast called for rain most of the day, and 20 KM East winds. Seemingly good condition to test a rainsuit. Also planned to test a 9 foot medium heavy action rod I picked up for next to nothing.
When I got to my spot, I had the choice of fishing either shallow or deep. Surprisingly, there was no wind at all, and the sun was shining bright. Water surface was like a mirror. I immediately noticed some carp surfacing in very shallow water, so I decided to fish shallow, in less than 6 feet of water.
I was out of boilies, and didn't get around to producing any more, so I decided to fish with canned corn. Instead of using fake popup corn, I opted for Trader Joe's toasted corn I often snack on. It's extremely buoyant, and carp seem to like to salt too.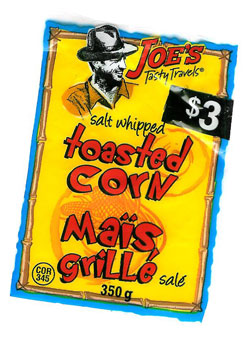 Was kind of quiet for the first hour or so, then 3 carp in a row. First 2 were small, in the 4-6 lbs range, 3rd one was nicer, just over 19 lbs. Unfortunately, I'm having issues with the "autoshoot/timer" function on my camera. As I was fishing alone, I was forced to use it in order to get pictures, I hoped for better results.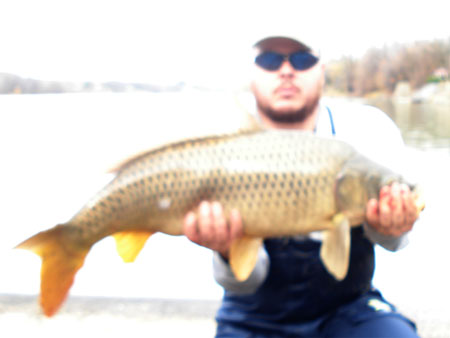 Fishing slowed down, nothing doing for the next 1.5 hours. Sitting there snacking on sunflower seeds, I noticed hundreds of tiny minnows trying to eat the shells I spit into the water. I decided to use the shells as stoppers on my hair rigs instead of the regular bits of twist ties.
Ended up working like a charm. I caught another small carp within minutes, then another 3 small carp. Next one was bigger, I knew it as soon as I hooked up. When it finally surfaced, I noticed the size, definitely over 25 lbs, possibly close to 30 lbs. The fish wouldn't give up, refusing to get close enough for my to land it while fighting it off the top of a wall with the other hand. I finally did, and noticed a lamprey on it's back.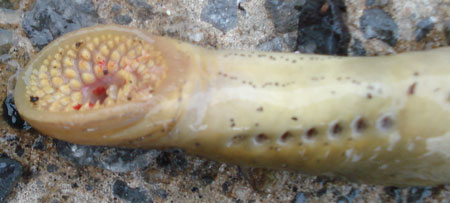 Finally weighed the big carp, it weighed in at exactly 27 lbs. Measured 35 inches with a huge girth.
Fished jumped for the first picture, just as the finally functioning auto shoot / timer worked properly.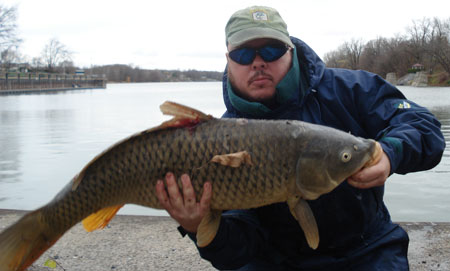 I shot a second picture, got the fish to stay still, but my camera had other ideas: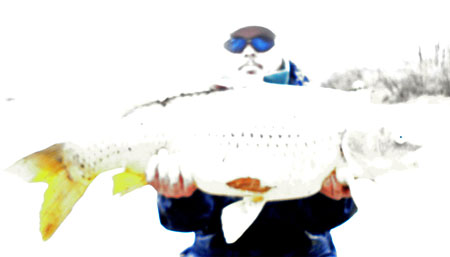 Oh well, will have to catch a bigger one and hopefully get a proper picture next time.
Missed a couple hits after that, and then it was time to leave. Didn't get to test my rain suit, as it didn't rain all day. The rod held up very well, though I noticed myself fishing with lighter drag setting than normal, due to the stiffer rod tip.
Overall, was happy with my outing. I hadn't been to that spot since last winter, and the trick n treat (more like treat to trick) carping worked out quite well in late fall. Hope to make it back there if the WWW (Weather, Work, Wife) permit.