Well, it's been a long spell of no fishing for me by my standards, just about 7 weeks or so. I tend to get swamped with work between haloween and x-mas, doesn't leave much time to fish. Finally made it out with my 4 boys for the season's first ice fishing outing, as they are off school for nearly 2 weeks for new year's break.
Unsure whether or not I would be able to find safe ice around the city today, we headed up North to fish for Rainbow trout, where the ice has been safe for a good 2 weeks or so. We were allowed 5 lines total, and a quota of 10 trout. Goal was to leave with our quota.
Got up to our spot and got set up a bit before 10:00 AM. We set up 3 ice rods with my special rig for ice fishing trout, namely, a micro jig at the end of the line, and a small #8 hook about 15 inches higher, both baited with live worms. The 4th line was a classic "brimbale" supplied by the outfitter, and my 5th line was reserved for jigging lures.
Took a bit over 1/2 hour for Ari to get the first trout of the day, then followed by two more back to back trout for Ari.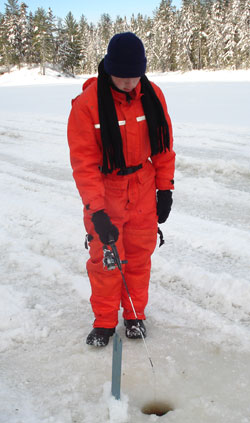 Avi followed with another nice rainbow trout of his own. After about 1 hours worth of jigging a small Rapala jigging Rap unsuccessfully, I switched to a Peewee Williams Wabbler. No success after another hour, I finally switched to my classic worm/jig setup.
The switch paid off, and sure enough, Ari and I we pulling them out one after the other. We ended up landing a total of 15 trout and a few suckers.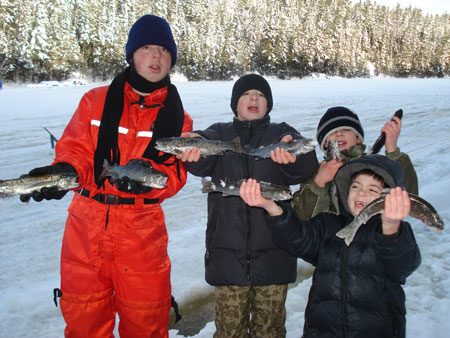 The boys made an ice well to keep our fish fresh: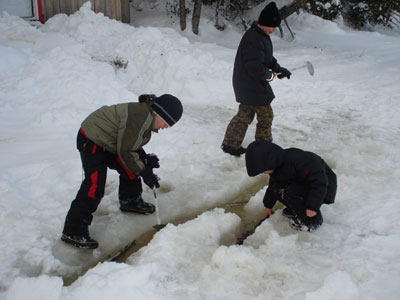 Took a short video of one of the throat hooked fish trying to survive:
Though we had paid for a 1 quota of 10 fish, many of the trout were throat hooked, so I kept them anyway.
Ari has his own license, so we are legally allowed up to 20 trout between the two of us. Of course, I told the outfitter about it on our way out, he charged us another few bucks for the overage, just as I imagined he would. After all, the trout are stocked, so it's his bottom line.
Overall, the kids enjoyed the outing, and so did I. The weather wasn't too cold, I was able to stay out during the entire 6+ hours. Besides for the great fishing, the kids had a blast playing outdoors all day instead of being glued to the Playstation or Wii.
For more information on fishing at or to contact Pourvoirie Coin Lavigne, click: http://freshwaterphil.com/pourvoiriecoinlavigne.cfm