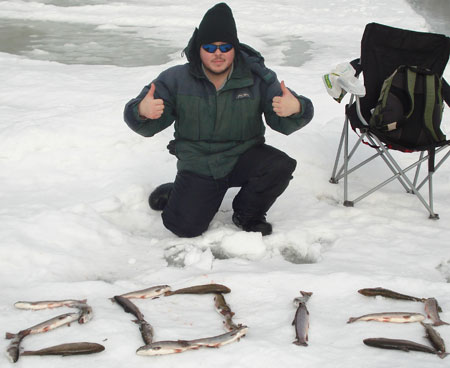 I recently met a new friend that immigrated here about a year ago from down South. Originally from Peru, he made his way up here from Florida. Strangely enough (to me), he has never fished before. He has been wanting to try some winter outdoor activities, so I invited him out to try ice fishing. After making sure he had enough warm clothing, we headed out to fish for brook trout.
With the rain and warm weather we have been having recently, much of the ice surface was smooth as a skating rink. Some areas still had a thin upper layer of ice, with a couple inches of trapped water in between the bottom layer, made walking quite difficult, as water on ice is about as slippery as you can get.
After showing my friend the the rod an reel combo works and explaining how to set the hook and bring fish up through ice holes, I showed him how to use the manual auger to drill holes as well. Fishing started off a bit slow, took about 1/2 hour for him to land his first fish ever: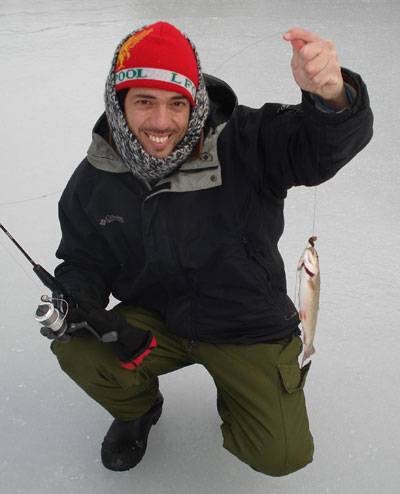 Took him 36 years to do it, just another proof that it's never too late (or too early) to start fishing. The morning continued quite slowly, we drilled many holes moving from spot to spot with a few more fish. We eventually hit a nice sized school, and the fishing heated up quickly. My buddy even landed a double header: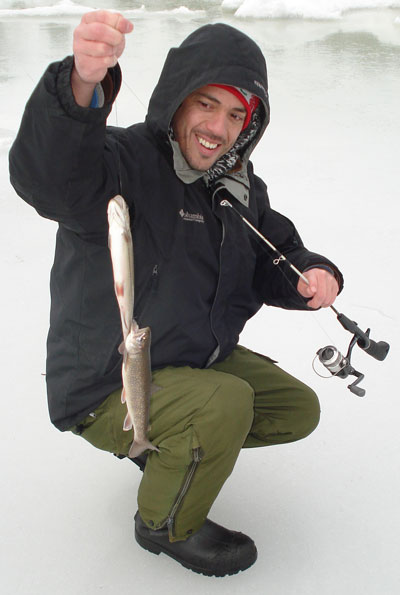 Not to shabby for a beginner! The bite was red hot, we quickly filled our bag limit of 20 fish.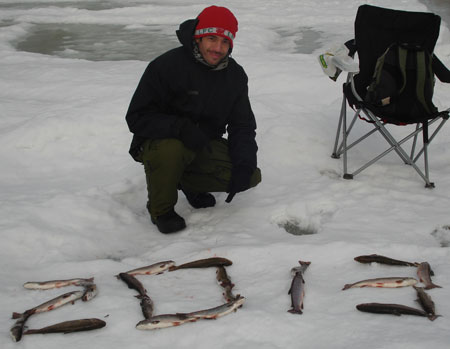 Though he loves eating fish, he's never had to clean them on his own before. Regardless, I'm quite sure it will be a tasty learning experience for him.