The brutal cold front finally ended, was itching to get out on the ice again, as I've been trapped in my office behind my keyboard. I rarely fish in places that have cabins or drive on access by car. I don't use a shelter either, so the weather has to be bearable in order for me to spend a comfortable days outdoors in January.
Plans were to test and hopefully catch some fish with the help of my new toy for this season, the Humminbird Ice 35 flasher. I was still undecided as to how important or useful this piece of equipment will be for me. Many serious ice fishermen swear by flashers, but I'm not that much of an ice fisherman, and most of the areas I fish are rather shallow.
Headed out with a buddy of mine, decided to try an area I had ice fished only once before, without much success. Got set up around 10:00 AM, plan was to jig small Rapala Jigging raps and see if I got any response on the Humminbird Ice 35 flasher, in which case I'd test to see if coaxing the fish to bite would actually work.
I drilled the first couples holes over 10 feet of water, no response, nothing marking on the Humminbird Ice 35 flasher except for my lure. I moved out deeper, drilled over 14 feet. Set up the flasher, dropped my line, and instantly, I saw a fish come off the bottom after my lure. Landed my first perch of the day, a nice 10 inches, perfect keeper size. Unfortunately, the fish wasn't part of a school as I had hoped, and that was it for the action in that hole for the time being.
My buddy had a small handheld sonar, more for measuring depth than for marking fish. After jigging unsuccessfully with soft plastics, he switched to jigging live minnows. His tactic paid off, he landed a pike not long after switching his bait: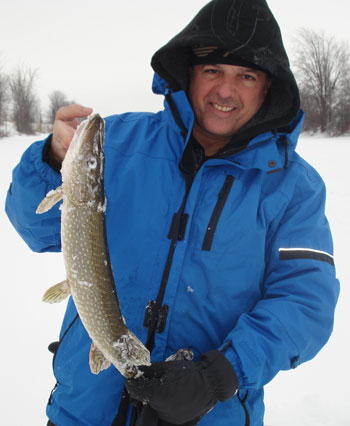 I continued drilling holes in various depths ranging from 10 to 16 feet, then power fishing them with the Humminbird flasher / Rapala Jigging Rap combo. I eventually switched colors from black and silver to blue and silver. Response was instant, a small school of perch surrounded my lure, and within a couple minutes, I had 5 more perch on ice.
My buddy landed another pike jigging a small spoon with a dead minnow on the treble hook, and fishing slowed down for a while. I eventually marked some finicky fish coming up to my lure, added a small minnow head to it. Tactic worked, I caught my first bluegill of the season: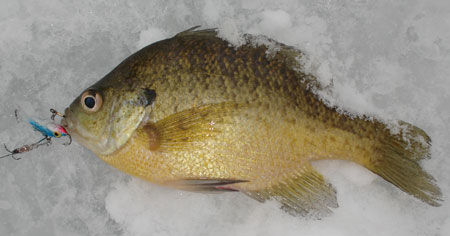 Eventually managed to more bluegill and more perch, but they were extremely finicky, and had to be worked. I would have been able to pinpoint their location and coax them into striking my lure without the help of the Humminbird flasher.
Headed out with my Humminbird flasher again, about a week after originally publishing this blog post. This time, the weather was significantly colder, around -8 with the wind gusting at 25+ km/h, made it feel closer to -15 in the sun. Plan was to alternate using the Humminbird between myself and my fishing buddy, to see how we would do with it vs. without it given the same conditions and location.
Got set up around 10:30, started off jigging with a small jigging rap. The lure was immediately swarmed on the Humminbird flasher's screen, didn't take much effort for me to catch a good 20 or so perch in the first hour. My buddy who is quite new to fishing was having a tougher time, but still managed to land some without the flasher. We eventually switched, and sure enough his catch rate increased, while mine decreased. That was when I started realizing how finicky the fish actually were, probably do to the cold/sunny conditions associated with the high pressure.
As the high pressure cold front kept moving in, the fishing slowed down. Eventually switched spots, didn't do much better except for a nice jumbo perch. Switched back to our original spot for the afternoon / evening bite, by now, my buddy was getting cold and wasn't too interested in unhooking fish anymore. He eventually spent the last hour in the car with the heating on, as the setting sun and dropping temperature went felt below -20 with the wind.
Unfortunate for him, as the bite was on. The fish got really aggressive as long as I was jigging suspended at about 9 feet over a 14 foot bottom. Again, I would have a tough time figuring out the sweet spot without my Humminbird Ice flasher. Caught a good 25 perch in the last hour of the day, and a small bass on a Williams Wabbler: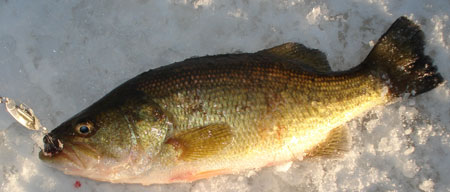 On both of these outings, the flasher proved to be extremely useful. It helped me decide whether or not to drill/switch ice holes, what depth and style to fish at, but most importantly, I was able to see exactly how the fish respond to different lures, depths and methods. I wasn't sure whether or not I was going to hang on to my flasher or sell it, but I think it's a keeper.