With a warm front moving in this week, I decided to head out on my first solo outing of the season. My original plans to go later this week were changed, probably for the best, as the warm weather and rain in the forecast will probably turn the ice surface into a slippery pool covered in 6 inches of water within the next few days. During the outing, I planned to do some more testing of my new Humminbird Ice 35 flasher, as I still want to determine whether or not this expensive toy will lead to additional success while fishing on ice.
I planned to hit a few spots for a few hours each. Got to my first spot, only to find knee to waist deep snow covering the most of the ground I have to cross to get to the water. Carrying all my gear, drinking water, flasher unit with battery, folding chair, ice rod and auger, proved quite difficult due to the deep snow (my short legs don't make it any easier). I got back into the car and headed to my second spot. Though I have easier access, the water is shallower for the first half kilometer or so. I drilled my first hole, a good 10 inches of solid ice, so I knew it was safe. Dropped the transducer in the hole. marked the bottom at 6 feet. Dropped my small Rapala Jigging Rap, and hooked a perch within a few seconds. It didn't mark on the flasher, despite having the gain set high enough to show my lure.
Headed towards deeper water, drilling and fishing along the way. Caught a few more perch. Eventually found a snowmobile track leading to deeper water, so I was confident that I was still standing on safe ice. Drilled a set of holes over depths of 6 to 18 feet, still 8 inches of ice on the surface, despite the slight current. Fished a couple hours without success trying a variety of depths and lures. The flasher marked occasional fish, I imagine they were bait fish, was they registered about the same size us the small lures I was using.
Eventually, I got bored and made the long trek back to the car carrying all my gear. I had the choice of either returning to my first spot close by, or trying 2 new spots I've never fished on ice yet. Decided to head back to my first spot, this time, taking only the bare minimum need to access the water and start fishing, due to the extra deep snow I had to walk through. This meant leaving the heavy/bulky flasher in the car, but not the end of the world, I'll get more time to test it this winter.
Got to my spot, drilled my first hole over 16-18 feet. Started jigging the bottom with a small Kastmaster micro soon, no success. Eventually, I switched back to my Rapala Jigging Rap, caught a nice perch after couple minutes: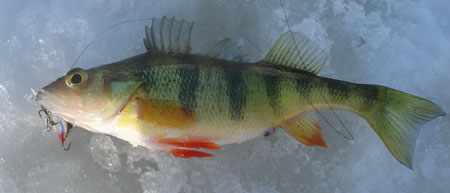 When I unhooked the perch, it burped up a small baitfish, very close to the color and pattern of the Rapala jigging rap I was fishing. Just about a perfect case of matching the hatch.
After fishing the bottom and catching a couple small perch, I decided to try jigging a bit higher in the water column. I brought my lure up about 3 or 4 feet, and within less than a minute, I hooked and landed my first bass of 2013:

Nothing too big, maybe 8-9 inches or so, but still a largemouth bass, nice surprise on ice. I continued the suspended jigging, and the hole I drilled produced another nice surprise, a fat black crappie: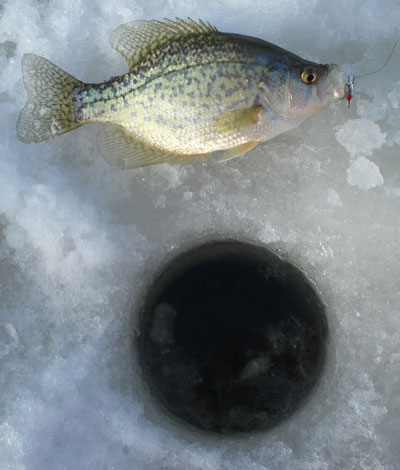 The spot kept producing good results. Despite drilling a few more holes, my original one was where I hooked most of the fish over the rest of the afternoon. In about 3 hours of fishing the spot, I landed a total of 4 largemouth bass in the 7-12 inch range, 9 black crappies and about 20 or so perch. Pretty decent, as I was using only 1 rod and 1 lure, no bait. I hope to go back soon, this time with the flasher, to see how the suspended / feeding fish show up on my flasher.
Kept a few of the larger perch and crappie, had them for breakfast this morning backed in a butter / lemon pepper sauce, quite delicious. Though I rarely keep fish other than trout for the table, it's extremely rewarding and very Canadian (and tasty) to be able to eat fresh caught panfish in the middle of winter.