Finally booked my first spring fishing trip, after years of always doing them in the summer. After last summer's success at le Domaine Shannon, I had big expectations for my spring fishing trip, hoping to land some real monster pike. Took Avi along for the 4 days trip, he earned a well deserved trip.
Left Montreal just before 3:00 AM Monday morning. Trip went quick enough, the main dirt roads up to the main camp were in surprisingly good condition. Arrived the the main lodge at 7:00 AM, checked in and got some tips regarding the fishing. Seems like the best bet for a big spring pike up at Le Domaine Shannon is still fishing with dead minnows. Not exactly what I had in mind, but figured I'd try it, in addition to trolling some new lures a I picked up and possibly some casting.
Lac Wahoo is the one of the more remote lakes on Domaine Shannon's territory. There is only one cabin on the lake, so we had the entire lake to ourselves. The last 13 KM to the lake were treacherous, made me question my decision to rent a Corolla to go up there. 2 weeks of storms had washed away all the sand and most of the gravel, leaving exposed boulders, huge holes, and some streams and ponds in the middle of the narrow dirt roads. Luckily, we managed to make it without getting stuck.
Day 1:
First day was extremely slow. We caught a grand total of 5 pike, nothing over 3 lbs.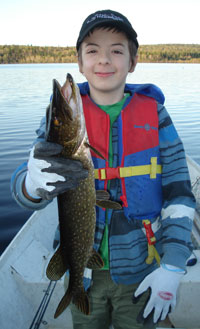 All were caught trolling, none casting or still fishing.
Day 2:
Woke up to freezing temperatures, thin layer of ice on the boat. Needed to put on the winter gear for the early morning troll: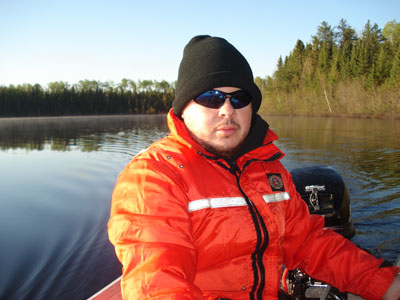 Fishing was slow again, caught about 6 or 7 pike, all trolling except for 1 I caught casting a spinnerbait. Again, none over 3 lbs. Weather warmed up quickly, by the afternoon, Avi and I were sitting in the air conditioned car in order to cool off.
Day 3:
A full day of light rain in the forecast. Time to test my new rain suit, which held up very nicely.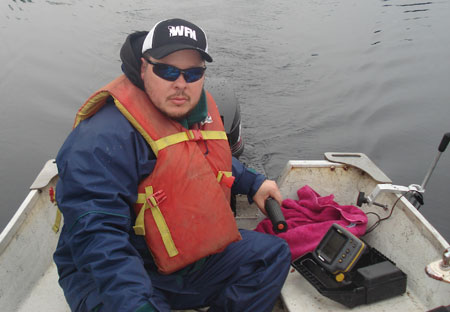 The black flies and mosquitoes were just starting to hatch with the warm wet front coming in. Avi finally hooked into our first nice pike of the trip, landed the 8 pounder trolling a Daiwa lure. Also caught my first pike on a dead minnow, unfortunately nothing big, maybe 2.5 lbs.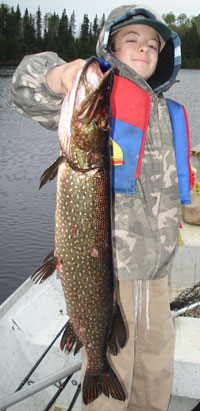 Fishing slowed down, the rain got heavier, we drove back to the main lodge to plan the next day.
Day 4:
We decided to fish another lake, this one is catch and release only. I fished it last summer with some good results, and was hoping it would pay off again.
Started trolling, first pass around the lake got us about 5-6 pike, biggest being 4 lbs: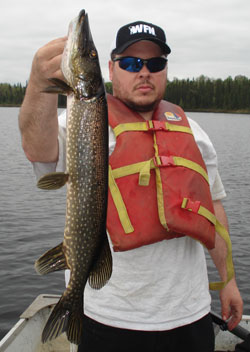 After the first pass, I decided to start casting, Hooked into a nice pike on my second cast with a spinnerbait,
it put up a great fight. Unfortunately, it spit the hook near the boat, but at least I got a couple glimpses at it, I'm guessing in the 6-7 lbs range. After casting unsuccessfully for a while, we went back to trolling. More of the same small pike throughout the day. Eventually started casting again, got a follow from a real nice 10 bs+ pike, but unfortunately, it was just a follow. Typical of big spring pike. Despite my repeated casting in that area, it never came back for a second look. Day ended with us catching about a dozen pike, mainly trolling again. The bugs were hatching all around us, by the time we got back to the car, there were huge clouds of mosquitoes and black flies swarming all around. By some miracle (and tons of bug spray), Avi and I managed to get away with only 1 bite each.
That was all for the fishing. Nowhere near what I had convinced myself of what the fishing was going to be. Seems like everyone at the lodge was having a very tough time, for both pike and walleye. Even the spring bear hunt was off it's normal pace. Water was quite cold, 49 degrees fahrenheit when we arrived.
Still, Avi and I enjoyed our father/son trip into the wild woods. We had sunny skies for 3 of the 4 days, so we were able to fish 10+ hours on those days. We had some nice BBQ's, and spotted some interesting wildlife, including eagles, tons of wild rabbits, a fox and a moose on our way home.
I definitely plan to return to Le Domaine Shannon, probably going to chase walleye next time around, as I haven't done so in nearly 3 years. Trip will probably have to wait for next year due to my busy summer schedule.
Having fished there 3 times now, I highly recommend le domaine Shannon for those of you looking to get away for a wild fishing trip in the woods. The have about 30 lakes under their jurisdiction, many have secluded cabins. The main lodge has about 18 cabins, and offer meals in their large dining room, as well as a bar, and even satellite internet service.
I highly recommend Le Domaine Shannon for anyone interested in fishing for walleye or trophy in a clean, pristine setting of the deep woods of Quebec. For more information on or to contact Le Domaine Shannon, click: http://freshwaterphil.com/ledomaineshannon.cfm