Many people avoid fishing during intense heat waves, for various reasons. Some can't take the heat, others have trouble finding or catching their target species when the water is at it's warmest. If fished properly, heat waves can be just as good a time as ever to have some great outing, and even catch some big ones. I managed 2 back to back outings this week, on 2 of the hottest days of 2013 so far. Both outings were quite successful, yielding big fish in good numbers.
Took my wife out to fish for carp on the hottest day of the summer. Ground temperature was in the mid 30's, but the humidex was at 43 degrees Celsius (109 Fahrenheit)! To remain alive outdoors all day in this sort of heat, you need plenty of waterproof sunscreen, and plenty of drinking water. I prefer to set up my lines and then sit back in the shade, getting in the water to cool off as often as required if possible.
The carp were active, we managed to hook one about every 1/2 hour, most were average sized: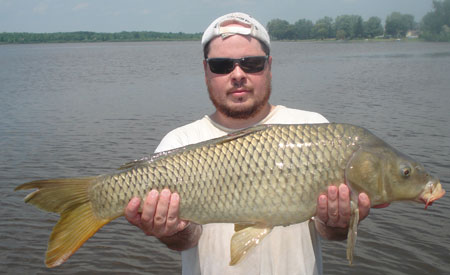 Bigger boilies didn't yield bigger fish, so I switched one of the rods to a snowman rig towards the end of the day, results were more than satisfactory: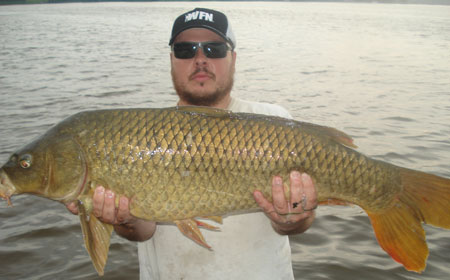 My wife and I had a great time despite the heat, a couple passing thunderstorms gave us temporary relief, the I wouldn't risk fishing during the lighting with my 12 foot rods...
Next morning, I headed out to fish the St Lawrence with my friend Mike, who was nice enough to invite me out again. Morning was super productive for musky, we landed 4 muskies measuring 38, 45, 49 and 52 inches, all in about 2 hours of fishing.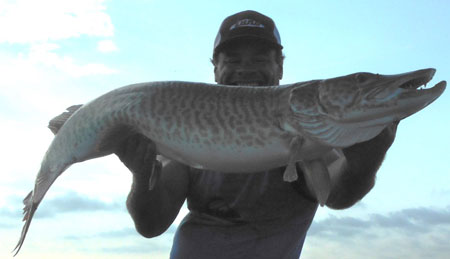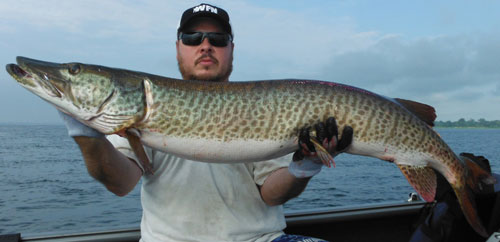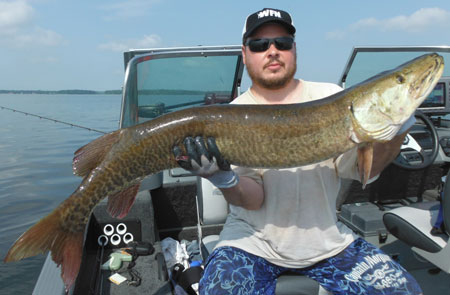 A couple pike in the 4-5 lbs range hit our lures as well, didn't bother taking any pictures. The musky bite eventually died down, so we decided to fish for bass. The bass fishing was kind of slow, we managed about 10 bass in 4 hours, Mike caught most of them.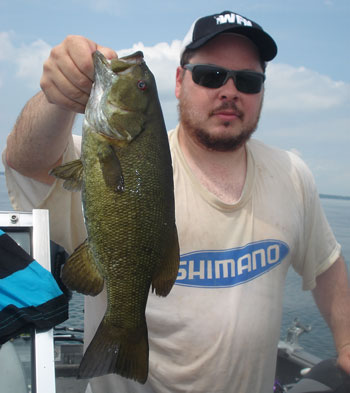 I also caught a nice chunky walleye on a crankbait, first walleye I've caught in a long time, as I rarely target them: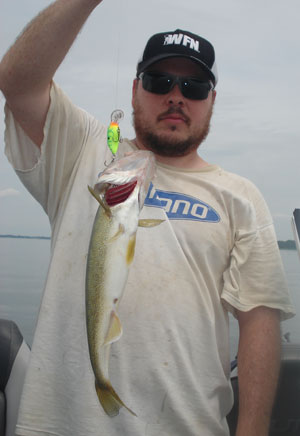 Though I rarely keep anything for our waterways, I decided to keep it as I haven't eaten any walleye in a couple years. Mike landed another one later on, so it joined the first one in the livewell.
Again, the heat and humidity was brutal. I consumed nearly 4 litres of water in about 5 hours of fishing, and we took turns jumping off the boat in our T shirts to keep cool.
Despite the high heat, the outings proved that fish are readily caught around Montreal, even during high heat. In a couple short outing, we landed 5 species of sportfish swimming in the waterways around Montreal, namely, bass, walleye, pike, musky and carp, in decent numbers and sizes to boot. . Can't ask for much more.
Mike is available for guided outings, and can be contacted by clicking:
http://freshwaterphil.com/contactmike.cfm
I won't be available for any outings until mid August, contact me for more info by clicking:
http://freshwaterphil.com/contactcarp.cfm