Was lucky enough to be able to pull off a couple more session this week, although they were short ones. Got to try some new products and rigs, with decent success.
For my first session, I brought along my sons Ari and Eli, ages 17 and 7. We set up 3 rods, 1 using curry/ginger boilies, the next using chocolate/cinnamon, the 3rd using vanilla/hazelnut. Didn't take long for us to start catching carp, we were hooking up roughly every 1/2 hour, though nothing too big. Abut halfway through our session, I tried 2 new rigs. The first, was using a couples pieces of giant corn I had been given to try, along with a popup chilli/lime corn.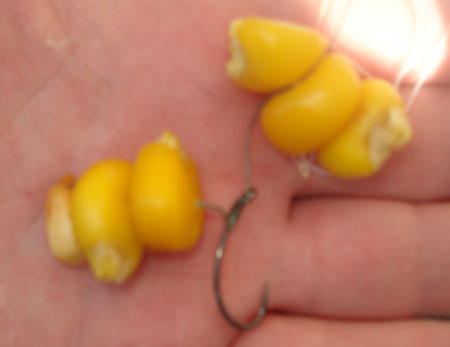 The second ones was a modified snowman rig, using 2 boilies followed by a popup chilli/lime corn.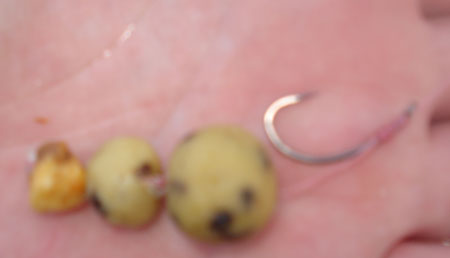 Didn't take long, my sons landed our first double header of the season: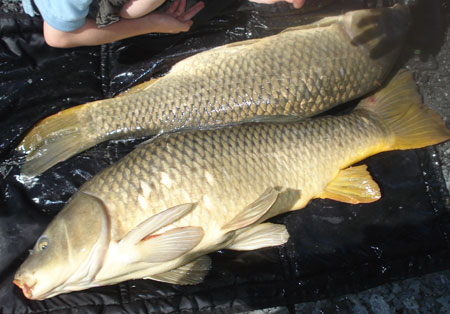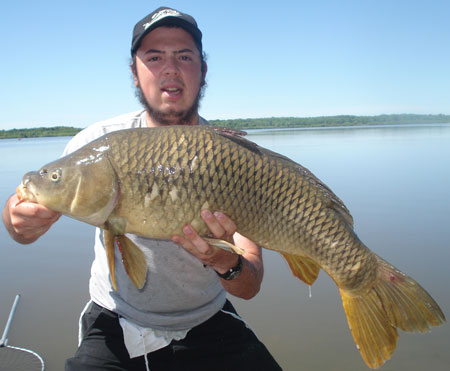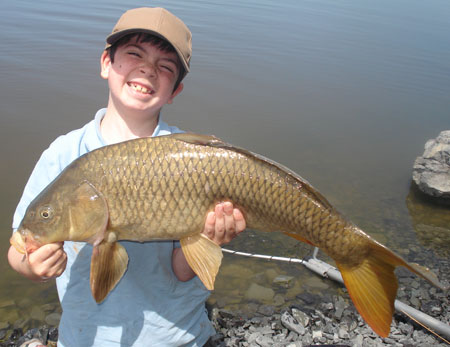 Total of 10 carp hooked, 9 landed in 5 hours, as one cut my hair rig in the rocks.
Returned for another carping session with my wife the following day, again, had only 5 hours to fish. Plan was to test whether or not the snowman rig would help us land bigger carp than a single boilie on the hair rig. Fish the first 2.5 hours using the standard boilie rig, hooked 7 carp, one spit the hook just before I had the chance to net it. My wife and I managed another double header, second one in as many days.
Again, nothing too big, all in the 10-14 lbs range. As we were halfway through our session, I switched both rods to the modified snowman rig that worked the previous day. Unfortunately, not one hit in 1.5 hours. I decided to bring in both lines. Switched one back to the standard boilie setup. For the second line, I rigged the largest boilie I have ever used, a whopping 26 mm XXX hot my son had rolled with leftover base mix. Added a popup chilli/lime corn as well. Didn't take 20 minutes, I had nice one on. Put up a good fight, realized how big it was once it was in the net.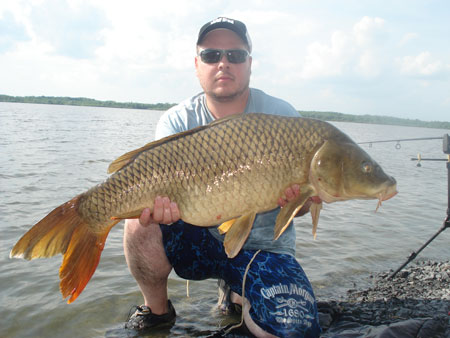 A nice 28 lbs / 38.5 inch female, I'm sure she was a good 5 lbs heavier a few weeks ago before the spawn. Day ended off with the last line being cut off above my 80 lbs mono shock with a blistering carp run.
Looks like I probably done with carp for the next few weeks, as we're off to trout country...