As I've been targeting mainly bottom feeding species for the past few months, I decided to switch things up this week to target predatory species using lighter tackle before first ice. The main target species were going to be largemouth and smallmouth bass, which can both offer outings of large numbers of smaller to mid sized fish around Montreal, with an occasional lunker.
First outing was a short 3.5 hour shore outing, just about all the time I could afford to put in that morning, due to my work load and errands. Hit my spot around 11 AM. Despite sunny skies in the forecast, it was drizzling on and off most of the day. The given spot is still overgrown with thick reeds, inter twined with vines and thornbushes.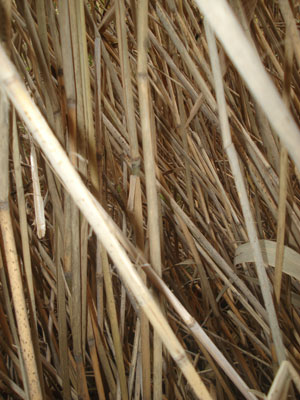 Though I normally make the detour to access my hotspot through the water, it was far too cold, with the outer temp around 8 degrees, and the water not much warmer. Decided to bring along my "little friend" to help me get to where I needed to be:
A bit primitive, but very efficient. The ultra sharp machete made short work of the reeds and vines in no time, without too much effort.
Now that I could concentrate on catching fish, I tied on a spinnerbait, and started casting. Nothing doing for a good 10 minutes, I tied a brand new Big O crankbait on to my second rod, after sharpening the hooks out of the box. Many lures comes with less than sharp hooks, and I'm kind of finicky about having them sticky sharp.
Landed back to back largemouth bass on my first couple casts.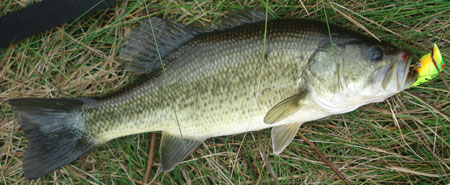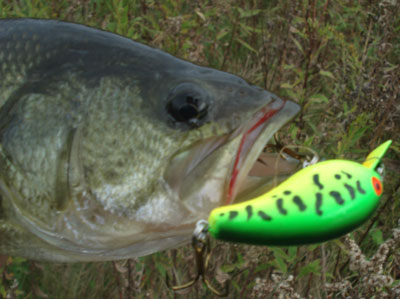 Worked my way along a nice stretch of 700-800 feet of shoreline, alternating between casting the spinnerbait, big O, and a Rapala J-9 my son found earlier on this month, which I refurbished by polishing and putting on new hooks. The largemouth bass weren't interested in my variety of spinnerbaits, but I did manage one on the Rapala J-9, and a couple more on my big O.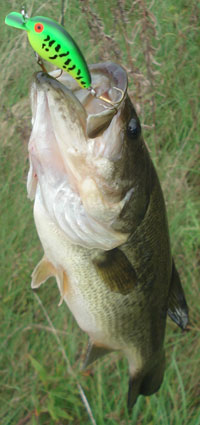 Here are some action shots I took with rod in one hand, camera in the other hand, as I was alone: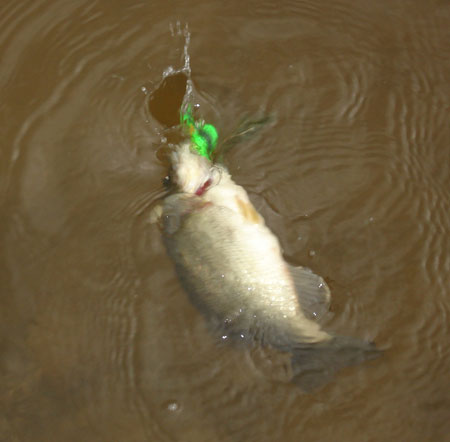 After the bite died down, I trekked my way back, and headed off to another spot, where the bass fishing can be good this time of the year. Fished it for another hour or so, but no fish interested in my variety of spinnerbaits or crankbaits, so I headed home.
Couple days later, I headed out with my friend Tony, to fish the St Lawrence River near downtown Montreal. Plan was to fish for smallmouth bass and walleye, casting crankbaits, drag tubes, or vertically jig in deeper water. As the weather had dropped to near freezing, I was in full ice fishing gear, survival suit, winter hat, insulated gloves, and boots. Glad I suited up, as the ride out to our spot against the wind made for a -10 to -15 wind chill.
Got to our first spot around 11:00 AM. We tied on jigging spoons, much like the ones I use for ice fishing. Jigged a 15-20 foot flat for a while, without success. Moved off to deeper water, and almost immediately, I had a nice fish on. My medium light Ugly Stick bass rod bent over in two, and my light 20 series Abu Garcia reel started peeling drag. Figured it was something bigger than the smallmouth bass we were targeting, and Tony put the boat in gear to follow the fish, in order to avoid me getting spooled with my light line.
After a short fight, I landed this sturgeon, first fish of the day.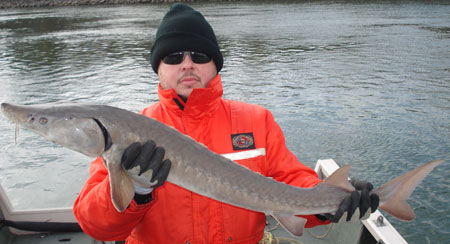 Jigged some more without much happening. I tied another ice fishing lure onto my second rod, a large Rapala jigging rap. May sound a bit crazy to do so in open water, but after watching Al Lindner do so, and catching some "big 'eyes" as he calls them on one of his episodes, I figured I didn't have much to lose by trying it.
Sure enough, I hooked into a nice walleye on my second drop, brought it to boat side. Instead of grabbing it, I attempted to hoist it out, despite being barely hooked, when I really should have netted it. Was a good 18-20 inches, and jumped off my hook into the water instead of the boat. Oh well, no pic, but a good quick release after a surprisingly good fight from a walleye.
We ended up catching another dozen walleye and sauger, some eating size, some smaller.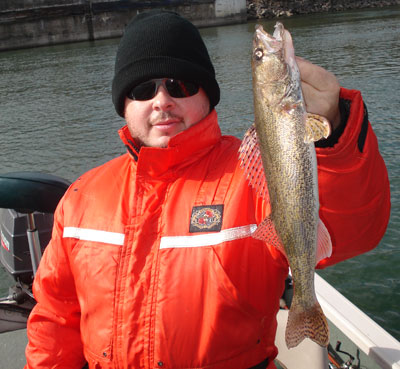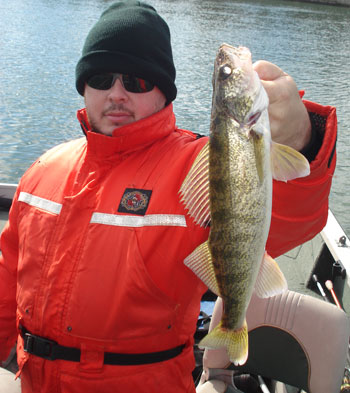 Still no smallmouth bass, we switched spot in order to find some. First spot we hit was a shallow flat. We casted crankbaits into 10-12 feet without much success. We then tried dragging tubes in deep water. Again, no hookups, except for a few boulders. Finally headed out to deeper water, and went back to jigging our ice fishing lures. Took a while, Tony caught some more walleye, I finally landed the first bass of the day: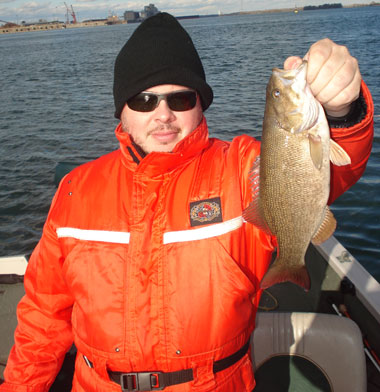 Nothing huge, but still a feisty fighter, and came from over 40 feet down. We landed about another 10 or so bass up to about 2 lbs. Eventually called it a day, and headed back to the boat ramp. As Tony went to get his truck, I picked up one of his old rods on the boat, he's got about a dozen of them. I selected one with a decent sized crankbait, and without really having a look, I casted if of the dock. I immediately hooked up with a nicer bass, about 3 to 3.5 lbs. I brought it in, it jumped a few times, and peeled some drag as well. Managed to jump off my line just as I was about to grab it. It was at that point I realized that the lure was missing most of it's hooks, and the ones that were there were rusted dull and bent out of shape. Oh well, that what I get for not checking the lure before casting, but good enough for me, as got a great fight out of that bass while it lasted.
Was scheduled to head out to Lake Champlain for bass and pike today, by the outing was cancelled, so it looks like the end of "bass week" for me. Hope to get back to chasing bottom feeders next week.
I enjoyed my outing with Tony, it was the first time I've taken the time to vertically jig for that long, outside my regular ice fishing. It was interesting to fish open water with ice fishing lures, and the method proved to be just about all that worked.
Tony still has availability for the next few weeks. Due to the cold weather, there is virtually no fishing pressure, and the fish are just starting to school up, which can lead to outings of 50+ fish per day. Last chance to book an outing for those brave enough to endure the cold.