Fall is known to be the best time to target fish species that feed heavily before the freeze up. Carp are no exception. Carp fishing in the fall can be tough, but also very rewarding.
The key to successful fall time carp fishing in Canada, is to avoid overfeeding them, or using too much bait. While you may get away with it early on, once late fall rolls in and the water temp drops below 10 C (about 50 F), over chumming is a sure way to ruin a potentially good outing. Warm fronts seem to be a lot better late in the fall, as opposed to early on, when cold front can trigger active feeding.
I typically use corn in the fall, as it's easier for the carp to ingest / digest. Many nuisance fish have moved off to deeper water by then, so they are much less of a factor. Spicy flavors like cayenne / chilli seems to add the the effectiveness of sweet corn in cold water, so be sure to include it as part of your arsenal.
Avi had a half day off school last week, and being that it was his birthday, I allowed him to skip school completely that day, taking him carp fishing instead. A major cold front had dropped the overnight low well below freezing, and also brought our first snow flurries of the season while we were out on the water. Snowsuits, wool hats, winter boots and insulated gloves were required to keep us warm, weather was basically the equivalent of a mild day ice fishing.
The fishing was extremely slow, largely due to the cold front, the carp were just about inactive. When we finally did get a run, I was surprised at the speed of which the carp took of at, very atypical for this time of the year. The carp also put up a nice fight, but Avi hung on. We landed the carp a few minutes later, Not too bad for a day off school.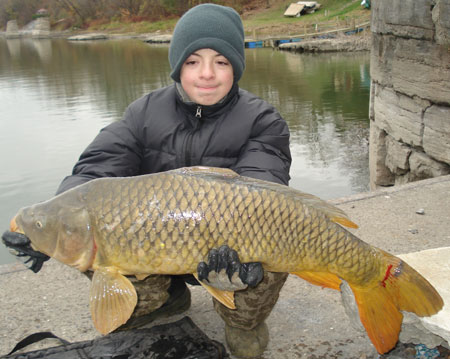 That was it for this week, with a major wind storm cancelling any more fishing plans I had this week. Hope to head out again next week for some more clod weather / fall time carp fishing.