Though first ice came very early this year, I haven't had a chance to get out, due to my work schedule. Was suffering from a bad case of cabin fever, so finally had to make the time to get back on the water. Weather was nice hovering between -1 and -4, with very little wind. Brought along some new toys, namely new Fenwick ice rod, and some tungsten "Marmooska" fly ice jigs. Also brought some live mealworms and standard nightcrawlers. Also brought along my Humminbird flasher. Plan was to test a variety of presentations against each other, than try with and without the flasher, and hopefully catch some fish too.
Get to my spot shortly before 9:00 AM, started off fishing a Marmooska ice jig tipped with a mealworm. Took less than 1 minute, had my first perch of the day:
I kept seeing lots of fish on the flasher, but they were slower than I anticipated, and quite small too. Rigged up my 2nd rod with a small Rapala jigging rap, probably my favorite ice fishing lure. The fish seemed to respond a bit better to the jigging rap, and I started catching them a lot quicker, with a few keeper sized ones here and there. Eventually caught my first crappie of the day: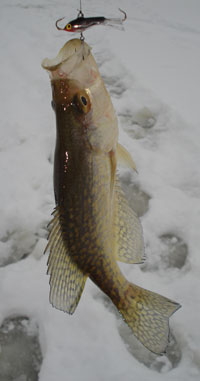 When fishing slowed down, I tried tipping the jigging rap with a piece of live worm, seemed to work wonders, as far as getting them back in a feeding frenzy. The bite varied between extremely agressive, to mildly aggressive for most of the morning.
At one point, a facebook friend of mine showed up, and sure enough, he was just in time. I landed my first bass of the day, and he was there to take a pic: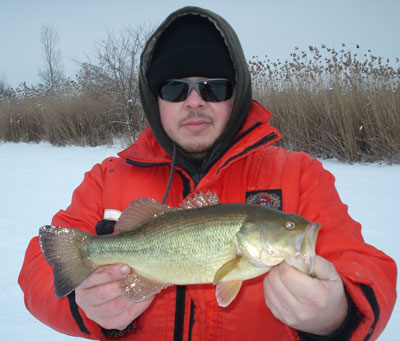 Nice to have something with a bit more weight at the end of the line... Eventually caught 2 more species, pumpkinseed and bluegill sunfish: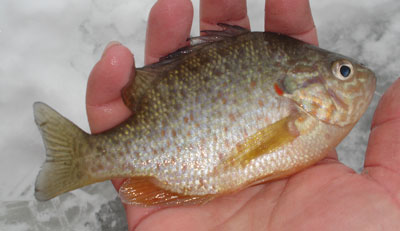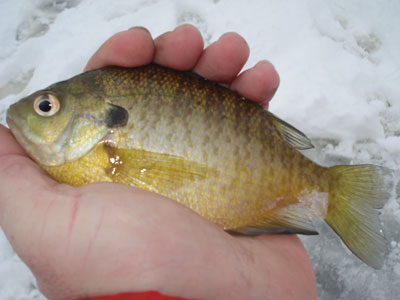 Had to call it an early day by mid afternoon, would have loved to stay for the evening bite, but had too much to do. Overall, a very successful outing, final tally for the day was over 100 perch (8 keepers over 9 inches), 2 largemouth bass, 2 black crappies, 3 pumpkinseed sunfish and one bluegill.
As for the testing, the jigging rap did a lot better than the marmooska jigs, even when fished bare. The marmooska jig did better tipped with bits of nightcrawlers, than when I used mealworms. I also did a lot better when fishing with the flasher on, as opposed to trying to turn it off.
Basically, cabin fever has been cured. With the upcoming school vacation, I hope to get out on the ice with the kids a few times before 2014.