With the water temp way below normal for this time of the year, it seems that walleye season was opened a bit too early, and the big ones are in close to shore ready to spawn. As pike fishing hasn't really started to heat up, my friend Jimmy invited me out for a day of wading / shore fishing for walleye and pike.
We hit our spot by mid morning, jimmy immediately connected with a small pike before I even had a chance to get a line in the water. I was tying on a jig/curly tail grub combo to drift fish the rocks in the strong current, he hooked into a nice walleye.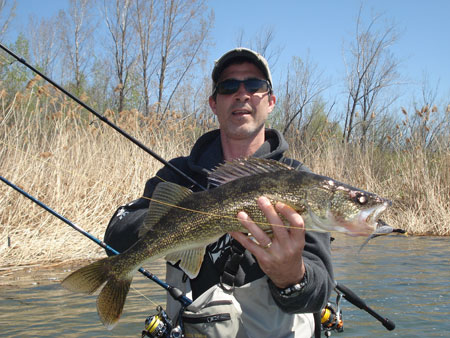 I finally started casting, and didn't take long for me to hook into a decent fish. I was quite surprised to see that it wasn't the target species, but still a nice surprise. My biggest redhorse sucker to date, a good 6-7 lbs took my jig / curly tail grub combo.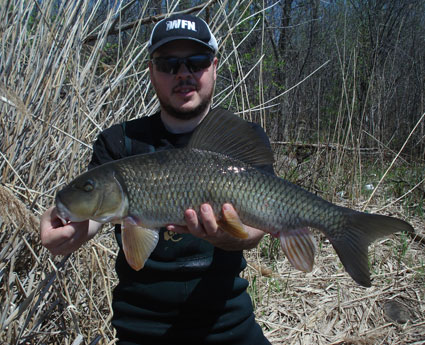 Jimmy caught another walleye shortly after, again on a marabou jig: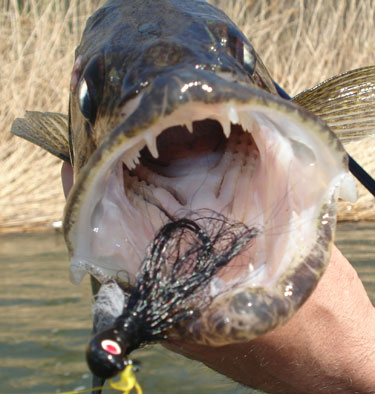 The bite died down, I eventually switched to throwing a small crankbait into the current. Managed to hook a nice 5-6 lbs pike, but it spit the lure a few feet in front of me.
A very nice day on the water, bright warm sunshine helped us stay warm. Unfortunately, my neoprene waders seem to be leaking in several spots, quite a shame as they are only 2-3 years old, and I've used them maybe 4 or 5 times so far. I'll know better next time...
Lastly, I'd like to take the time to share a sad event that took place over the weekend. I'm a member of several fishing forums and Facebook groups related to fishing. One particular group is a small, friendly community of Montreal anglers. On Saturday night, I logged on and noticed a post of 2 of it's members that had gone missing while on their first outing of the season. They were eventually found, but unfortunately, they were floating in the frigid waters of the Outaouais River. They had gone out on a small canoe when the water was relatively calm in the morning. As the wind picked up to 50 KM+ hour gusts, they were likely trapped in the raging waves, which ended up capsizing the canoe. Though they were wearing life jackets, the water was too cold to handle. It seems that hypothermia set in before they could make it back to shore, and ended up freezing/drowning to death. A horribly tragic accident, and both left behind grieving widows with young children.
Although I didn't know either of them personally, we did interact a bit online over the past few months since I joined that particular group. My thoughts and condolences go out to both the Walker and Adams families. May their tragic end serve as a reminder to us all, to put safety first, and not take unnecessary risks when fishing. A couple extra fish simply ain't worth it.