After spending yesterday still fishing for bottom feeders, I was faced with a small dilemma; To try a new spot with some friends that have been catching lots of carp there, or to head out alone to attempt catching some carp and gar using topwater presentation. As my time was very limited, I headed out alone to do some sight fishing, not being sure when I'll have a chance to try again, as the window of opportunity is short, and dependant on the wind conditions.
Got to my spot before 10:00 AM, noticed lot's of bass starting to nest. Left them alone, and kept on moving until I located the gar. They were there in big numbers, but hardly interested in chasing my offerings, namely, a lure with some extra fishing line tied around the hooks to tangle their teeth when they strike, as opposed to trying to hook them, which is nearly impossible.
After a few missed hits, a mid size gar finally took my line, and turned just enough to ensnare it's beak in the line. It rolled and turned again, getting even more tangled, with me feeding it more slack line all the while. When I finally tightened down and pulled back, the gar went insane, first taking off, then tail dancing, and finally doing cartwheels with my lures snugly tangled and hooked on the side of it's head. As I was fishing on a steep bank about 6 feet above the water, I had to get in the water to land the gar, as I had no net. Luckily I had a pair of fishing gloves, grabbed it by the tail, and and climbed back up for the picture, my first gar of the season: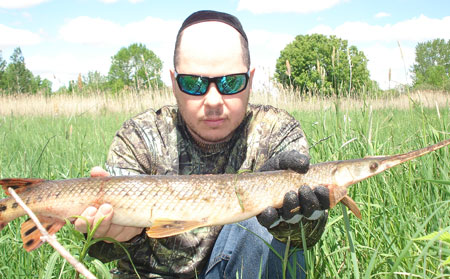 Unfortunately, all the jumping and splashing spooked off the rest of the gar in the small area, so that that was the end of the gar fishing. Moved further along, and finally spotted about a dozen carp, with 2-3 nice big ones. However, they were just about starting to spawn, as the water temp in the particular spot is significantly warmer than other areas, due to the shallow depth of about 1-2 feet. They weren't interested in the least bit in my popup boilies or flies.
Eventually headed back towards the car, casting a small crankbait every now and then, was rewarded with a nice surprise: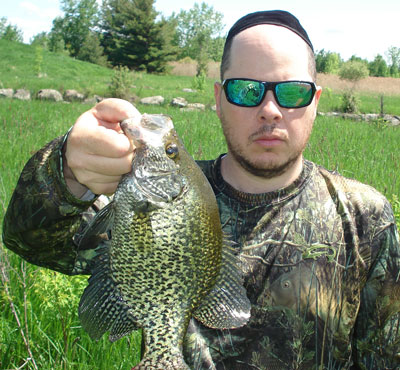 Measuring 13 inches, by far the biggest this season for me, and tying my all time personal best. Kept it for the table, should make a nice breakfast in the morning.