The Lachine Canal runs through much of Montreal's core. Originally built as a shipping route, it has long since been replaced by the St Lawrence seaway, and turned into a recreational park by the city of Montreal.
The canal presents some difficult challenges in regards to fishing. For starters, it's basically a big 12+ KM rectangle filled with water, without much structure in comparison to your average lake or river. Then, you have the fact that the Lachine canal is fully drained every fall, and refilled only in spring. So much for any chance of establishing a canal population. The fish simply come in and out through the locks and dams as they are opened. The canal is also open to boat traffic throughout the summer, as well as late spring and early fall. From powerboats and yachts, to kayaks and dragon boats for rent on the canal, the boat traffic on the Lachine Canal can become a nightmare when trying to still fish for species like carp. The water quality in the canal is one of the worse in the city. Signs advising contact with water due to contamination are posted every spring. Furthermore, access to many segments of the Lachine canal can be very tricky by car, as much of it runs through industrial areas bordering hwy 20, which leaves little options for parking. Lastly, the canal is located in some of Montreal's most deteriorated areas. Slums, abandoned buildings and factories, and graffiti are all part of the urban landscape, a far cry from the pristine mountain and forest lakes or rivers out in the countryside or forest.
So why would I bother fishing the canal at all? For starters, it is quite close to my house, only 6 KM away. As I love cycling, the canal and it's bike trail offers a unique fishing experience for me. I simply throw some gear and a rod into my back pack, hop on my bike, climb over Mount Royal, and within minutes, I'm on the Lachine canal's paved waterfront bike trail, 12+ KM long with relatively low fishing pressure compared to other spots around the city. Not having to worry about downtown traffic or parking, I am mobile enough to cover the a variety of good spots, straight ride of entire canal trail from end to end is do-able in 1/2 an hour.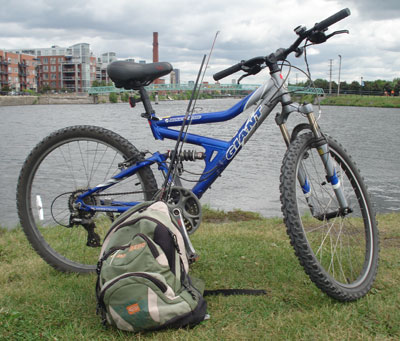 In this article, I'll cover the 3 styles I use to fish the canal:
1) Still fishing:
This is the method I least use in the canal. Due to it's structureless shape and it being drained every fall, bottom feeders like carp are very tough to target in the Lachine canal. They may be schooled up in a spot at a given time, completely gone a few hours later. Casting to one spot over an other is just about guesswork when fishing a structureless body of water. Current flow increases and decreases with the opening and closing of the locks for boat traffic, and the narrow canal pretty much ensures that boats of all shapes an sizes will be hovering right over your line, likely spooking the fish. Night time is a better option for still fishing, though, at times, the canal can be productive during the day as well.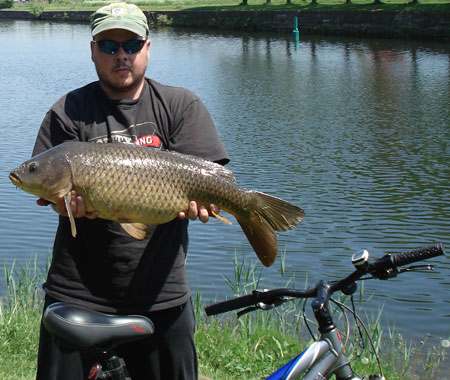 2) Casting for predatory species:
Casting in the canal is more interesting to me than still fishing. As I mainly fish the canal by bike, I have the option of running and gunning my spots, mainly where fishing attracting structure and shore access is possible. The Lachine canal doesn't have a big population of game fish, but the specimens found in their can be surprisingly big for a small body of water. After all, they are coming in from the biggest river in the country. I typically power fish a given spot for 15 to 20 minutes at a time, then move to the next area. More often than not, I end up catching nothing. Suits me fine, at least I get a good workout biking over the mountain both on my way there and back, and along the canal from spot to spot. That being said, I've caught some big bass, pike, walleye and even musky in the Lachine canal over the years, mainly on spinnerbaits, crankbaits and topwater lures.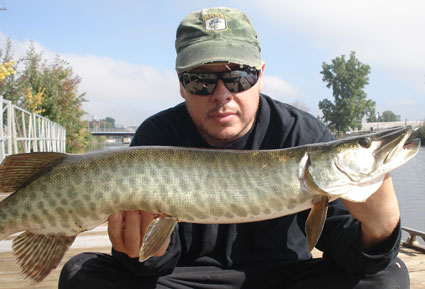 Here is a decent walleye I caught there, on a short 2 hour outing, not long after losing a big bass.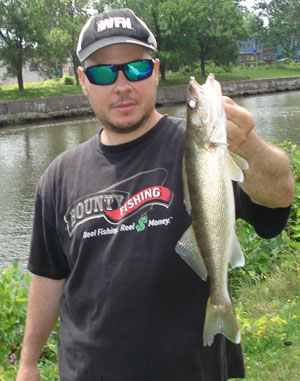 And a very nice smallmouth bass that hit my topwater lure after a few casts.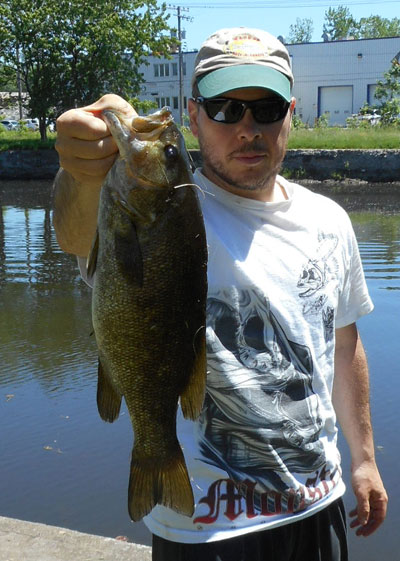 3: Micro fishing for panfish with the kids:
This is where the canal really shines. While most people don't bother messing with fish averaging 4-8 inches long, they are excellent for teaching younger kids how to fish. Strong populations of perch, sunfish and rock bass exist all through the canal, and are just about everywhere. A small #10 or #8 hook fished on bottom with 1/2 a worm is my weapon of choice, and can provide non stop fishing action. For young kids getting started fishing, it's all about numbers, not size. Also very important to avoid overstaying the outing once they start getting bored, so being a few minutes away from home with non stop fishing is ideal for people in this situation. Miles of safe, child friendly waterfront are about as good as you can get for shore fishing in Montreal.
Took my 5 year old daughter Chaya to one of my spots on the canal last night, plan was to have her practice her hook setting. She did a smashing job, landing over 70 fish in about 2 hours, mainly perch and sunfish, along with a couple small bass and a log perch.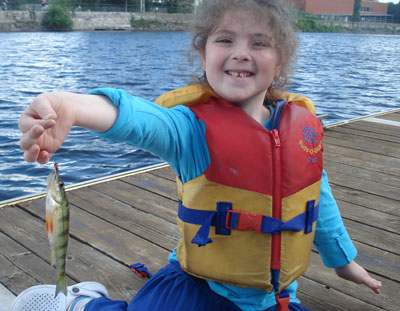 Nothing too glamorous, but in her young mind, she's a already fishing legend, and can't wait to go back again. Exactly as planned.