Headed back to Le Domaine Shannon for the third year in a row to chase some big pike with the kids. Brough along Avi and Eli aged 13 and 8 years old. For the third time in as many years, we booked the lone cabin on Lac Wahoo, as relatively small lake, filled mainly with smaller pike and walleye. However, Lac Wahoo does contain some of the biggest pike to be found at le Domaine Shannon, apparently going up to 25-30 lbs in that lake.
Having a lake out in the deep woods to yourself for a week is quite a treat if you enjoy fishing as much as we do. Not having any power, plumbing or toilet in your cabin is a relatively simple inconvenience to die hard anglers, and we manage to make due with what we have over the course of our stay.
As usual, we headed out late Saturday night to make the 4+ hours drive to the main lodge. Arrived their around 7:30 AM, kids we happy to finally get out of the car.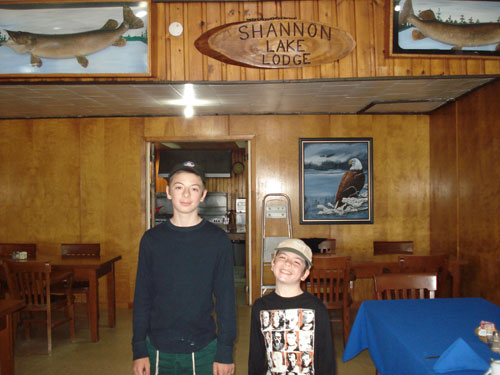 I spent some time with Serge Danis (the owner), while the kids admired the different mounts at the main lodge, which included some moose, bear, wold, fox, big walleye, and trophy pike: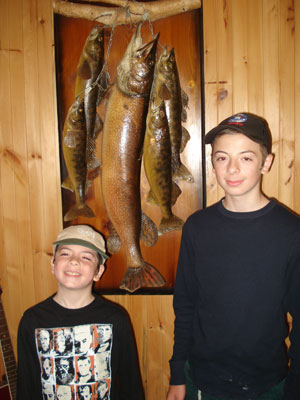 Headed out to make the 29 KM drive to our final destination for the week, namely Lac Wahoo. Arrived about 45 minutes later, broke camp, had breakfast, set up the boats, and headed out on the lake just in time for our first rainstorm of the trip. Not much biting, but we spotted a moose walking her calf in the lake, Eli was more than thrilled as he had really hoped to see a moose in the wild for the first time.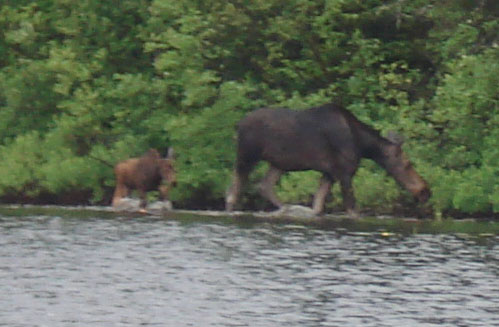 We decided to wait out the rain in the cabin. Eventually got back out on the water, Eli landed some small pike while trolling: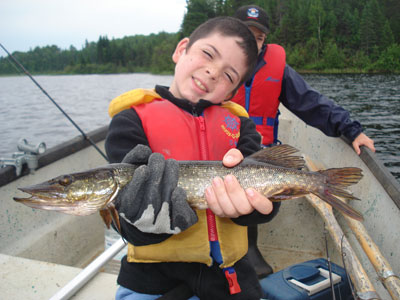 Fish were just about shut down most of the day, very finicky. I've had 50+ fish days on Lac Wahoo, unfortunately, we ended with only 3 pike landed on day 1, Avi catching the last one just before dark on a big Jitterbug: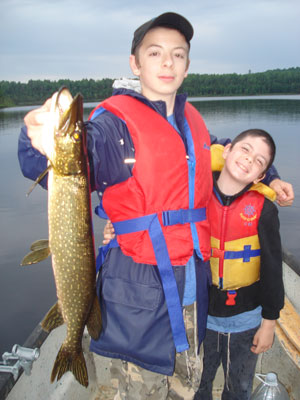 Mosquitoes were worse than I've ever experienced in my life. We got bit up through the night despite the deep woods off, killed about 75 mosquitoes the following morning in our cabin. With heavy rain pouring, going out on the lake didn't seem tempting, so we headed back to the main lodge for a while, simply to get out of the 4 walls, and kill some time. Taught the kids how to shoot pool, and picked up some off lightable repellent designed to fumigate / kill off the rest of the mosquito population in our cabin. Got back for lunch, then played monopoly all afternoon until the rain died down a bit just in time for us to head out to fish a a few hours before dark. Again, trolling was effective, size started going up, Avi started off landing a nice keeper: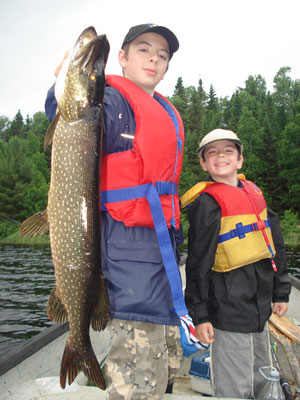 Ali followed up with a smaller one caught trolling a classic red and white spoon: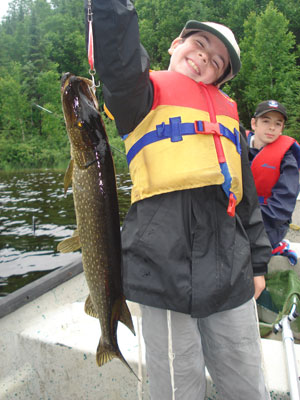 As the wind died down and evening rolled in, I attempted to catch some pike using a topwater lures, namely, my Zara Spook. After hooking some small ones, I eventually managed to get a big pike after my lure. The pike exploded out of the water, crashed my lure, but I unfortunately pulled it out of it's mouth without hooking it when I tried setting the hook. A bit frustrating, but I was glad that I saw the big pike and managed to raise it. I estimated it to be in the 10 lbs range. Oh well, something to dream about for day 3.
Next morning, I decided to put out a big sucker as bait, as Serge had mentioned that most big ones on the lake are caught using dead bait. Rigged up and old baitrunner reel on a stiffer rod, and set it up in the rod holder on the boat, right in front of our cabin.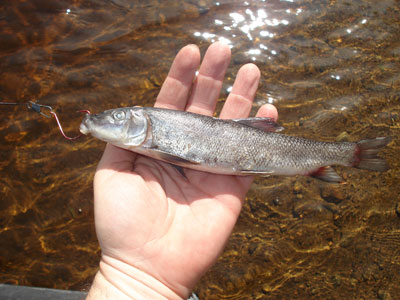 Headed up to make breakfast for the kids, and watched from the window. Didn't take too long, the line took off. Eli and Avi weren't ready yet, so I ran down to the boat and grabbed the rod. After letting the pike take the bait fully, I set into a nice fish. Brought it in with relative ease in the shallow water, and was surprised that it was bigger than I thought, just over 9 lbs: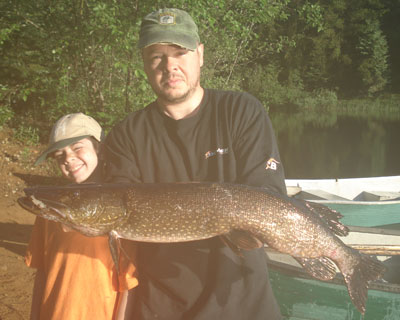 Kids were pumped to see a fish that size come out of the lake, and they immediately wanted to go out again. Unfortunately, we didn't get any bites trolling and casting for 3 hours, despite the warm sun shining for the first time of the trip. Headed back for lunch to BBQ some steaks. Before setting up, I put out another dead sucker, and started preparing lunch. Within 10 minutes, the line took off again. This time, Avi was ready for his shot at landing a big pike. When he finally set into it, the fish took off, giving a couple nice runs before I caught my first glimpse. I knew that it was the biggest pike I've seen in that lake, and it was barely hooked. Luckily, I had by carp landing gear, including my net with an 8 foot handle. Was able to net the fish just before it spit the hook. I estimated it to be at least 12 lbs, when I finally weighed it, it topped the scale just over 13.5 lbs. Avi had just broken the family record for pike!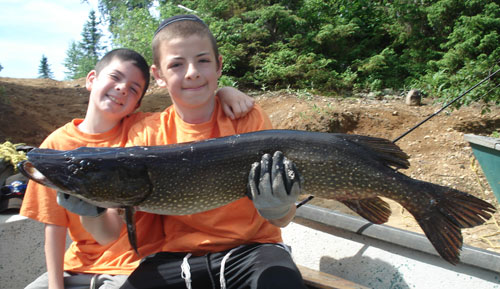 Eli was ready for his shot at a big pike, so I rigged another sucker for him. We had lunch, relaxed for a bit, and again, the line took off. I set the hook for Eli, he brought in another pike, but unfortunately for him, it was a lot smaller, maybe 2.5 lbs or so.
With no more hits from shore and clouds moving in again, we decided to troll a bit. Just as the rain started falling, Avi landed the first couple walleye of the trip, including this nice 16 inch keeper: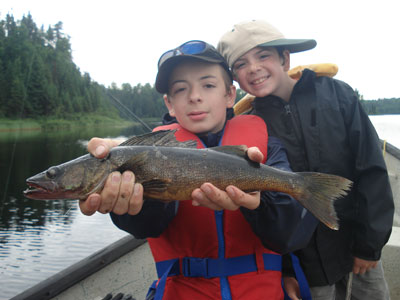 Rain got too strong, so I headed back to filet the walleye and prepare dinner.
Day 4 started off with us waking up to more rain, and a strong wind blowing in a cold front. Kids were bundled up in winter gear, and it looked like it was going to be another monopoly day instead of a fishing day, much to Eli's delight (he loves monopoly as much as fishing). Avi wasn't to thrilled, but the fishing was miserable, and the fish completely shut down. When we did eventually head out for a short while in the rain, all we caught was another small walleye.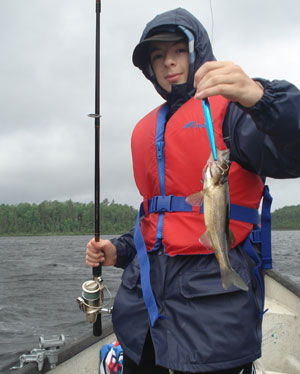 Tried casting a bit as the rain died down before dark, nothing doing net even 1 hit.
Day 5 started of colder than day 4. Ground temp was down to 10 degrees, and wind gusting at 40-50 KM/H. Made trolling much of the lake just about impossible, casting and still fishing from shore were no better. Called it quits for the day after lunch, and headed back home a half day earlier than originally planned.
All in all, the trip was saved by the short window of good fishing we experienced on day 3. Bad weather for 5 days straight threw us a nasty curveball, and pretty much shut down the fish across the 30 some lakes on the outfitter's territory. But with a bit of patience, perseverance and lot's of luck, we managed our 2 biggest fish out of that lake.
Planning to head back to Le Domaine Shannon again in August, this time to target some walleye, a species I rarely target. Should be a good challenge, as I will be on a new lake and cabin I've never tried yet.
Most people would cringe at the idea of spending a week without phone or internet service, electricity or running water/toilet. The shear thought of using the woods or an outhouse for nature calls, or bathing in leech infested lakes, is enough to send most people packing.
But the call of the deep woods and pristine lakes is more powerful than logic or reason. And Le Domaine Shannon with it's friendly owners and top notch service, are one of my favorite venues.
I highly recommend Le Domaine Shannon for anyone interested in fishing for walleye or trophy in a clean, pristine setting of the deep woods of Quebec. For more information on or to contact Le Domaine Shannon, click: http://freshwaterphil.com/ledomaineshannon.cfm