October is finally here. Fishing wise, I always have mixed feelings about October. On the one hand, the quickly cooling water temperature signals the last few weeks of good open water fishing. On the other hand, it's probably the best time of the year to catch really big fish. More specifically, warmer water fish species that don't feed much over the winter like musky, carp, bass. Sturgeon fishing also closes at the end of the month, and October is always the best time to legally target and land good numbers of very large sturgeons.
Fishing in October is not for the faint of heart. Yes, you can always pick the odd warm sunny day without much wind, but overall, October fishing is a far cry from the cliche of sitting around in shorts the sun, sipping a cold drink while waiting for the fish to bite.
Proper clothing is required to fish comfortably in October. To begin with, always check the weather before going out. Being unprepared for bad weather can end a good fishing outing in a hurry. For shore fishing, I typically wear layers. Long johns do wonders for cold wind, as do sweaters and waterproof rain suits. As November gets closer, winter coats come in very handy, especially early morning and after dark. When I go out on a boat, I prefer to use my survival suit. It's a one piece, insulated and waterproof snow suit, that also helps you float if ever you go overboard, and goes a long way in preventing deadly hypothermia in near freezing water. Insulated boots that keep you feet warm are crucial, as well as a good pair of gloves, and a tuque to help keep your body heat from escaping.
Fishing wise, the tactics vary by the species, Carp are usually moving towards their wintering spots, more often in deeper water with less current than normal. It's essential not to over bait a spot in cold water. A small handful of boilies or a couple of handful of corn will usually do the trick.
Just a couple days ago, I was fishing at a significant distance from shore, which prevented me from accurately chumming the area with boilies. Instead, I opted to tie small PVA stringers, using 6 boilies as chum, and the seventh as hookbait. Payoff was rewarding to say the least: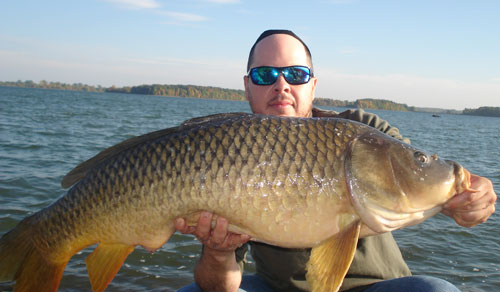 Exactly one week later, same setup produced another fatty, expect that this one came on a popup boilie. Hooked the fish, gave the rod to my wife. Fish ran downstream, ended up tangling another carper's line downstream, and running into a rock pile. I took the rod, freed the carp from the rocks. Gave it back to my wife. Landing net's rod came out, and fell in the river, mesh fell of handle. Meanwhile, carp tangle into a dead tree near shore. Ended up partially in the water, landed the carp by hand with mesh only. Wish I have the whole thing on film, minus the swearing...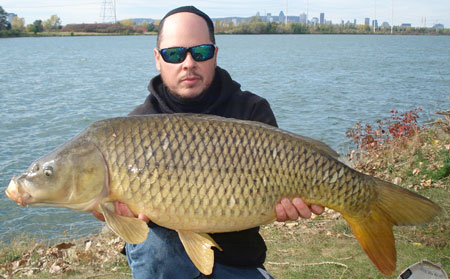 The following week (October 14th), an unseasonably warm front came in for the day. Luckily for my kids, they were off school, so we hit the river for some more carping. They managed to land 5 of 7 carp, with a double header too, quite good for this time of the year. Leci beat his personal biggest carp with a nice 24.5 lbs fatty.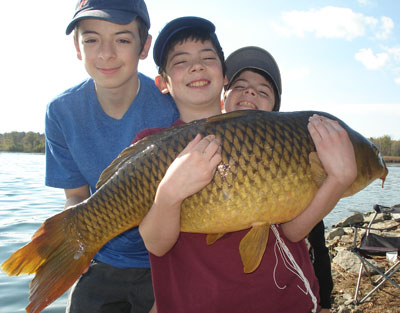 Other bottom feeders like sturgeon feed even more heavily, and typically congregate in huge schools for fall and winter. As their main forage species become scarce and tougher to find, they will readily take worms more aggressively than in summer. Here are some big sturgeons Avi and I caught yesterday (Oct 20), both of us beat our personal sturgeon records within 20 minutes of each other.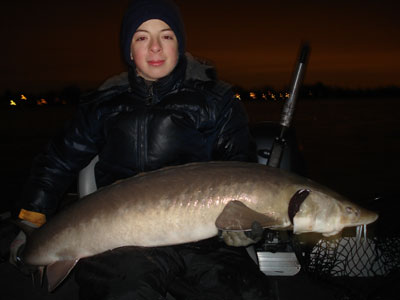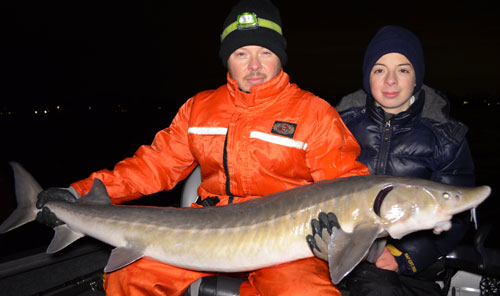 Warmer water predatory species are on the feed as well, fall is almost always the prime time for giant smallmouth bass and record sized muskies. Serious bass and musky hunters often fish extremely uncomfortable fishing conditions for a good reason; the payoffs are often worth it. Important factors to keep in mind when fishing for predators in October is to remember to slow down the presentation, and that the target species may be feeding in deeper water than they were a few weeks earlier.
Only had a few hours to fish for musky this week, weather was horrible. The strong East wind turned the St Lawrence river into a mini ocean, but that didn't deter us from heading out. Unfortunately, no giants came to play in the short few hours we fished, but still managed a mid sized toothy critter, caught on October 1st: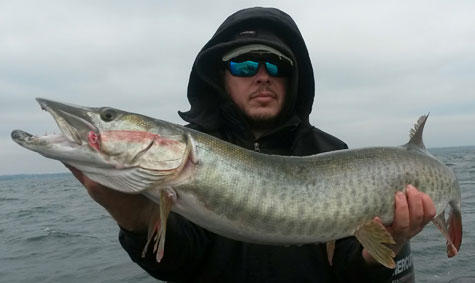 Not a bog monster, but great way to start off the month. Didn't make it out for musky again until October 30th, but was rewarded on our first pass of the day, landed this fat beast of a musky within 15 minutes of launching: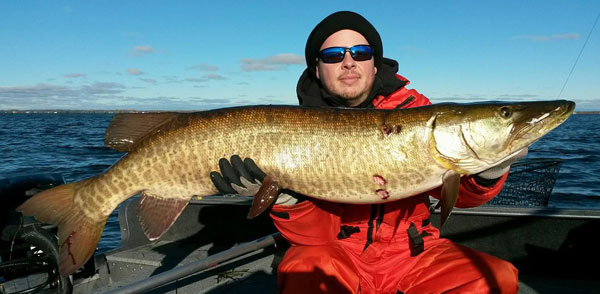 Hope to get in at least one more big musky outing before the season ends.
Finally, bass fishing is typically very good, especially for smallmouth bass. It's not for no reason the the Berkley B1 is held in October for the past few seasons. Veritable football sized bass are caught every year during the tournament, and the few weeks preceding it, during practice. 6 lbs fish are not uncommon, with the occasional 7 pounder being caught as well. Personally, I haven't fished for bass yet this fall, mainly due to chasing other species, but also due to the tremendous fishing pressure from B1 tournament competitors fishing the areas I normally opt for. Thankfully, the 2014 B1 bass tournament is just ended, bass fishing pressure will be slightly reduced until the Fish'n Canada bass tournament in a couple weeks from now.
Hit the Lake St Francis portion of the St Lawrence river for the day with my friend and number one bass guide, Jimmy. Though the fish weren't as aggressive as I hoped for, I managed to land some nice ones on spinnerbaits, Mepps Spinners, and shallow and deep running crankbaits. Some real footballs in that portion of the river, here are a couple 4 & 5 lb October lunkers: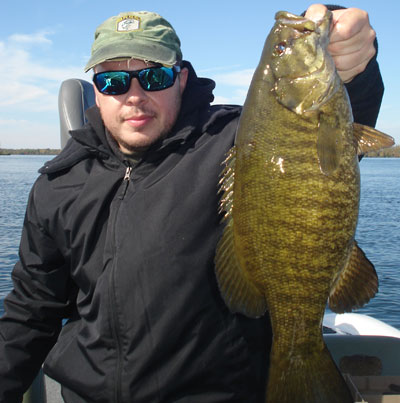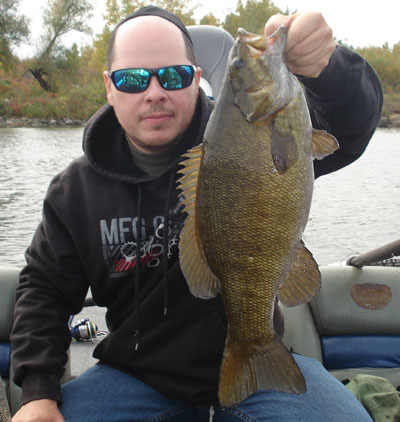 Unfortunately, I don't think I'll have any more time for bass this season, will probably focus on carp, sturgeon and possibly musky if I can find the time...