After not having fished for about 4 weeks for a variety of reasons, I was more than ready to head out on the ice again. Decided to try a new spot with a couple friends (both named Mike), to chase walleye under ice, a species I have only target under ice once before, a number of years ago.
We met up and hit the ice by mid afternoon, as the walleye bite is typically just before dark. Both Mikes brought along live minnows to fish with tip ups, I didn't bother, opting instead to use a jigging rod. We drilled about 15 holes, they set up a few lines for pike, and the majority for walleye in deeper water with smaller bait. I set up one of my extra rod with a mid sized minnow, and jigged a variety of lures with the help of my flasher, including Rapala Jigging raps, a Swedish Pimple, and a Williams ice jig. Mike1 had a flasher as well, and neither of us marked much activity for the first couple hours. While it was surprising to me, he mentioned that there were very few panfish in the area.
Just after 4:00 PM, one of the tip up line went off. Mike2 grabbed the line, brought the walleye up to the hole, but it came off before he had a chance to land it. I immediately tipped my Williams ice jig with half a minnow, and sent it back down the hole. Within 5 minutes, I saw a telltale mark on my flasher rising off the bottom, and sure enough it hit. Brought the walleye in without much of a fight, was surprised to see it was larger than I thought.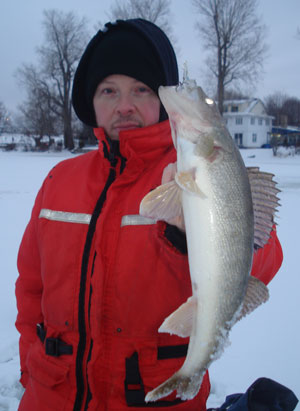 While I'd normally enjoy a walleye that size pan fried in butter, I released this one, as the water I was fishing wasn't the cleanest, and I prefer not to keep any fish unless the water is relatively non polluted. Was happy enough with my catch, as it was my first fish of 2015, and my first walleye on ice in a good 4-5 years, as I've only targeted them once before.
Mike1 managed a small pike on one of his tip ups shortly after. I saw another walleye come up at my ice jig, just nipped at it, but I missed hooking it. Mike2 got another tip up run, but the walleye dropped it before he had a chance to set the hook. Mike1 got a false run on his windlass tip up, and I set my rod down to check it out with him. When I got back, I noticed another mark off the bottom on my flasher, when I pick up my rod, there was another decent walleye on the line. Very strange for a walleye to hit a motionless jigging spoon, but it was tipped with a minnow head as well. This walleye put up a better fight than the first one, size was about the same. Didn't bother with a picture, as it was almost dark, and both Mikes were busy resetting their lines.
Unfortunately, we didn't manage any other fish in the short flurry of activity, although I did mark 3 more coming up to my lure. As it's a relatively new lure and I've only used it once before, I'm still need to figure out what sort of jigging pattern works best to coax the walleye to hit it. For some reason, they weren't interested in any of my other lures, nor Mike1's spoon either.
Ended up leaving shortly after 5:30 PM, as the bite had died down and a cold front was blowing in with strong winds. Hope to get another shot or two at targeting walleye on ice with the help of my flasher, as the only other species that I've had success with using the flasher were panfish.
A couple weeks later, I decided to try on new spot for walleye. Though I had fished the general area for open water carp in the past, I have never ventured out there on ice to this point.
Got to my spot around 2:00 PM, as I was quite limited for time, and walleye bite is typically best just before sunset. There were other people targeting walleye in the area, must have been a good 60 - 70 tip ups baited with minnows at depths varying from 12 to roughly 50 feet.
It was the perfect opportunity to test what jigging with a flasher could do versus the multitude of live baited, still fished lines. Knowing that most of the walleye in the area are quite small, I brought along 2 rods, one for larger lures, the other for smaller panfish lures.
Started off jigging a W3 Rapala jigging rap tipped with a piece of earthworm. Noticed many marks on my flasher coming to inspect the lure, but no takers. Scaled down my presentation to a mini spoon, in this case, a hammered silver Williams Peewee wabbler tipped with a bit of worm. Response was immediate, I landed a small 9-10 inch walleye on my first try.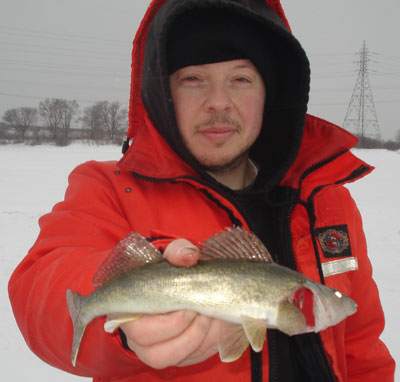 The bite was good, I kept catching more walleye every few minutes, though it did take a fair bit of coaxing to make them hit. To be perfectly honest, I wouldn't have stood a chance without my Humminbird flasher. I didn't see any of the other 60-70 lines catch any fish, and they were using live bait.
Ended up catching 11 walleye over a span of about 2 hours, all between 8 to 12 inches. When I tried bigger lures, I couldn't generate any interest from the multitude of baby walleye in the area, no matter what depth I fished. Magic depth seemed to by 14 feet below the ice, and fish were coming up 1 to 2 feet off bottom to chase my spoon when interested. Turned out to be the only lure that produced any fish too.
Though all the walleye I landed on that outing were small, and I probably won't be back there unless I'm with my kids due to their size, I was quite satisfied to outfish everyone else there using only 1 line, versus their 10 baited lines per person. To top it off, these are regular walleye anglers, and personally, it's only my 3rd time ever targeting walleye on ice. Seems like all the panfish experience with my Humminbird is starting to pay some dividends. Hope to head out for some walleye again over the next couple weeks.