As the winter ends and spring arrives in Southern Canada, most of our lakes and rivers are covered in the thickest ice of the season. Ice fishing at last ice seems to slow down for some species, but can be great for others.
Northern Pike are predictable this time of the year, as they move shallow and start staging to spawn. As the winter draws close to it;s end, they tens to congregate in large numbers in shallow bays, adjacent to spawning areas like feeder creeks and marshes. While this makes them easier to target, be prepared for some serious drilling, especially if you don't have a gas powered auger, as the ice will typically be between 2 to 3 feet thick.
As there usually isn't more then 1 to 2 feet of water under the ice in the prime pike spots by this time, there isn't any point to jigging or using a flasher. Tip ups are the way to go, and suspending your bait a few inches off bottom is the best bet to successful ice fishing for pike in shallow water. Popular bait choices will be live shiners or live suckers in the 4 to 6 inch range, where legal (such as Zone 8 around Montreal). Frozen smelt, mackerel or herring will do fine as well, and is typically the bait of choice in zones were live bait is prohibited.
Headed out for a few pike outings late this winter, in hopes of catching a trophy pike. Unfortunately, the fat females we were after never came to play, but we still managed to land some decent fish over a few outings.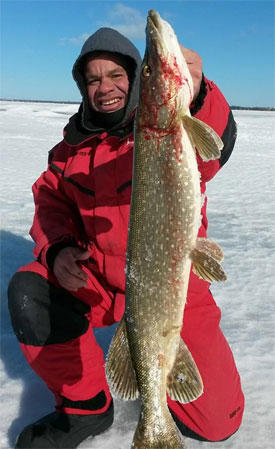 As the season closes on March 31st, I'm done with ice fishing until next winter. Ice fishing gear and tackle has been packed away, and getting ready to go after some open water carp as soon as the ice melts.