As the ice thaws around Montreal, most of us can't take it any longer. Seeing fishable open water after 4-5 months of ice cover is an annual wake up call to get out and get fishing.
Though many so called "sport fish" species such as pike, walleye, bass, musky and sturgeon are closed and forbidden to fish for, other fun species such as carp and catfish are open year round.
Most often, my first open water outing will be for carp. Though they are much easier to target in warmer water, the early season challenge, coupled with the serenity of being able to still fish open water while relaxing on a warm spring day is about as good as it gets after a long and cold winter.
The key to successfully targeting carp at ice out, is to find shallow flats with slack water, where the water temperature tends to rise faster than faster moving or deeper water. Carp will head for warmer water in big as soon as the ice starts thawing. All that movement along with the warming temperature will kickstart their spring feeding pattern.
A huge mistake often made when targeting carp in cold water, is too much chumming. With the water just above freezing temperature, it doesn't take much to overfeed carp. A few well placed boilies will be enough to attract the carp, if they are in the general area. Next step, is to make sure you maintain a proper presentation. Shallow bays tend to get quite a bit of dead weeds accumulated after the winter, so fishing with popup boilies may be the only way to keep a clean presentation, especially on light current.
Headed out for an afternoon of carp fishing, hoping to land my first open water carp of the season. Rigged a short 6 inch hair rig,fished about 3 hours using one of my Fireball popup boilies, as that flavour / scent has done well for me in very cold water in the past. No hits at all, switched to a Sweet Dream popup boilie instead. Got a screaming run with less than 5 minutes, not typical at all for this time of the year, when carp are quite lethargic in the near freezing water. Unfortunately, the carp dropped the bait after running a few yards. After resetting my line, took about 30 minutes to get my next hit. This one was more typical, starting off very slow, and gradually increasing speed.
The carp put up a very nice fight for this time of the year, when they are often easy to bring in as "dead weight". This particular carp ran in many directions, surface a few times as well. Finally landed the carp off the steep bank, nothing too big at 12.5 lbs, but extremely satisfying to land my first carp of the open water season.
With no one else there to snap a picture, had to use the dinky autoshoot function on my camera. Though I'm getting used to it, not exactly the best fishing pic I've taken.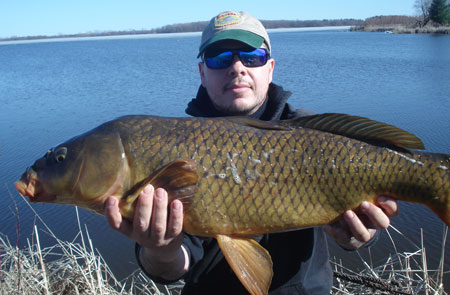 That was all for the day, no more hits for another hour or so, I called it a day.