For the few us us in the angling community that truly enjoy still fishing, there is nothing better than when it all comes together as planned. Still fishing for big fish such as bottom feeders requires proper gear, a good knowledge of the target species, and most of all, lots of patience. As with many other things in life, good things come to those that wait, and fishing is no exception.
A group of clients from the USA hired me to take them out for carp a couple days ago. After their fishing trip up North ended in disaster, with them getting hopelessly lost in the maze of uncharted dirt roads up to Parent. Not being able to find their way to the outfitter they planned to fish for pike and walleye, they headed back to Montreal, and were desperate to land some fish. Being a group of 4, no one was able to accommodate them by boat, which is another advantage to being able to target fish from shore, as long as the bank space is unlimited.
After all that driving and their ordeal, they were weary of joining me anywhere outside Montreal, where I take all my clients for good carp fishing. Though I fish Montreal for carp once in a while for short 2-3 hour outings on my own, the fishing here is more sporadic, typically a toss up between chasing trophies in small numbers, or targeting smaller carp. As we were a total of 5 people, I also needed a spot with enough bank space to get a good spread on our lines, all while trying to ensure success.
We headed to own of my fall spots for carp, which I previously never tried this early in the year. In fall, the spot doesn't yield big numbers. The tradeoff is size, most carp we've caught there go over 25 lbs. But we are in mid spring now, so I knew I'd have to adapt my tactics to this time of the year.
We got set up shortly after 9 AM for a short half day outing. Took nearly 2 hours to get the first carp, and I was surprised that the carp we landed was only mid size, about 11-12 lbs or so. The fish hit in less than 3 feet of water, so I moved a couple of the other lines shallower as well.
The move took about an hour or so to produce results. After a brutal fight, one of the boys landed his biggest fish ever with a nice 28+ lbs carp.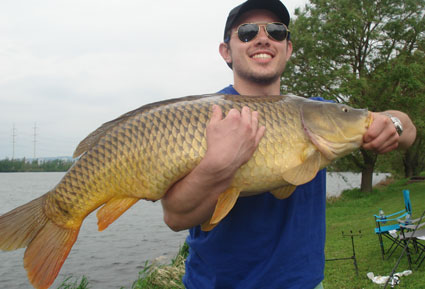 Needless to say, they were all thrilled with the catch, and I'm hoping it made up for some of the frustration they had to deal with during the preceding days. One things for sure, the chances of them catching a 28 lbs pike on a trip up north was very close to zero. Sometimes, simplicity, patience, and a bit of knowledge can make all the difference...
The following evening, I took my 9 year old son Eli out for a short 2 hour evening outing after he had done his homework. Plan was to chase so trophy sized channel cats with him.
Fishing for big channel cats may sound simple enough, but in reality, there are a number of factors to consider. While smaller ones bite earlier on in spring, it isn't before mid to late May that the bigger ones get very active. It is imperative to stay away from spots that have large number of smaller cats. Focusing on prime spots that contain big fish is the key. Look for deeper holes in moderate current, and fish them starting about 1 hour before dark. For the most part, bigger catfish lay low and virtually inactive in those holes during the day, coming out to start hunting their prey near sunset and through the night. Lastly, don't bother targeting trophies with small bait. I use 6-8 inch dead suckers or chubs. The smaller fish may peck at them every now and then, but when a bigger one takes the line, you generally have a good idea that it's going to weigh in the double digits.
Back to Eli's outing, we got set up about 7:45 PM. Didn't take 5 minutes, and we had a catfish messing with our line. Within 5 more minutes, it took a nice telltale run. I set into the big cat, and handed the rod to Eli.
The fish but up a brutal fight in the current, probably the best I've ever seen from a channel cat. Being only 9 years old, Eli started tiring pumping the heavy rod and big reel trying to gain on the big cat that kept peeling the tightly set drag, keeping it's huge head and shoulders towards the bottom in the river's current.
Finally, when he was at the point of exhaustion and couldn't take it any more, I took over for him to give him a break and let him land the fish with the net. The fish still had a ton of fight left, and wouldn't surface even in shallow. When it finally did, I knew Eli had likely broken his previous catfish record. We landed the big catfish, which weighed in at 18 lbs even. Turned out to be Eli's biggest fish ever, topping a mid size carp he landed a couple years ago.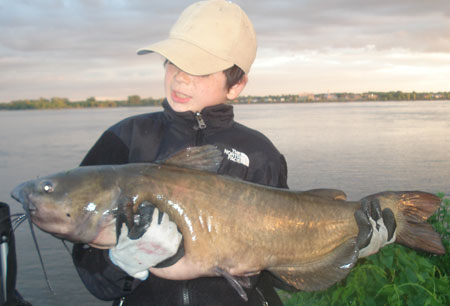 We got back to fishing again, nothing doing for the next hour or so. Then, shortly after 9 PM, the bite turned on. Eli landed a nice 12 lbs cat, followed by 2 more that we lost. one due to a pulled hook, the other cut the line on a rocky shoal right near shore.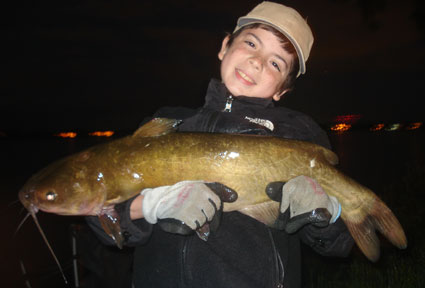 As Eli had school the next day, I had to leave at 10:00 PM, so the rest of those cats will have to wait for next outing if ever they feel like making an appearance on my blog.