Jewish tradition has considers a boy's thirteenth birthday as his passage into manhood. This event is also known as the bar mitzva. With Levi turning 13 in a few weeks, I decided to take him on a father son week of fishing, as I did with my older boys.
Our original plan was to go up to
Le Domaine Shannon
for a 5 day trip to chase pike. A couple days before I was scheduled to go, I got a call from the lodge, asking me if I can give up our first day there to another group who's cabin had burned down. As I go to the lodge a couple times per year, I agreed, much the the chagrin of Levi.
Being that our trip up North was cut short, I offered him a day of carp fishing instead, and a possibly 1/2 day extension of our trip up North, weather permitting.
Levi and I hit the St Lawrence River on Friday morning. The carp were around, but in a very negative feeding mode. Despite pulling out all the stops, we couldn't manage a bite for most of the outing. Neither could a couple other groups of carpers set up not to far from us. Finally, with less than 1 hour left to the outing, I baited a line with a new hookbait I was considering testing. The bait worked like a charm, producing a false run within less than 5 minutes, and then a take about 10 minutes later. Levi made no mistake, and landed his first carp of the season shortly after.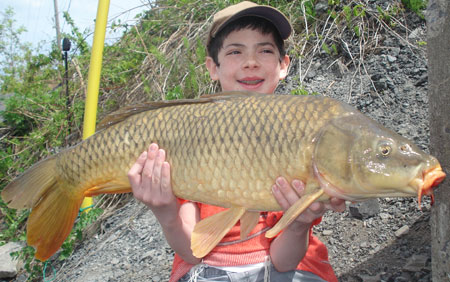 After heading home for the weekend, we left for
Le Domaine Shannon
at the crack of dawn on Monday morning. Ride up was quick, the dirt roads up to the main lodge are in very good condition. After checking in and setting up at our cabin, we headed out to fish a small chain of lake I had never fished yet. Lac Boss is located near the Western edge of their territory, and contains small to mid sized pike, as well as some walleye.
Water temps were still cold for walleye, so we focused on trolling for pike. Didn't take too long for levi to land his first fish of the trip.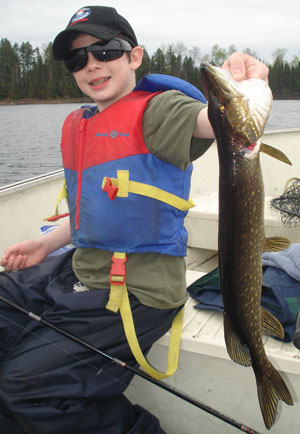 As the section of Lac Boss near the cabin is quite small, we headed up a small creek that feeds into the lake. We eventually found our way to the next segment of the lake, which was a bit bigger. After some more small pike, Levi landed a nicer one: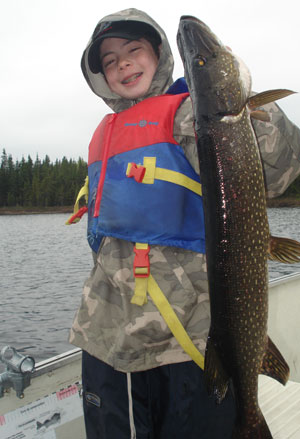 We eventually made our way back, and setup some line with dead minnows on larger rods with baitrunner reels and bite alarms, similar to what we use for channel cats and carp fishing, in hope of hitting some bigger fish while we cooked up the some fresh caught pike for supper.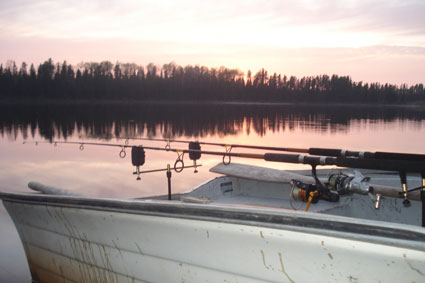 The dead bait only managed some more small pike that evening. The next morning, we set out to explore the outflow creek on the other side of our lake, which eventually leads to 2 other lakes Lac Hebert, and Lac Pearl. Lac Hebert was far more productive, producing another few pike, mainly under 3 lbs or so.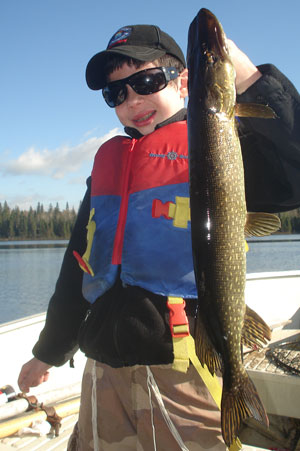 Lac Peral didn't produce any pike, but Levi hooked some sort of salamander or possibly an amphibian on a Rapala husky jerk.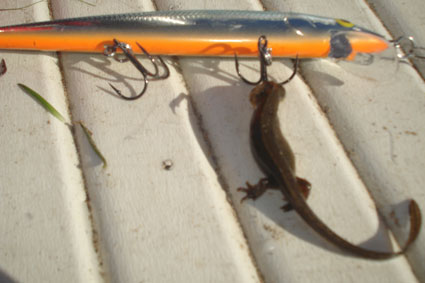 Should have brought along more snacks on the boat: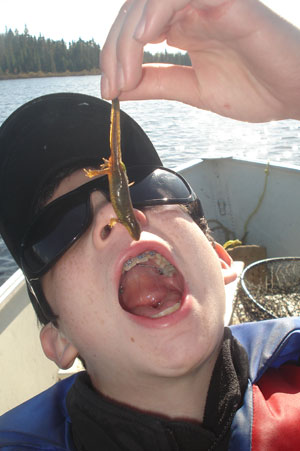 Unfortunately, the weather that afternoon took a turn for the worse. Strong 40+ kmh North winds blew in a cold front, and we woke up to some snow and -12 wind chill temps the next morning: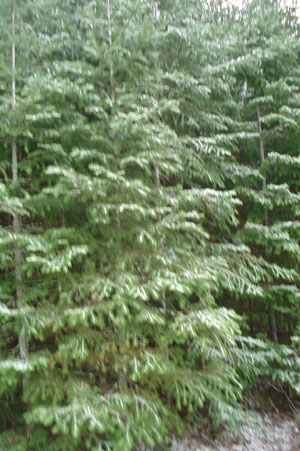 Being too cold to head out on the lake in high winds, we fished dead bait from shore for a while, managed 4 or 5 small pike in front of the cabin.
Levi hates cold more than my other kids, so when I offered him the option of heading home and chasing carp locally the following day, it didn't take him long to agree forgoing the option of sticking with small pike, to swap for the chance at some rod banding, drag peeling carp action in the warm sun. We made it back to Montreal by mid afternoon on Wednesday, and headed out for the makeup outing on Thursday.
We set up the carp lines shortly before noon, as the moring was still quite cold. Despite the high winds, the sun warmed up nicely, and shortly after lunch time, Levi had his first run. The fish fought well, and we were both surprised to see a 10 lb channel cat on the end of the line. Levi was happy, as it's been a while since he's caught a big cat.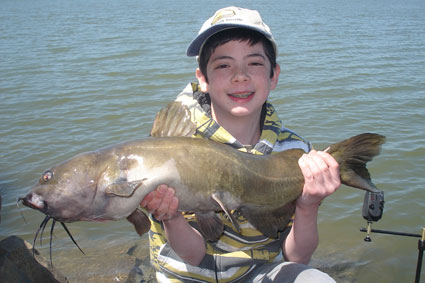 It's body was slim in comparison to the huge head: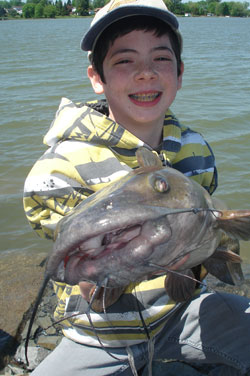 We got the lines set up again, and the non stop action started. Over the next 5 hours, Levi hooked 11 carp, landing 9 of them before it was time to head home by late afternoon. Most of the carp were in the mid to upper teens: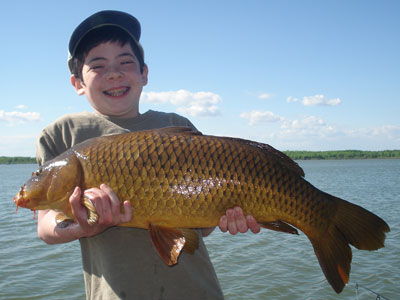 2 of them were over 20 lbs: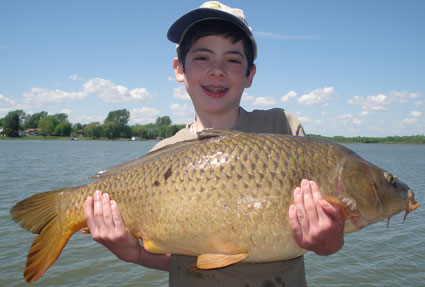 All in all, an action packed week of fishing for Levi, and hopefully a lifetime of memories he'll cherish.