This summer has definitely been a memorable one for my son 14 year old Avi. He's probably fished more than all his other siblings combined, mainly due to straight A report cards and good behaviour, which always ends up being rewarded in fishing trips. Works out well when dad is a fishing addict...
After having spent the week up North walleye fishing with me last week, we were back at it again. This time, it was a short outing in with my friend and #1 musky guide, Mike. As Avi had never been musky fishing in the past, it was a first for him. Prior to the trip I explained some of the techniques used to fish for musky to him, but it was quite different seeing it all put into action. From seeing how big the lures actually are, to the type of gear required to pull the lures and fight big muskies, to the oversized landing net, and big bumper board to measure these oversized fish, Avi knew he was in for a treat.
Muskies are best fished either by casting or trolling giant lures. As I knew there was no way Avi would (or could) have the patience and stamina required for casting, trolling was going to our fishing technique for the day. Suits me fine, as I'd rather not have giant lures flying around in inexperienced hands, and trolling is just so much easier, especially during the heat wave we are having. Besides, nothing better than having a 3000 lb boat pull the lures a set the hook for you due to accelerated trolling speed. As Avi gets older, his patience is setting in as well, especially after spending much time still fishing and scouting new venues with me for various species.
Luckily for Avi, the muskies didn't take long to turn on, he landed his first musky ever, less than 45 minutes into the outing.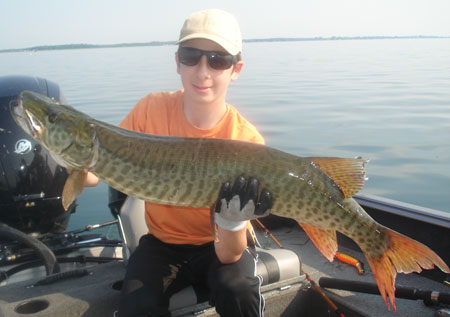 Not a giant by any means, roughly 38 inches or so. Still longer than most of the fish he used to catching. It also jumped a few times on the way in, despite Avi trying to control it as best he could. Either way, Avi was all smiles with his first musky.
Within 1/2 hour, another reel went screaming, and Avi was onto his second musky of the day. About the same size as his first, possibly and inch or 2 smaller. Avi's was still smiling.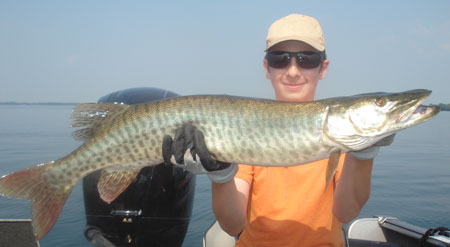 The bite died down after that for a bit. We tried a few spots without any success, until a bit over 1 hour later. Avi couldn't budge the rod out of the quick release holder due to the pressure, so I released it for him. I instantly knew the fish was going to be bigger than the others, and handed Avi the rod. Avi did a good job of keeping steady pressure on the fish without getting over excited, and I had the fish in the huge landing net shortly after. Just in time too, as the musky spit the lure as soon as I netted it. Avi's biggest musky so far, measured in at 43 inches, probably weighed in the 20-23 lbs range.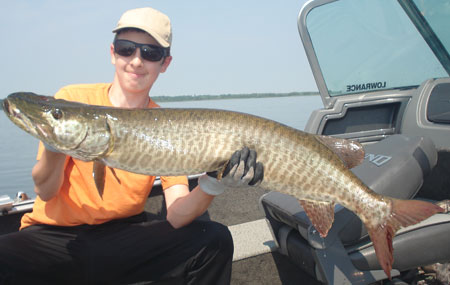 Again, the smile says it all!
This musky wore itself out, took me a few minutes to properly revive it before releasing it. I showed Avi the proper release technique, holding the musky by it's tail in the current until I was certain it had regained it's strength and bearings. Avi had a few extra minutes to admire his trophy in the water, before it finally swam off into the depths of the gin clear waters of the St Lawrence River.
We got 1 more missed strike about 10 minutes later, and then the fishing died down. With the humidex factor nearing 40 degrees Celsius (close to 100 Fahrenheit!) , we called it a day about an hour later, as we were cooking in the sun out on Mike's boat, despite the slight breeze.
As usual, I highly recommend Mike as a fishing guide, especially if you're looking to catch the trophy musky of a lifetime. Mike is likely one of the best musky guides in the country, and he exclusively fishes world class musky fisheries where the next musky record is very likely to come from.
Mike can be contacted about guided fishing excursiones for big muskies by clicking here.