Finally made it out for our first sturgeon outing of the season with my friend Patrick Therrien. It was Ari's first time targeting sturgeons, as he'd never caught any to date.
We met up with Patrick shortly before nightfall, and made our way over to one of his prime spots though the strong wind and high waves. While Ari was to use a conventional setup to ensure that he'd get some bites, Patrick opted to switch to circle hooks to determine their efficiency versus his standard setup. I opted to try a modified hair rig to be used with worms, something I doubt anyone has ever tried before.
We finally got set up at nightfall, Ari was into his first sturgeon within 2 - 3 minutes, Patrick and I weren't even set up yet. Not a big fish, probably in the 7 lb range or so, but I was glad Ari caught on quickly, as sturgeon takes are usually extremely subtle.
Patrick didn't take much longer to hookup either. Again, a small sturgeon, but a good indication that his new setup was going to be efficient as well.
As for me, I got the deep end of the boat, and my hair rigs were completely useless. From getting my worms pecked off the hair, or simply tearing themselves trying to get off the hair, the idea wasn't too bright after all. As Ari and Patrick hooked and landed a few fish, I stubbornly stick with my hair rig.
Eventually Ari hooked into his first big sturgeon of the night. After a heated battle, we landed the fish that measured in at 55.5 inches.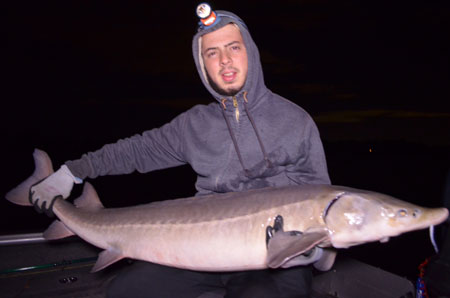 Very close to my 57 inch personal best, but I still hadn't been dethroned up to that point, and joked about it with Ari. Shortly after, Ari hooked into another big one. As soon as it jumped, Patrick knew that it was going to be over 60 lbs, do to it's massive girth. Ari and this giant sturgeon tussled for a while, each pushing each other to the brink of exhaustion. Ari finally got the better of the sturgeon, and Patrick was ear to ear smiles when it finally made it to the huge landing net.
The huge sturgeon was too big and too dangerous for Ari to hold alone, so he and I hoisted it to the front of the boat in the big cradle. Carrying the sturgeon across the boat, I realized how big and heavy it actually was. We finally got in position for the money shot: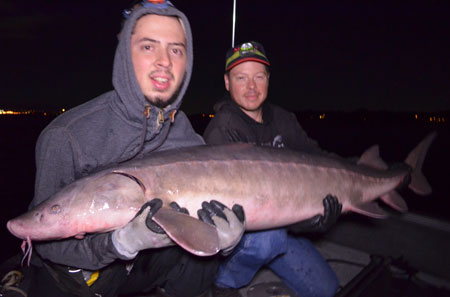 We then proceeded to measure the sturgeon, 61.5 inches in length, and a whopping 30.25 inch girth. Truly a giant when it comes to Lake Sturgeon (not to be confused with white sturgeon which can grow over 1000 lbs). Accurate weight estimate from most resources list a fish that size as weighing between 84 to 85 lbs, so we call 84.5 lbs to be fair.
Not only had the sturgeon smashed my personal best by a good 30 to 35 lbs, but it was Ari's largest fish by far, and smashed all freshwater records for our immediate and extended family!
As the sturgeon had fought itself to exhaustion, it took Ari and I a while to revive it in the cradle. When it finally swam off, it stayed just under the surface, and circle our boat slowly, before eventually making it's way back to the depths of the St Lawrence river.
I finally switched to a conventional set up after that fish, and was eventually rewarded with a few channel cats, and a bonus sturgeon I fought on Patrick's Circle hook set up as well.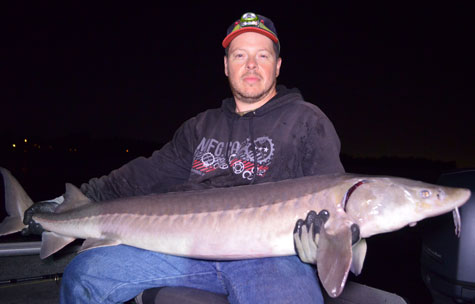 Action died down after that, the sturgeon were jumping all over the place, but no more hits. We called it a night a couple hours later, as the cold front coming in had us chilled to the bone.
Patrick is probably one of the best sturgeon guides in the province. I highly recommend him to anyone looking for the adrenaline rush of fighting the biggest freshwater fish in our region.