For those of you that have been following my blog for a while, you'll remember our last year's attempt at fishing for big blue catfish in mid winter didn't exactly go as planned. The weather threw us a nasty curveball in form of an ice storm, and we weren't able to get out on lake Tawakoni as planned, and we forced to fish 2 half days on Lake Lavon instead. In case you missed it, you can read the original blog post at:
http://freshwater-phil.blogspot.ca/2015/02/fishing-blue-cats-in-north-texas.html
This year, we decided to try again, took Avi and Levi along instead of Ari, as they were off school for a few days on spring break. We booked to days with one of the best guides in the area, former blue catfish world record holder Cody Mullenix. The weather was nice and warm as hoped for, though the cooler water temps had us wearing jackets in the morning, and sweaters by afternoon. Wind forecast for our second day didn't look too promising, but as I always say when it comes to trips that have to be booked in advance, it is what it is, deal with it.
We met up with Cody on our first morning, and headed out onto Lake Tawakoni in search for some giant blue cats, hoping for a nice 50 lbs + fish. Cody's 23 foot Falcon boat is designed in Texas, specifically for catfishing. Very unique style of boat, lots of rooms to move around and put out as many rods as need be, we used 8 rods.
Kids were excited to be on the water again: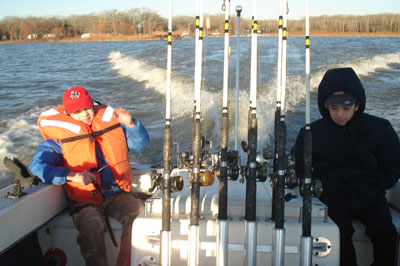 Cody then used his side scan sonar to locate schools of catfish containing the biggest catfish before deciding on a given spot to set up. Very effective, but of course, this is fishing, and nothing's going to guarantee the big ones will bite.
Sure enough, Levi started off the day hooking into a tiny blue cat, his first ever.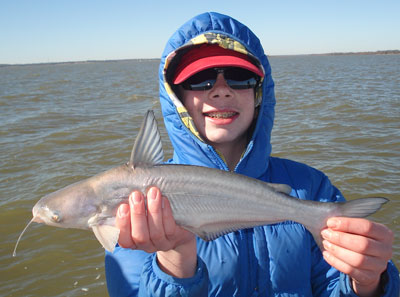 Avi followed up with his first blue cat shortly after: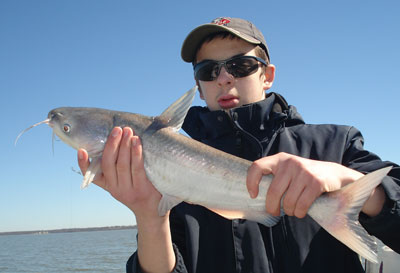 After a few more small catfish, I finally hooked into something big enough to bend the rod a bit more: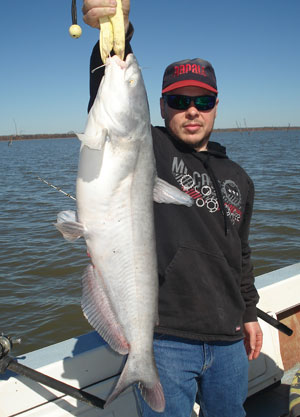 Still nowhere near the size we were looking for...
Bite died down for a while, but towards the end of the afternoon, Levi got a nice 34 lbs catfish, his biggest fish ever.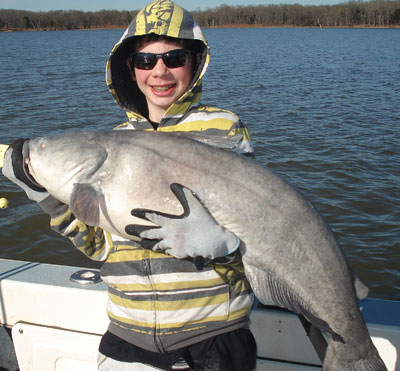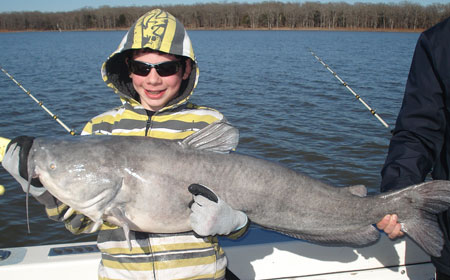 Minutes later, Avi hooked into another big one, which started off running and peeling the tightly set drag with rod still in it's holder. Put up a better fight than Levi's fish, and Avi did a good job fighting the big catfish. He beat Levi's fish by a few pounds, with a nice 38 lbs catfish, his biggest catfish to date. We snapped a few pics: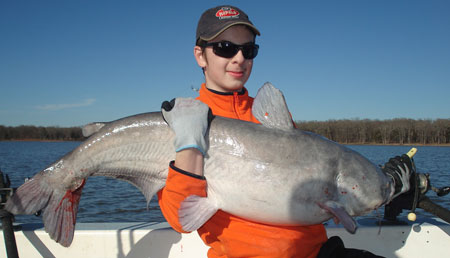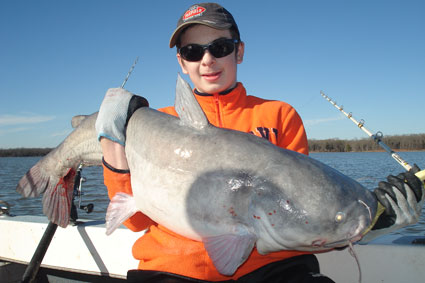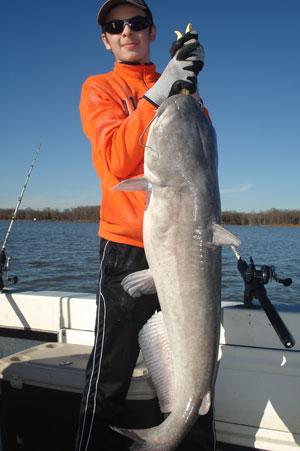 We also shot some footage, check out our video at:
Unfortunately, that was all for the day.
Next morning, we had to get an early start, due to a gale force winds forecast to blow strong by noon or so. We were on the water at the crack of dawn, hoping to anchor on some spots before the waves were too high.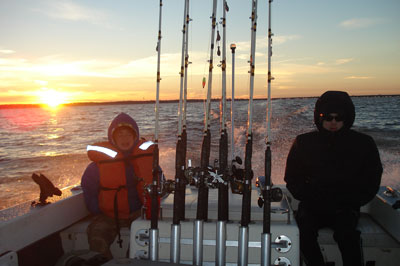 First few spots didn't yeild much, with me landing another small catfish in the 8 lns range. By noon, the waves were getting bad, and we were stuck trying to locate big fish in the shallow bays and cove at the tips of the lake. We finally found one area that yileded some more fish, but again, nothing big.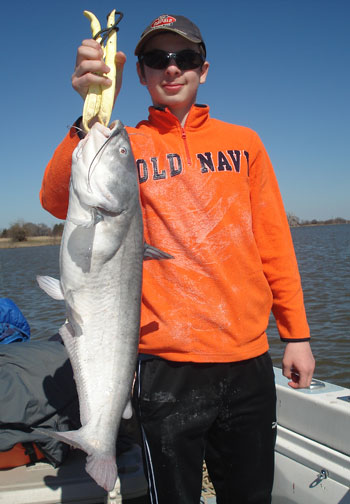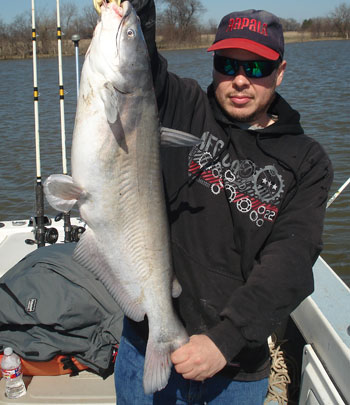 By the time we made it back out to the lake, it was no longer fishable, with the wind gusting at 50 km/h, and the waves in the 4 to 5 foot range. Though we were safe in the big 23 foot boat equipped with a 350 HP inboard, anchoring would have been impossible, let alone trying to still fish. We called it a day early, this ending another mid winter Texas fishing adventure.