My friend Mark Currie who runs Advanced Bassin Plus, invited me out for some walleye fishing a couple weeks ago. As I was too busy to make it with my then upcoming trip up North the following week, we postponed the outing.
I finally got out with him yesterday, for some springtime walleye trolling. I brought along my older son Ari, as well as my 10 year old Eli, who had never caught a walleye.
We met up around 7:30 AM, Eli was very impressed with Mark's 21 foot Ranger boat, equipped with a 250 HP Mercury, kicker, bow mount electric trolling motor, all the latest electronics, and a nifty Bimini top for rain or extreme sun. A boat that size comes in very handy when the winds gusting out of the North East at 20 KM/H churn up the mighty St Lawrence River, as was the case when we launched.
Getting out to our first spot, Mark set up the rods on the quick release rod holders, and it didn't take long for the first rod to go. Eli had his first fish of the day, turned out to be the first of over 30 northern pike that day!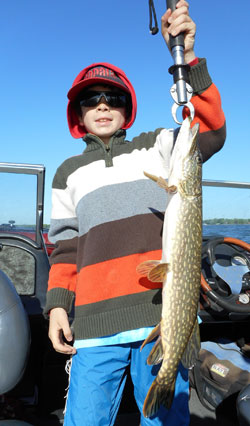 I decided not to take any of the rods unless necessary, leaving all the fun catching them to my sons. Sure enough, Eli and Ari were landing good numbers of both pike and walleye in no time.
Here is a shot of Eli with his first walleye of the day: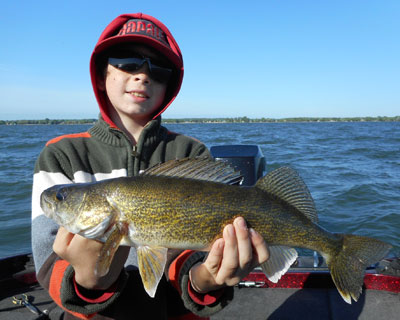 He landed a few more as the weather warmed and the wind started dying down.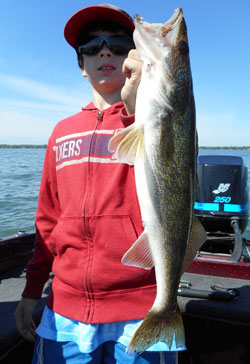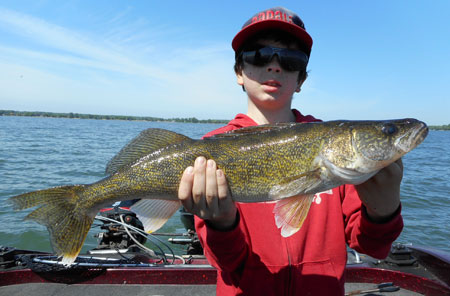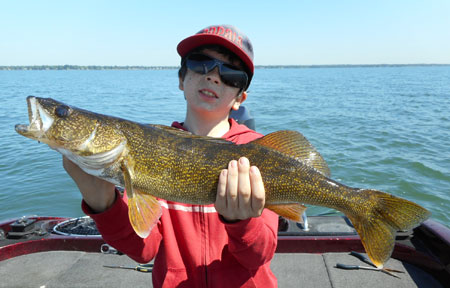 For some luck, Eli Eli happened to be landing most of the walleye, while all Ari was getting were small pike, despite taking turns on all the rods.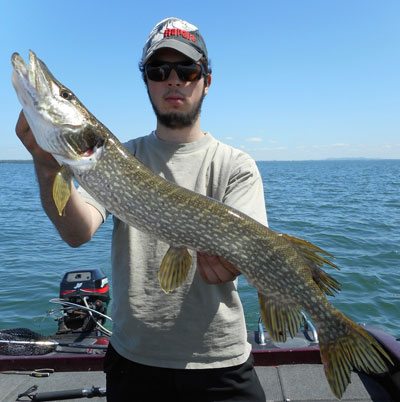 Either way, the action was just about non stop, with a couple double headers and even 1 triple header of pike.
As the weather warmed up, the bite slowed, but Mark worked extra hard to try and locate some bigger fish using his extensive knowledge of the river, with the help of his electronics. We also put up his Bimini top, which made trolling in the blazing sun a lot more enjoyable.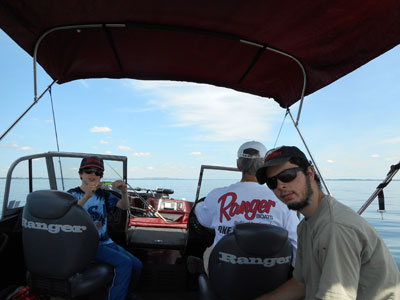 Sure enough, we got into some nice walleye over the slot size.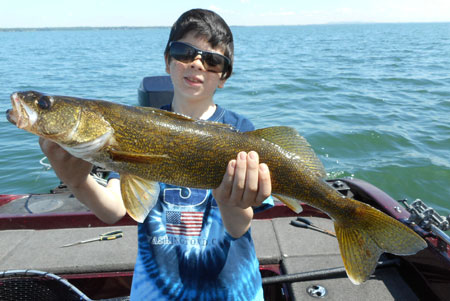 Eventually, Eli landed his biggest of the afternoon, a nice walleye just over 5 lbs.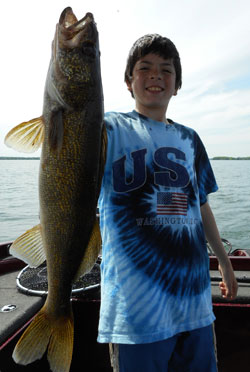 Followed by another 4 lbs walleye.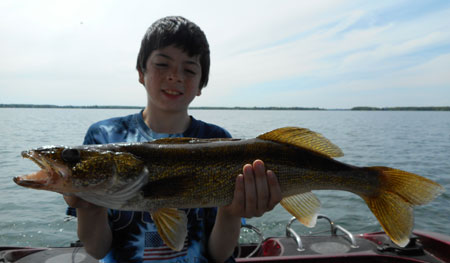 By this time Eli, earned his bragging rights, trash talking Ari who had been stuck on small pike and a couple eating size walleye all day, while Eli had over a dozen walleye landed, including 3 bigger ones. We wanted to hit the 50 fish mark for the day, which ironically, is still a slow day by Mark's standards. I volunteered to catch the last fish, and as luck would have it, a decent walleye came to play.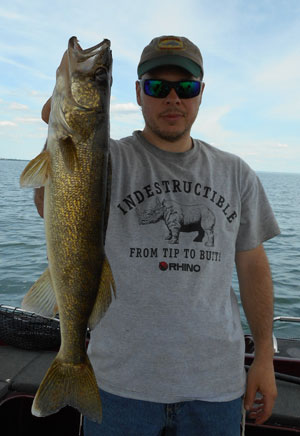 Just as I started trash talking Ari about not getting any big walleye, another rod went off, Ari grabbed it, and landed one about 1/2 lb larger than mine to shut me up.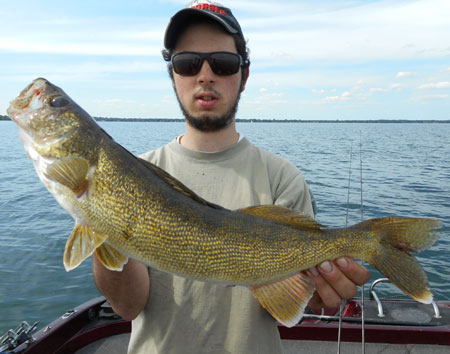 And thus ended another amazing walleye outing with Mark Currie of Advanced Bassin Plus charters. Eli who had hoped to get into a combined total of may 10-15 fish over the entire outing, ended up landing a dozen or so walleye, and an other 15 or so pike, just on his own. He got an idea of what it's like to go out with someone that know his target species better than anyone in the Montreal region.