In contrast to the past few years, I stayed in Quebec all winter long. So, not having fished for carp since before first ice, I was ready to get out and wet my line hoping to catch my first carp of the season. As my typical go to carp fishing spot if still covered in ice, I fished a new spot with a couple friends.
After renewing our fishing licenses, we got set up at around 9:30 AM. With overnight temps below freezing, a thin layer of ice had formed, but was quickly melting away with the sun shining bright, warming temps, and a slight current. We weren't expecting much action until the water warmed up, and sure enough, it took over 5 hours for the short feeding window to open.
I decent paced run sent my ultra sensitive bite alarm screaming, and didn't take long to land the sort of lethargic carp. My first of the season, a bit over 16 lbs.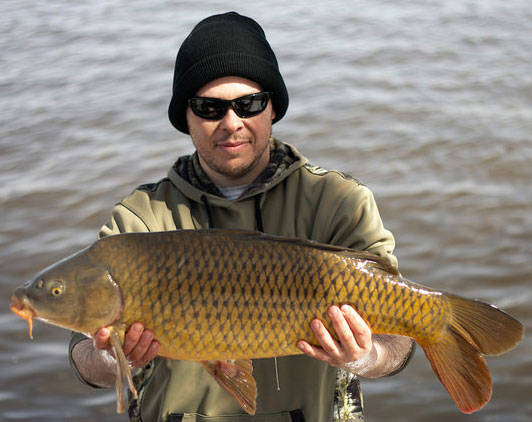 As we were unhooking the carp on my friend Julien's landing mat, my friend Phil's line went off. He had his first carp of the season in the bag shortly after, and we posed for our first double carp / double Phil shot.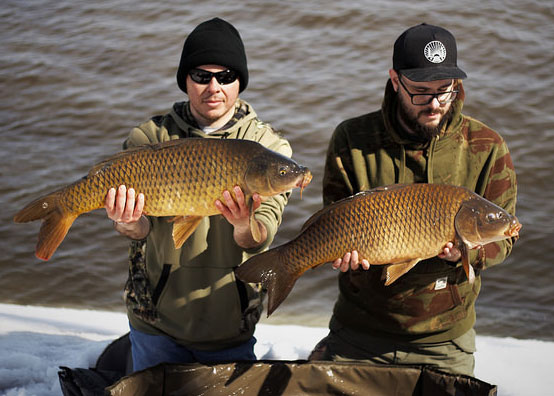 Couldn't ask for a better start to our 2017 carp fishing season. Julien's line went off about 20 minutes later, he fought carp in to shore, but it got unhooked just before getting close enough to net it.
Carp fishing should get progressively better as the water warms up. Looking forward to catching some more cold water carp before between now and the start of my guiding season in May. For those of you interested in catching some of these big suckers, contact me by clicking:
http://freshwaterphil.com/contactcarp.cfm