For the 16th summer in a row, our annual family fishing trip was at Mijocama outfitter, home of some of the biggest largemouth bass in the upper Gatineau region of Quebec.
Largemouth bass are not native to that region in general, and the bass at Mijocama are a strain of Florida largemouth that were stocked many years ago, back when the lake belonged to an American family and regulations we likely non existent.
Being a strain of the bass species native to much warmer water, we typically get good fishing condition at the end of June, when the water temperature is warm, and we get long hot days with plenty of sunshine.
This season had to be the toughest conditions we have faced there to date at this time of year. While we normally get maybe 1 of 5 days being rainy on most season, we multiple rain showers almost every day, and steady rain for a full day. Only one day was sunny, and even then, the kids were out in heavy sweaters and windbreakers instead of our usual shorts and t shirts. All that rain made for swarms of mosquitoes the likes of which we've never seen before at Mijocama, where they are usually only active at night.
Despite the very tough conditions, we made the best of our trip, making sure to fish whenever possible. With our combined years of experience on Giles Lake, the family managed some real nice catches as usual.
As Zev is now 5 years old, he joined us for his first trip to Mijocama and his first shot at landing a largemouth bass. His older sister joined us on my boat, while 3 of my older sons shared their own boat.
Chaya and Zev both enjoyed some great success with bass, with Zev landing a 3, 3.5 and 3.75 lbs bass on one morning, and Chaya landing her personal best largemouth bass at 4.5 lbs.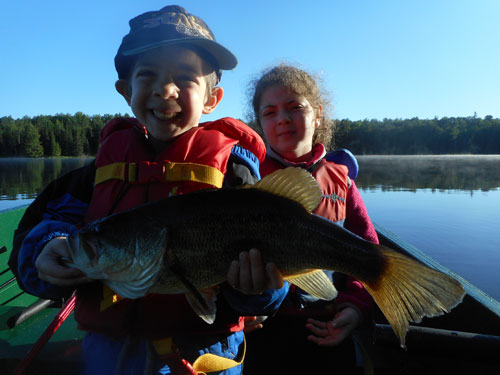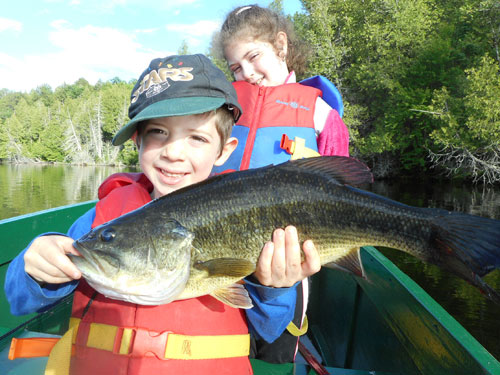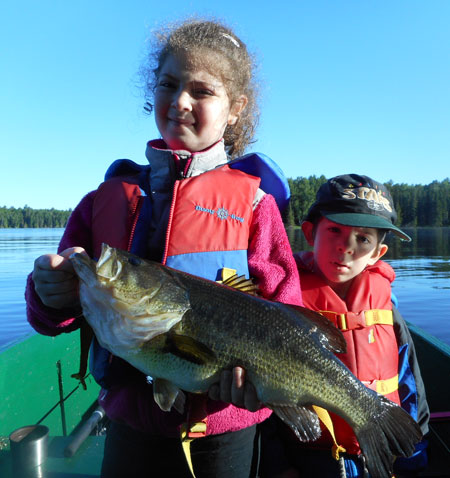 Avi managed some real beasts as well, his biggest ones going 4 and 4.5 lbs.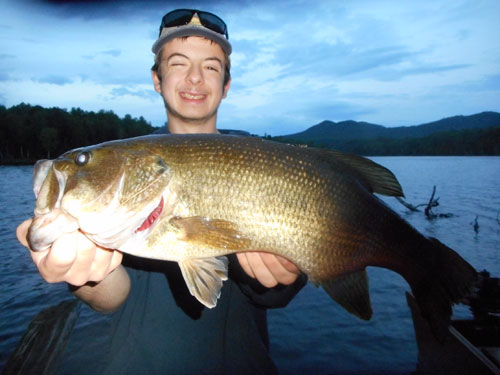 While live worms catch lots of bass at Mijocama, giant sunfish are a welcome catch for the little ones. While many are caught as bi-catch while bass fishing, they also make for great fun when the bass bite dies down. Every season, I teach my younger ones how to sight fish using these jumbo sunfish as out targeted species.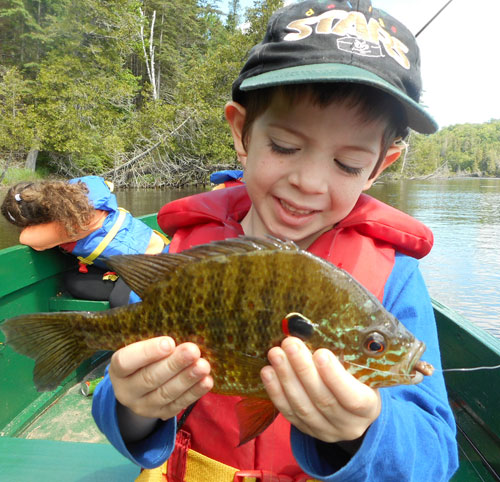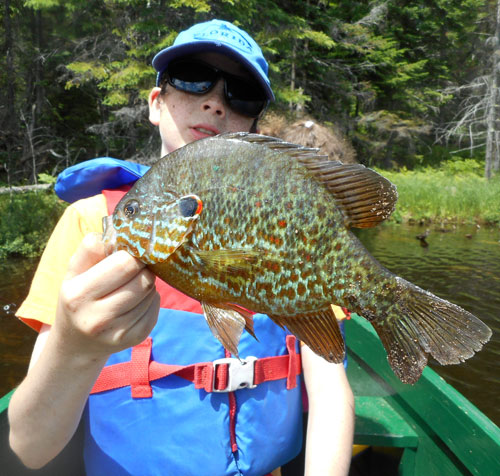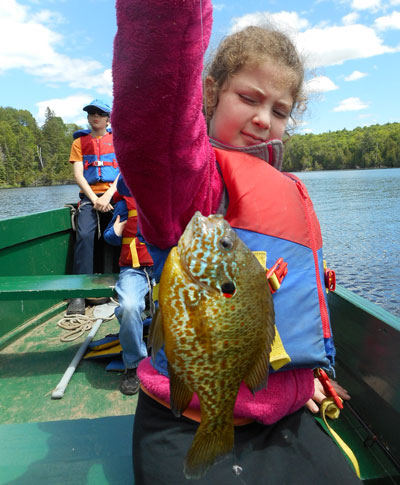 While live worms make for the best fishing by far, I leave that for the kids. On the last hour of every evening, I store the bait rods, and get go for my light action rod for some topwater action. Over the years, the Pop R has out fished every other style of topwater lure I've tried. As such, that's pretty much all I use to catch more topwater bass at Mijocama. That one magical hour of possible topwater action before dark is one of the things that keep me returning to Mijocama every season, year after year.
The topwater bass caught are typically smaller than the ones we fish, with most fish being in the 13 to 15 inch range, although I've them up to 3 lbs on poppers at times. I never found color to make any difference, I'l just tie on any one of 5 or 6 color patterns.
First evening yielded 4 bass on the Pop R.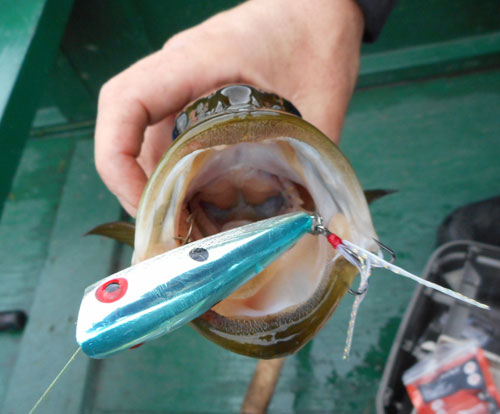 Second evening yielded 4 sunfish and a tiny bass.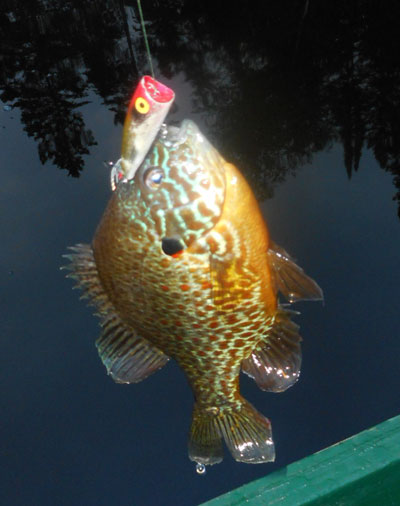 Third evening yielded 3 bass and a few more sunfish.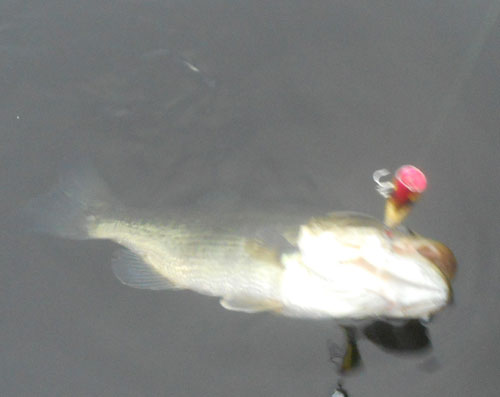 Fourth and final evening was tough, only 1 giant sunfish, as I had 3 other boats working my area of the lake. I finally switched spots at around 8:40 PM, to a very small shallow bay where I had spotted and mid size bass while sight fishing for sunfish the previous day. I've never seen anyone targeting that bay for bass, so I tried a few casts. Sure enough, I got a major topwater explosion on my third or for cast, which could not have been in more than 3-4 inches of water, as I was casting right up to the shrubs on shore.
No mistaking that this largemouth bass was on the feed, just under 3 lbs.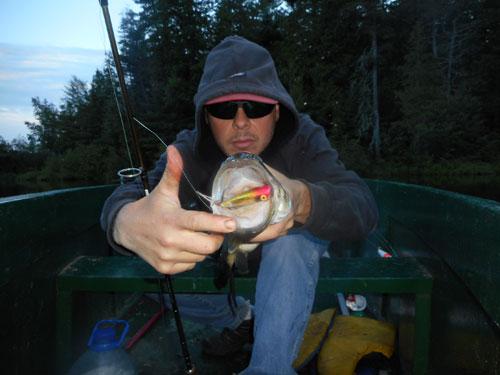 Just as I caught the bass, Avi radioed me on the walky talky, he had just landed a nice 4 lbs bass that measured 20 inches. Probably would have been a 5+ lbs if it were as thick as most of the other ones, but no such luck. As he was around the bend and we were both very close to the cabin, we came in for a father son with almost no daylight left.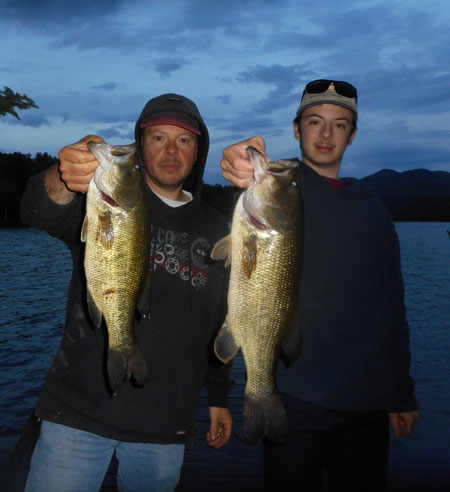 Some other interesting catches of the trip were my nephew's first pike, and a couple bass I caught while trying some trolling for pike with a big Rapala Husky Jerk.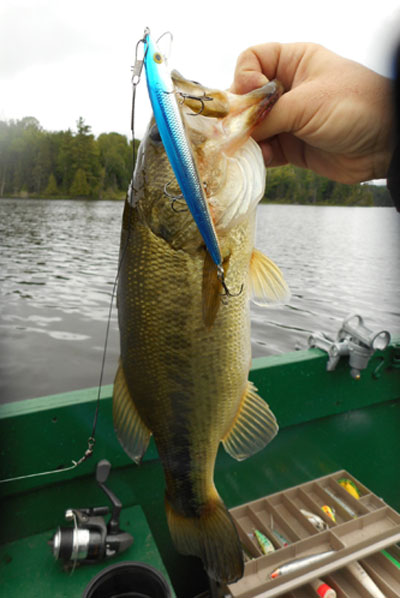 this Northern water snake I caught. Eli posed with the snake that was nearly as long as him, probably over 4 feet and quite fat for that species.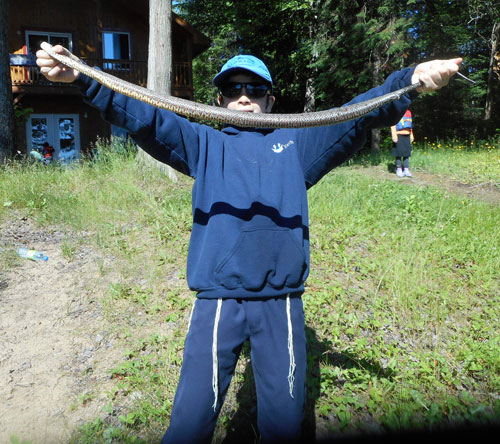 Another great family fishing vacation at Mijocama, some new personal bests for my kids, and best of all, memories that should last a lifetime.
View more information about Mijocama outfitter at:
http://freshwaterphil.com/mijocama-outfitter.cfm