Throughout the spring, summer, and fall, anglers fishing out of high end boats with top notch gear and electronics have a huge advantage over us who shore fish. Same goes for people that live on lakes or rivers without, or with very limited access to outsiders.
Ice fishing is the great equalizer, as long as you find safe ice and and a good access point, anyone has a good shot at having a great outing.
This December, my work load was lighter than it had been in most previous years. Additionally, my wife took most of the kids skiing for their new year's break, leaving me home with only Ari, my oldest son.
With extra time on my hands and not much to do around the house, I decided to spend the latter half of the month scouting new ice fishing spots in different zones of the province. Provincial regulations vary by management zone, so it's crucial to check the rules before heading out to new areas.
While zone 8 around Montreal is open for fishing year round, many of the other zones are completely shut down during the winter. These zones have a few lakes and rivers that are exceptions to the rules, where winter / ice fishing is permitted. The MFFP web site has some good search tools for each zone, and is to first spot to check when looking for new areas to fish at. These water bodies were my target areas to kick off my ice fishing season.
December 7 2017 - Quebec fishing zone 11 (Upper Laurentians)
Hoping to find safe ice in the upper Laurentians after a cold front, I headed up North with Ari. Unfortunately, the lake in question only had 2 inches of ice. Instead of heading back home, we decided to head further North to another zone with some lakes where fishing is permitted throughout winter. We found a new target lake on the government's web site, Google mapped it, and headed up to the area. Had to trek for a good 1/2 hour though the woods to reach the lake, and got there to find roughly 3 to 3.5 inches of solid ice. As winter rules for multiple lines and dead bait were not in effect until December 20th, we only had a couple jigging rods and a handful of lures.
We managed a few small perch.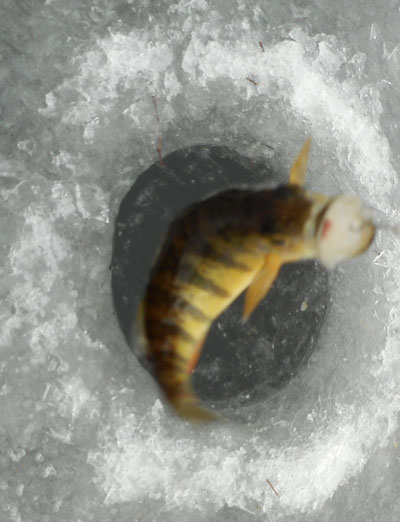 The lake had some moose tracks, surprising being that the ice was barely thick enough for us to walk on.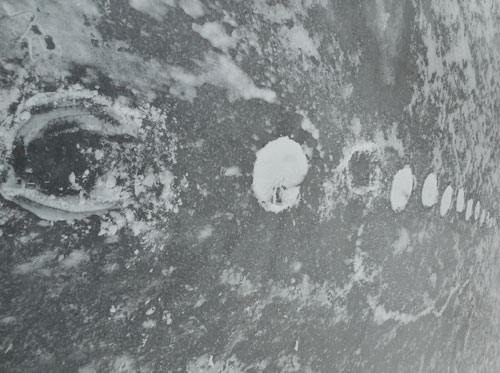 After using Google's satellite map to find an ATV trail to the lake when I got back home that evening, we decided to head back there once again once winter rules were in effect, with the intention of targeting some pike with dead bait.
December 11 2017 - Quebec fishing zone 14 (Lanaudiere)
Kids off school for a day, headed up to Coin Lavigne for some stocked trout ice fishing. Heated cabin came in very handy, as the wind chill was -18 when we arrived. Younger ones stayed in the warm cabin while we got the lines set up, while Levi ice fished with me. Action was extremely slow, we only managed 4 trout all day, but kids had a very nice time, not to mention the tasty dinner.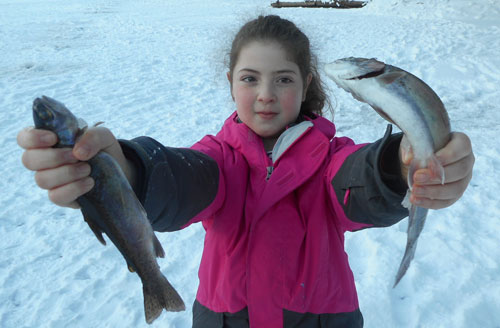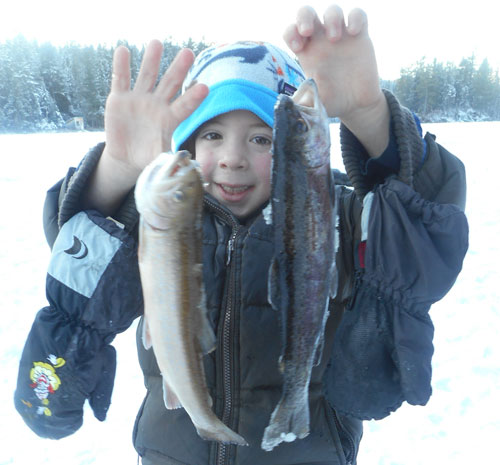 December 21 2017 - Quebec fishing zone 11 (Upper Laurentians)


After dropping my family off at the airport, Ari and I headed back to the new lake we had tried a couple weeks earlier. This time, I brought along my tip ups, and some frozen mackerels and smelt to use as bait to target big Northern pike under ice. All the gear would be too much to haul through rough terrain in the woods, so we opted to walk an ATV trail to the lake, about 1 kilometer or so from where I was able to park.
The ATV trail had a good foot or so of fresh snow, which made the trek out to the lake towing a heavy sled, quite challenging. The trail was crisscrossed with deer, moose and bear tracks, and after a good 45 minutes or so, we finally reached the lake. It was covered in thick snow as well, took another 10-15 minutes to get to the area we planned to target.
After drilling our holes and setting up the pike lines, Ari and I jigged for panfish, catching a few perch and sunfish.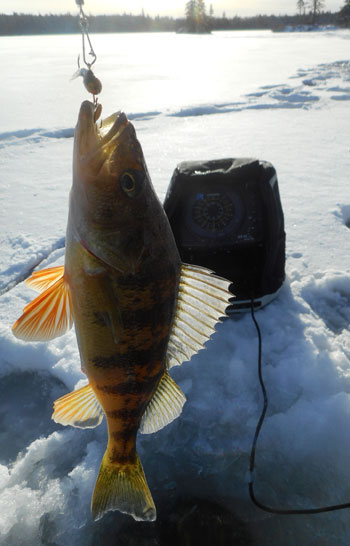 Nothing like being out on an uninhabited lake, untouched since freeze up, surrounded by nothing to the calm nature in crisp -13 temps. Ari enjoyed some frozen pizza for lunch.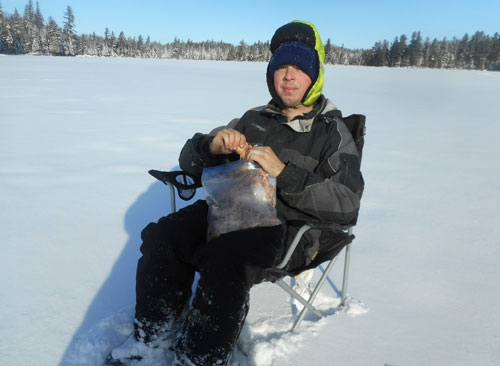 With close to 1 hours walk back to the car, we had to call it a day a few hours later, by mid afternoon. Unfortunately, no pike for us, and as there will likely be too much snow on the trail for the rest of the winter, I doubt we'll be heading back any time soon.
Ari stopped for a short break while towing the sled back across the lake.
Though the fishing wasn't great, I was quite happy with the entire experience of finding, trekking to, and trying to ice fish the lake.
December 24 2017 - Quebec fishing zone 6 (Eastern Townships)
Being an observant Jew, I don't ice fish on Fridays or Saturdays. This was the mandatory break in my plan of fishing 4 management zones in 4 days, effectively making my next outing day 2.
Ari cancelled on me do to last minute change in weather which had him cleaning snow into the wee hours of Sunday morning. I headed out to a lake in the Eastern Townships I first ice fished last winter, hoping to find safe ice. Sure enough, I was lucky to find a solid 4.5 inches of ice, and less than 1 centimeter of snow cover. East trekking and hole drilling using my manual auger, I got the pike lines set up again.
My personal favorite for ice fishing with bait is the Big Game polar tip up made by HT Enterprises. Built to last, and to avoid ice hole freeze up, you can pretty much set and forget the lines until the flag pops ups when a fish take the bait.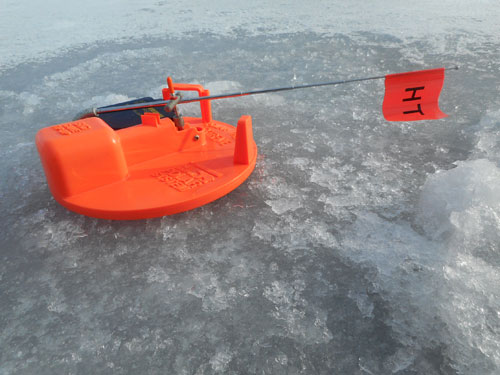 Unfortunately, no hits from any pike. Only had 4 lines set for pike as I was alone, and saved the 5th line to jig for perch. The perch were slower than ever, took my until 3 PM to catch my first one, and then another one on my way out that swallowed my W3 jigging rap.
December 25 2017 - Quebec fishing zone 14 (Lanaudiere)
The following day, I took my brother David and nephew Yehuda up to Coin Lavigne for some more trout fishing. My nephew had never been out on ice before, so I enjoyed being able to give him the run down, without having to worry about catering to my own kids, as they were away skiing with my wife.
Didn't take long for us to catch a few rainbow and speckled trout.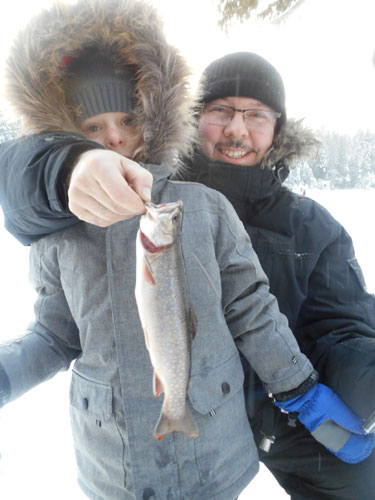 Fishing died down completely around noon, and nothing I tried was working. Finally, I decided to slow jig a Sabiki rig tipped with mealworms, and started catching rainbow trout one after the other.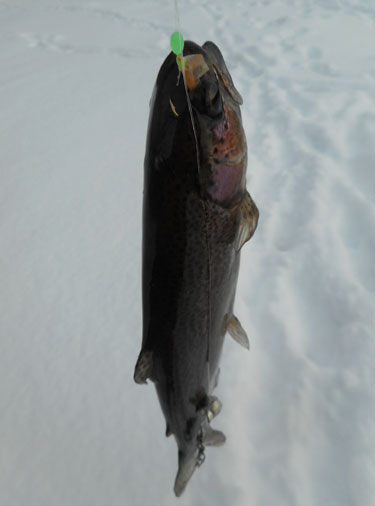 We had our bag limit shortly after.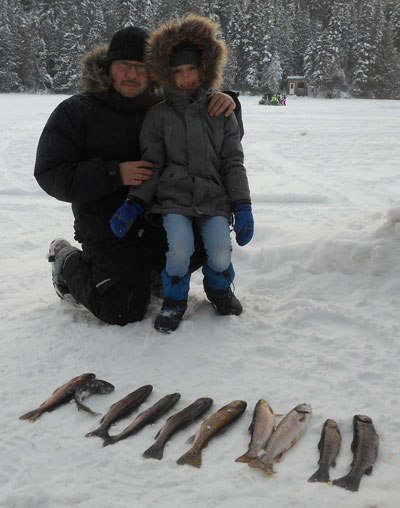 For those of you that have never heard of a Sabiki rig, it is used to catch bait in Saltwater, and widely available around ocean fishing piers. Having picked one up in Florida last April, I brought it back with my intending to try it on ice for perch. It's made up for 6 small hooks, tipped with a piece of plastic that looks like fish skin, with a small colored bead above each hook. As Quebec rules only allow for 3 hooks per line, I cut it in half, and re-tied it to my ice fishing rod. Love it when innovation works out to save the day.
December 26 2017 - Quebec fishing zone 9 (Laurentians)
With an incoming cold front and a busy schedule for the last few days in December, this was to be the last of my ice fishing marathon to end 2017. Finally, Ari and I got onto the lake I had wanted to try a few week earlier. Having never been on this lake before, we set up 8 lines for Northern pike, and drilled a bunch of extra holes a bit deeper to jig for perch while we waited for the pike to hit our bait.

Ari setup with a small w2 jigging rap, while I decided to try my Sabiki rig for perch. The bare rig didn't manage any strikes as it would in saltwater, despite my marking a big school of fish on my flasher. Sure enough, as soon as I tipped the hooks with mealworms, I landed this Jumbo perch.


Ari an I landed a bunch more over the next couple hours, but with a -28 windchill, it got too cold on my wet fingers to keep taking off the gloves to free the fish, so I switched to jigging frozen smelt for pike.

Took a couple hours for the first flag to go off, Ari landed his first pike of the winter. Too small to keep, we released it after a quick pic.


Unfortunately, that was the first and last pike of the day. However, Ari managed to jig up a few dozen perch, with some nice ones in the 9 to 11 inch range.




We ended up keeping some of the bigger perch, as well as a few smaller ones that didn't make it. Planned on having some tasty fresh perch for dinner, as the lake we fished was relatively clean compared to most waterways around Montreal.


Unfortunately, their flesh was riddled with white worms (parasites), so they all ended up in the garbage.

Overall, it has been an epic experience getting to scout and try out some new spots, which is all part of the game. Ice fishing from sunrise to sunset in everyday, not to mention driving a good 1200 km to get back and forth, was quite the experience.

Time invested into trying new fishing spots, rigs, lures and tactics, often doesn't result into much. However, when it all works out and you end up hooking and possibly landing a trophy fish on ice, makes it all worth it.