Stocked trout were the first species I ever targeted on ice. Over the past 20 or so years, it's become a yearly outing with my family, as well with a slew of friends and customer new to ice fishing, or wanting to catch lot's of tasty trout, while enjoying to convenience of a wood heated cabin with dry toilet near our lines.
I still remember my first ice trout, which came on a worm tipped jig right on my first drop. Over the years, I've refined my set up, and it consistently out performed the standard "brimbale" style tip down lines tipped with the same bait with a 10 to 1 ratio. Best of all, is the sensation of hooking and fighting the trout with a fishing rod, as opposed to using a handline.
The outfitters general stocked both brook/speckled and rainbow trout into the various lakes I've fished. Rainbow trout tend to scatter under ice, while brookies seem to prefer schooling up in very slow moving schools. Find the school can be extremely productive to say the least.
Quebec allows the use of 3 baited hooks per line, but I just go with a 1/16 ounce lead jig head tipped with 1/2 a worm, and then a #6 to #4 baitholder or octopus hook tipped a the other half.
Rigged on medium light ice jigging fishing rods using 6-8 lb flourocarbon, we have been able to get easy 10 trout quotas on many occasions, and often opted to use second and even third quotas in 4-6 hour outings.
Simply let the line down to the bottom, bring it up a couple inches, and slow jig at intervals of 15 to 30 seconds. When bite is aggressive enough, double headers of trout can be expected.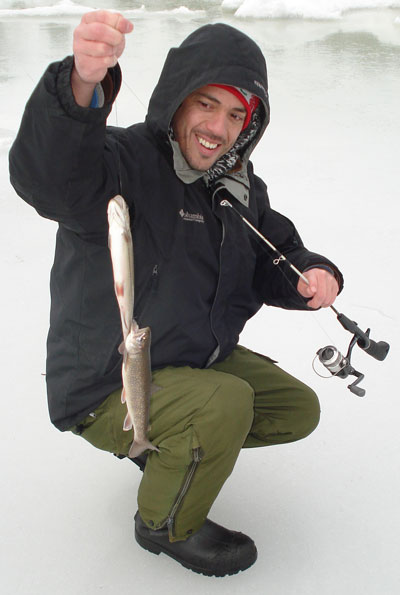 Scattered rainbow trout seem to enjoy the ice jigging setup just as much. Note the setup my son used to land this fat rainbow trout.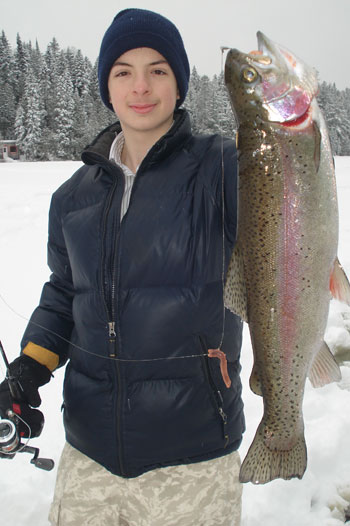 Weather permitting, most outfitters open for ice fishing that stock trout in winter, do so from mid December through late March. I offer
guiding services
for stocked trout through the winter, fund day for the entire family, and hopefully a tasty catch for dinner.