Ice out around Montreal typically coincides with the April, during which time the season is closed for most species of game fish. Carp are one of the fes species that are open, though they can be extremely tricky to target when their metabolism is still very slow in near freezing waters.
Over the years, I've managed to land carp with melting ice or slush cover, nearly every April, and at times, even earlier in March. Sticking to a few general baiting tactics and prime areas to fish for carp, is the key to early season success.
1) Find areas that are shallow, and don't have much current. These will warm up faster on the first few warm, sunny days of the season, and attract lethargic carp like magnets.
2) Fish sunny, calm days if possible. The best bite will typically coincide with the warmest part of the day, usually mid afternoon.
3) Don't over bait! A carp's metabolism is extremely slow in water colder than 10 degrees C (55 F), even more so in water under 5-6 C (40 F). A few particles or boilies of what you are using should be enough to trigger a bite.
4) Spice it up. Cayenne, chilli pepper and paprika are excellent bait additives / carp attractants in very cold water. Noticed this pattern over the years, and after a while, one of my fellow carpers with a degree in biochemistry confirmed the reason; apparently, spicy pepper gives of the carp a "warm feeling" to receptors located all over the carp's body, so they will hover near the bait even when they aren't feeding.
As you see in this pic form April 1st in 2017, Both of us are on a sheet of thick ice, eafter my carp hit a floating chilli lime corn.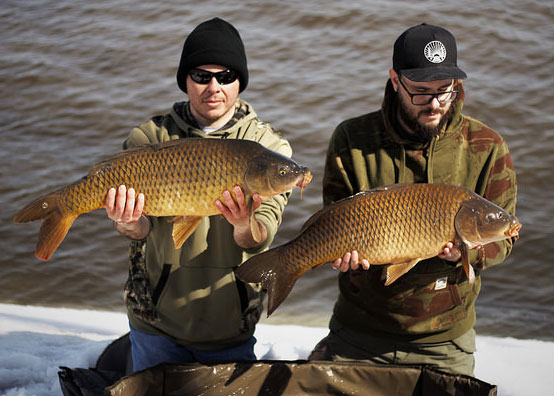 That would explain occasional catches being hooked outside the mouth, as well as their effectiveness as carp bait additives. These spices can be mixed into boilies, and other particle baits such as corn, chickpeas, or tiger nuts can be either soaked or boiled in spicy mixtures. The essential oils will disperse in the water, and hover near the bait on cal, windless days.
6) Patience is a virtue when carp fishing in very cold water. I'll often leave a line in for close to 2 hours at a time. Pay attention to the slightest change to you line or most sensitive bite on your alarm. Carp takes can be subtle in cold water. Windows of activity are short, make them count.
This one took my extra hot Fireball boily in late March of 2016.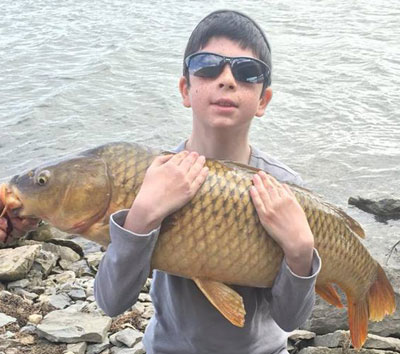 And another fat carp that took a popup version for my Fireball boilie, as you often need to popup your presentation over dead weed beds or debris that early in the season.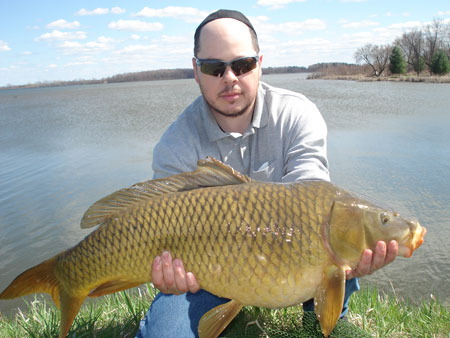 With the recent weather, I haven't been getting much fishing done, looking forward to my first outing of the season.