Spring was extremely slow arriving this year. In fact, most of the Quebec waterways that contain various species of trout (Lakers, rainbow, speckled and brown trout), haven't fully thawed yet, despite tomorrow's trout season opener in most of the regions of the province. During other years in the past, many of the lakes were already thawed a few weeks before the season opener.
Either way, when Quebec lakes or rivers are unfishable for trout due to ice conditions or closed seasons, most of us in the Southern part of the province have some amazing trout fishing just South of the border, in both the states of New York and Vermont.
Both states have extremely generous trout and landlocked salmon stocking programs, where hundreds of thousands of fish are stocked into the Northern Rivers of those states, most of which are tributaries of Lake Champlain.
Along with generous trout stocking, come generous bag limits, and the right to use 2 rods per person in Vermont, and 3 rods per person in most of New York state (with a few exceptions).
In the past, I have had some very successful outings, both trolling by boat in Lake Champlain, and wading some of the Rivers in the Adirondacks.
A few of my outings from years gone by come to mind:
My earliest outing to Lake Champlain in a season, was in March of 2012. Unseasonably warm, the lake was fully thawed before the end of that winter, and my son Avi came along for his first attempt at catching lake trout. My friend Mike was dialed in to the bite that day, we ended up landing 7 lake trout in a few hours of fishing, including some of the biggest ones we've ever caught on Lake Champlain.
Early afternoon was warm enough for us to be wearing T-shirts in winter!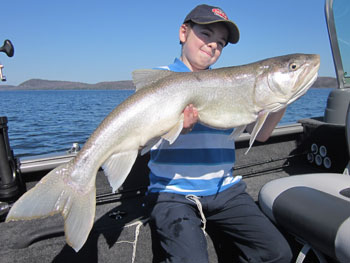 Another very memorable fishing trip to the Adirondacks in New York State, was in late April of 2015. My friend Jimmy and I decided to try a few spots along one of the well stocked rivers. First spot yielded my biggest brown trout to date, and nice 17.5 inch trout that weighed close to 3 lbs.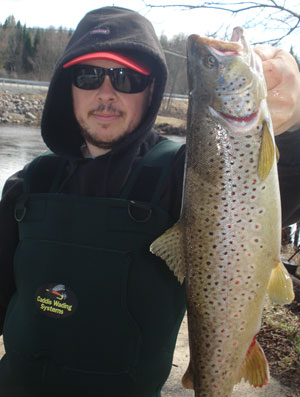 The next spot we hit, must have just been stocked within a day or so before we arrived to fish it. We landed over 50 brown and rainbow trout over the course of a short afternoon at that spot, they were hitting just about everything we threw at the from lures to worms to flies.
New York reduced their non resident fishing license fees a few years ago, down to 10 USD for a daily fishing license, and $50 USD for the yearly version. No need to go into tackle shops to get your fishing license, they are available online, as in Vermont.
So, whether winter lasts very late up here, or whether it ends way before the Quebec trout opener, some of the best trout fishing of the season can be had less than 2 hour's drive from Montreal, perfect for a day trip, and possibly some good cross border shopping at the same time.