Early of May is when pike fishing opens in most zones around Montreal. Though the date is preset every year, water conditions in in the first week of May vary widely from season to season. Both this season and last, we've had extremely high and muddy water, so pike fishing was, and is currently a bit tougher than normal. I prefer to wait until water clears up a bit, at which time the following techniques are sure to land good numbers of pike.
Trolling:
By far the simplest and probably most efficient technique. Shallow water less than 10 feet deep is a good place to start, typically near the shore, where you can follow a contour. Spoons and slender minnow type bait are quite efficient, as are spinnerbaits. Having quick release rod holder is an asset, and if you have enough people on the boat to put out more than 2 rods, you may want to use planer boards to get a good spread on your lines.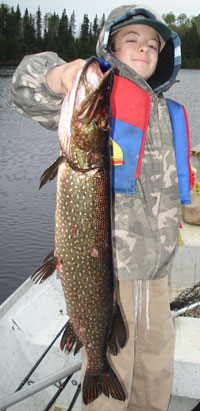 Casting shallow with spoons or spinnerbaits is my recommended technique for early May pike fishing. I typically use a white or chartreuse spinnerbait with double blades. A trailer/stinger hook tipped with a plastic grub work well at times when they a short striking.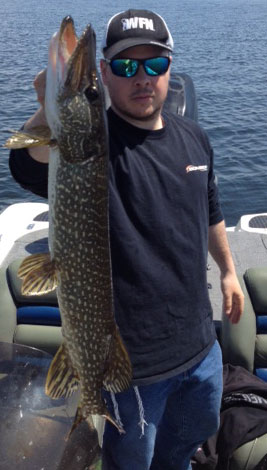 Casting jerk baits in such as the Rapala Husky Jerk , Countdown or Smithwick rogue, has been productive in the past as well. A twitch, twitch, pause retrieve seems to trigger most strikes, vary your speed and cadence until you figure out what produces most hookups on a given day. This fatty was caught casting a Rapala CD11 Countdown: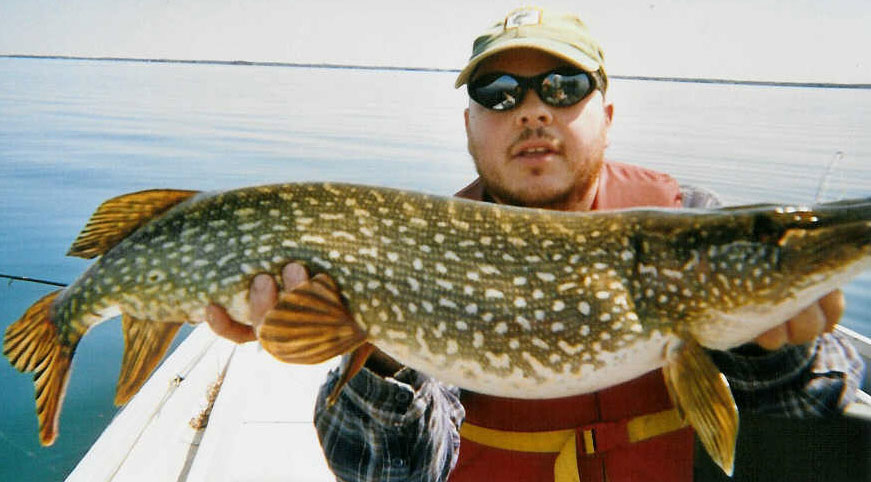 When it comes to casting, you will see many follows, especially in clear water. Keep the lures moving when you get a follow, you can rip it around in circles or figure eight at boatside, as one would do for muskies. Another technique is to follow up with a soft plastic worm or lure, pre-rigged on another rod. That method worked out quiet well for my friend Mike early one spring, when he followed up with a wacky rigged worm:
Using bait:
Lastly, live or dead bait will catch the biggest of pike. Unfortunately, the use of either is no longer permitted in Quebec during the open water season. However, it is still permitted in some parts of Ontario, and in New York state as well.
While live suckers in the 6 inch range are great under bobber, dead smelt of mackerels and be fished either under bobbers, or on bottom. A couple years back (in 2016), my kids and I took advantage of the last season when the use of dead bait was still permitted in Quebec. I used the biggest mackerels I could find, in order to avoid hooking smaller pike. The 12-13 inch mackerels worked wonders, we all landed double digits monster Northern pike on that trip.