New year, new blog post to chronicle our ice fishing adventures and outings. Hope to do a lot of exploring, trying new spots, species and tactics this winter. Will be posting most of the season's ice fishing results here, sorted by date in reverse order, to make for easier chronological reading.
Mar 15th:
Winter coming to it's official end this week, with a few cooler days in the forecast, I headed out solo to try to catch another pike before the end of winter. As I was hand drilling in over 2 feet of ice, I set up 5 tip up lines baited with dead smelt and mackerels. While waiting for pike to hit, I jigged deeper with the help of my Humminbird ice 35 flasher, hoping to catch some bass or panfish.
Unfortunately, no bass or pike came to play, all I landed was a few fat perch. As they were riddled with worms, I didn't bother keeping any.
At this point, I believe that's it for ice fishing this season. Will likely try to hit open water next week before the season for most game fish closes at the end of March. Looking back on my ice fishing season, it was another fun filled mix of prospecting new spots, as well as revisiting some older spots I hadn't fished in years. Panfish action was pretty good, as were stocked trout. Largemouth bass were off the charts, I landed more and bigger bass on ice than ever before.
I hope you all had a great ice season, looking forward to casting into open water next week.
Mar 15th:
Ari was off school, decided to change things up a bit and target pike for the first time in 2019. As opposed to the run and gun hand drilling I've been doing most of the winter, we brought along Ari's 9 inch Jiffy (gas powered auger) to punch large diameter holes through nearly 3 feet of solid ice.
It was my first time at that spot since last season, and as Murphy's law would have it, the Canadian Coast guard hovercraft was making it's rounds busting up the heavy ice along the St Lawrence seaway just as we were getting out lines set.
To make a long story short, fishing was extremely slow. We fished 10 tip up line baited with a mix of thawed smelt and mackerel. Only managed one hookup on a 6 inch mackerel, decent sized pike made it up the hole before doing a "death roll" and snapping the dacron tip up line above the leader.
With not much doing, I took Ari to the ice's edge , where large sheets were drifting off in the current all day. He was quite surprised that it was quite safe and stable all the way to the edge.
Mar 12th:
After landing what was likely to be one of Quebec's biggest bass ever caught on ice, there was no question that I'd be heading back for some more ice fishing for bass again. Having ice fished for bass there a few times over the pass three weeks, I'm getting used to the species, but not to the extent of being able to predict or anticipate their biting mood.
Despite each of my recent outings having very similar weather conditions, on this particular outing, the bass were more finicky than I've ever seen them. They needed to be teased and goaded into hitting more than ever, I probably wouldn't have managed any without the help of my Humminbird flasher. By mid afternoon, I'd landed a perfect 6 of 6 bass, and a lot more chasers. Nowhere near the sizes I hoped for, mainly from 10 to 14 inches.
I then drilled onto a nice school of juvenile bass, and managed to pull out 5 of them one after the other, followed by a fat perch.
Landed one more bass on the way out, after doubling back one some of the 16 holes I hand drilled throughout the day, making my total tally a perfect 12 out of 12 bass landed, my highest ever for bass on ice. 4 perch were iced as well.
As an added bonus, I ran into this big doe while trekking back to the car on my way out.
Mar 5th:
Having been on a roll with the bass on ice lately, I headed back hoping to top the past couple outing's results. Was dialed in early, managed to land 3 consecutive bass out of the first 3 holes I drilled, again, jigging a w3 Rapala tipped with a live mealworm.
On the fourth hole, I hooked up to something much bigger, that started making hard run, ripping drag and peeling line from my reel. When I eventually saw the giant bass though my 6 inch diameter hole that was in ice about 2 feet thick, my first thought was "I hope I can fit this monster up the hole without losing it!".
In nothing short of a miracle, I managed to get the lunker coming up, and once halfway up the hole, I plunged my hand into the icy water grabbing it's jaw.
This beauty is by far the biggest bass I've landed on ice, and likely my longest ever, at 22 inches. I was able to get an accurate weight, as my spring scale was frozen and not functioning properly.
As you can see, I was easily able to put my first into it's throat, I'm guessing it was over 5 lbs...
Ended up landing a total of 7 out of 8 bass in about 5 hours of fishing.
Feb 28th:
After last week's extremely successful out for largemouth bass on ice, I went back for some more. This time, it took my a good 1.5 hours to locate them / the bite to turn on, but once I did, it was game on!
I hooked 5 largemouth bass out of 5 consecutive ice holes drilled about 15 feet apart, landing 3 of them and losing 2 right after they hit. As opposed to last week, when I had to really tease them into biting for a while after appearing on my flasher, this time, they were suspended, and came out of nowhere.
After drilling the next hole a bit shallower, I decided to double down on the 5 productive holes. Sure enough, I landed bass out of both holes where I had lost them about 1 hour earlier.
Upon drilling again, I landed my final bass of the day, for a total of 6 out of 8 bass. Sizes ranged from 13 to 16 inches. Magic lures was the Rapala w3 tipped with a mealworm, same as last week.
As usual, all bass were released in top condition.
Hit 1 nice perch as well.
Feb 20th:
As you have likely heard by now, I lost my dear father obm on February 14th 2019. He an I shared a great passion for fishing, and I've put up a memorial blog post in his honor. After the traditional 7 day mourning period during which we stay at home throughout the day, I was more than ready to get out into the fresh air of the great outdoors to wet a line.
I only had a few hours to fish, so my plans to do more exploratory fishing on Lake Memphremagog were put on hold. I decided to stay closer to home, and target species for the day was largemouth bass, one of my dad's favorite species.
Having been the first time out since losing my father, I figured it would be emotional. I head out solo, got to my spot and drilled the first hole. Within minutes, I was rewarded with a nice hookup, a solid 15 inch largemouth bass.
I was glad to get hit my target species that quickly. I proceeded to thank my dad for having taught me how to fish, and invite his spirit to join me whenever I'm out fishing again. I then cried. A lot.
Back to fishing, I drilled another hole, and hooked another good bass on the first drop, unfortunately came off in ice hole on the way up. Roughly same size at the first one.
The next couple hours turned out to be the bass bass fishing I've ever enjoyed on ice. I ended up landing a total of 6 out of 9 bass, losing 2 of them in the ice hole. Most between 14 to 16 inches.
The lunker for day day was this nice bass just under 18 inches, in the 3 lbs range.
As usual, the bass were released to live to fight another day.
A few perch and a big sunfish were the icing on the cake once the bass bite died down.
My dad never did make it out onto the ice due to his dislike of the cold and fear of falling, but now that those issues won't hinder him, I hope he joins me again in whatever realm he's in. I felt my dad's spirit was with me throughout the outing, I imagined him watching proudly from up there.
Feb 12th:
Headed back to Lake Memphremagog with my 3 youngest kids, planning to catch some more yellow perch, and hoping for some white perch that apparently seem to be invading the lake. Plan was to try some new spots very close to the lake's Vermont border.
While the outside temp in the morning was a blistering -28 windchill, forecast had it warming up a bit during the day. While I'd normally stay home, especially with kids, having perfect ice condition to drive onto the lake nade it a breeze, as warming up is a simple as stepping in and out of the car. It also allowed me to change areas on the fly, as required. Ice conditions were perfect for driving, solid ice from top to bottom, over 24 inches thick. Hand drilling with my Fin Bore auger was a workout to say the least, but still managed to drill a good 20 holes throughout the day.
I gave the kids a quick refresher course on using a flasher to jig for panfish.
Kids all landed perch from the first hole I drilled, with Chaya landing the biggest of the day at 10 inches.
Unfortunately, none of the holes I drilled in various areas stayed too productive, just a few fish from each hole before the action died down.
Kids stayed busy running around, they we strayed into Vermont unknowingly for a brief time.
Kids had a blast, coolest of all, was the ability to catch fish out out of the heated car.
Ended up with 11 keeper sized perch for the day, unfortunately, still no sigh of any white perch after drilling 48 holes over a 5-6 KM radius over the past 2 outings.
Feb 7th:
Headed to a shallower section of Lake Memphremagog, closer to the Vermont border. Having ice fished the area a number of years ago, I figured I had a good chance at having a field day with perch.
For this trip, I was planning to scout some spots by car, as there is now snow cover on the lake. With drive on access and a solid 18-20 inches of ice in most spots, I was the only one with that idea.
As I'm normally on foot trekking with my sled when ice fishing most of my spots, it felt nice being able to leave most of what I need in my trunk. Having the liberty of roaming anywhere on the lake was a bit overwhelming, as I have no lake map in my car, but on the flip side, I had good 20 square km of ice to run around on if needed.
Drilled my first few holes over 25 feet, which is the depth I had success with the first time visiting that spot. No success, but something about being able to fish out of your heated car in cold weather (I didn't need to).
Worked my way shallower, and eventually landed my first of 3 rainbow smelt for the day.
Not much eating, but they make good bait for pike, so kept a couple for my freezer.
Around noon, I made move, drove out about 1 KM away from where I was, as I still hadn't seen any signs of perch. The move paid off, I found a couple small schools, that contained a few eating sized perch. At least the kids would have one of their favorite breakfast the next morning.
When the schools eventually moved off, so did I. Found some more at another spot, eventually caught a couple dozen perch, with a total of 10 keepers for the day.
Overall, I had a fun day. However, that entire region seems to be rapidly getting overfished. Between the govt only having a few open lakes their in winter, and all increased fishing pressure, especially with social media, the fishing quality has declined to a fraction of what it was just a few years ago. At that time, I easily caught a dozen jumbo perch on each outing, between 9 and 11 inches. Now, with all the running and gunning I did by car, all I managed were 10 keepers in the 8-9 inch range.
My consolation for the trip was that although I din't have much trekking to do, I hand drilled 28 holes into 18-20 inches of solid ice, even as thick as 22 inches. Seems like all this ice fishing is keeping me in shape and well fed.
Feb 5th:
Headed back for the first of 2 outings to lake Memphremagog. Chose to fish the same area where I fished for trout earlier in January, but brought along some tip ups this time. Baited them with frozen smelt, and fished them suspended at 5 to 7 feet over deeper water, hoping for some brown or rainbow trout, or possibly a landlocked salmon. Unfortunately, nothing hit the tip up lines all day.
As usual, I brought along my flasher with a couple jigging rods. Drilled about 15 holes at various depths, but kept my jigging suspended at around 7 feet, gain, trying to avoid catching out of season lake trout, and hoping for some of the other salmonid species in that lake.
First hit came around 11 AM, hooked a decent 4 lb lake trout at around 8 over 26 feet. Then another bigger 6 lb lake trout around 2 PM, at 7 of 26 feet. One missed hit in the shallower holes, and 3 of 4 chasers. No other trout or salmon came to play, think I've got that spot out of my system, as all I've caught there in winter are out of season lake trout.
Did see a small deer on my way out.
Jan 30th:
Second of 2 outings with the McGill environmental studies students. Weather was significantly colder and windier than previous week, I had a hunch they wouldn't last too long out there. As we stocked up on enough panfish for the study on the first outing, this one was going to be all catch and release. I started off by setting out 8 lines for pike, baited with a variety of thawed smelt and mackerels. No luck on any of those all day. Drilled a few holes for panfish as well, and located some schools for the students, so by the time they arrived, all was ready to go.
Unfortunately, the fishing was slower than I've ever seen it at that spot. Despite marking good numbers of fish on the Humminbird, we only managed to land about 10 sunfish, a couple perch and a small bluegill. Either way, they were happy to get out for a couple hours, and by the time we were done, that vast majority of the group was already waiting on shore in heated trucks.
Without any more guided outing booked over the next couple weeks, I may actually get back to prospecting some new spots for new species. Stay tuned.
Jan 27th:
Headed over to a friend's country home with Ari, attempting to catch some nice sized pike that live in that particular waterbody. Though the pike population there is pretty low, the average size when you are lucky enough to get one can be quite big.
Got to his place shortly after 9 AM. Surface was covered in over 2 feet of snow. Luckily, I brought along a shovel, and we were able to dig large areas of snow away to reveal the ice's surface. Unfortunately, Ari's gas auger ran into issues with the pull cord, and he was unable to get it started. From past experiences, I always carry a spare manual auger when planning to use a gas drill, nothing worse than technical issues ruining a good day on ice.
Drilled a good dozen hols with my Nils Master, the 8 inch diameter large enough for decent sized pike. Unfortunately, the pike did not co-operate, and wouldn't hit the mackerels or smelts we used for bait. To make matters worse, the heavy snow put enough pressure on the ice to create big pools of water around the holes, we must have had 4 inches of so by the end of the day. That's where 100% waterproof and well insulated boots are a must.
I did manage to get into some large schools of perch. Many small ones, no jumbos, but did catch 10 keepers in the 8 to 9 inch range, most caught jigging a Rapala W3 to avoid smaller ones.
Along with some of the rainbow trout we caught earlier this month, the perch made a nice dinner for the family the following evening. Something primordial about catching dinner in the dead of winter.
Jan 23rd:
First of 2 guided outings for panfish with a large group of students from the McGill university department of environmental studies class. I showed up well in advance to locate schools of perch, bluegills, and pumpkinseed sunfish. Trekking in over a foot of snow, and hand drilling into a good 18-20 inches of solid ice, I was lucky to have found the spot on my first shot. Drilled a few more holes, and proceeded to find a mix of the 3 species in most of the ice holes.
Students and professor showed up early afternoon, and after giving them a general idea of what we were doing, most of the group of 12 managed to land some fish, The majority were kept for some studies they will be doing this semester.
Didn't bother trying tip ups for pike, between high wind , a mid size snowfall and blowing snow after the weekend storm, they would have been buried and ineffective in no time. Lack of decent pike numbers at that spot don't make it easier, but still fun trying. Maybe next time, weather permitting...
Jan 15th:
With my older boys going back to Cegep next week, we decided to try a new spot for stocked trout. The outfitter recently changed ownership, and though the new owners stock brook trout in the winter, there are some good rainbow trout left in the lake some previous summer stockings.
We were given 5 "brimbale" lines to use, and as usual, brought along our own jigging rods. I used a small spoon tipped with a mealworm, while Ari and Avi slow jigged a double worm rig to slow jig with.
20+ inches of solid ice on the lake, and we had to prospect and discover, so we had quite the workout drilling all over until we managed to locate the right area and depths. Avi struggled most of the morning. Keeping the 5 brimbale lines for himself, as well as 2 jigging rods didn't help much.
All the while, Ari and I caught a variety of brook trout and rainbow one after the other, a couple nice big ones mixed in with mainly stocked size fish.
Avi eventually manage to catch some as well, mainly jigging, only 2 trout landed on the brimbale lines all day. We ended up keeping 30 trout, and got my new yearly "year pic" of trout for 2019 with the boys.
Jan 10th:
Ari and I decided to stay local in zone 8 for the day. With generous allowance for 10 lines per person, I set up 8 lines with various bait hoping to lure in some carp under ice, while Ari jigged for bass with the flasher and set up a pike line as well. After drilling double 9 inch holes for the carp with Ari's Jiffy, I stayed mobile with the hand auger, prospecting for bass while waiting for carp to hit.
Morning was very slow, nothing at all. Just after noon, Ari's pike flag went up, but he fumbled on the hookset and ripped the hook out of it's mouth. The pike never returned. Not too long after, I managed a perch and small largemouth bass.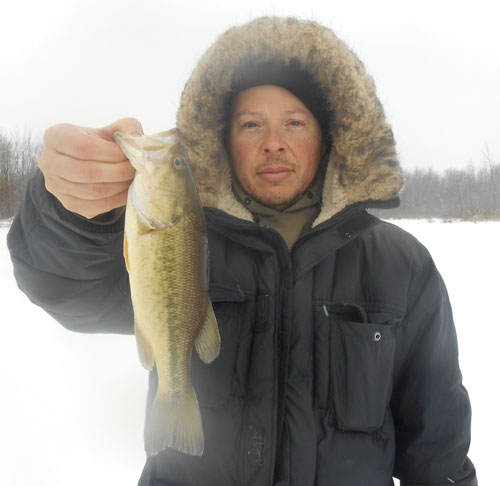 Ari landed a small sunfish, and lost a tiny bass at the hole, and I caught some more pumpkinseed sunfish. No carp hits, we left by mid afternoon to avoid traffic on the way home.
Jan 8th:
One of my main goals for the ice fishing season, is to explore and prospect new spots. Nothing more rewarding than figuring out and catching fish on a new waterbody.
For this outing, I headed down to the Eastern townships, to fish Lake Memphremagog. Though I have fished for perch on ice there in the past, this time my target species were brown and rainbow trout on a deeper section of the lake. I chose not to use any tip ups, as I prefered to stay mobile. After a bit of trekking form where I parked, I found a nice dropoff to prospect. Drill, jig for 5 minutes with a medium sized lure, then again another 5 minutes with a small lure. No hits, start over 30-50 feet further away. Rinse, repeat, etc.
Fishing was extremely difficult. After a couple hours, I managed to land a small lake trout jigging a small kastmaster spoon tipped with a capelin head. Lake trout fishing is closed in winter here, so didn't bother with a pic.
Another few hours without even seeing a fish on the flasher, until I got a nice hit from a good size fish in 7 over 10 feet of water, Came off after 2-3 seconds. Frustrating, as it could have been anything, brown trout, rainbow trout, landlocked salmon, lake trout or pike, they all share the same areas from what I'm told.
Day ended with me landing a couple small perch.
Jan 3rd:
First outing of 2019, I decided to try fishing a spot where I enjoyed some good float tube bass fishing last summer. Being the first time fishing that spot on ice, I left the tip ups at home, and decided to "run and gun" a large area, drilling and fishing until I was able to hook up, hopefully with some decent bass and / or panfish.
Got to my spot and started fishing around 10 AM. Not much doing at various depths, so I trekked to the end point of where I planned to fish, then worked my way back, drilling various depths, and then fishing each hole, first jigging with a Rapala W3 jigging rap, then with a mini kastmaster spoon. Both were tipped with live mealworms, and with the help of my Humminbird flasher, I'd know when I eventually found the right spot.
With 13 inches of solid ice and outside temp of -10, the drilling was a bit tougher than normal, as 8 inch hand auger built up quite a bit of ice on the auger's fins. After 3 hours and 15 holes drilled, I had only landed one small perch. Stopped for a snack, and on my next hole, I knew I had found the motherload. The bottom 3 feet were heavily stacked with fish, to the point that it looked like a thick weedbed.
First drop landed a nice 7 inch bluegill.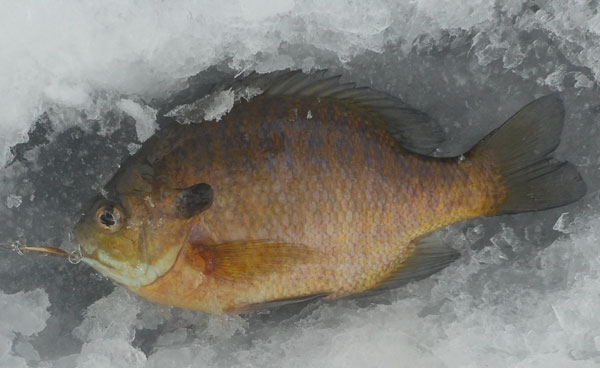 After landing a small pumpkinseed sunfish and some perch, I finally hooked into my first bass of the day, a good 12 inch largemouth. Not quite the size I hoped for, but I was very happy to have accomplished landing my first bass on ice from that spot, as well well as my first bass of 2019.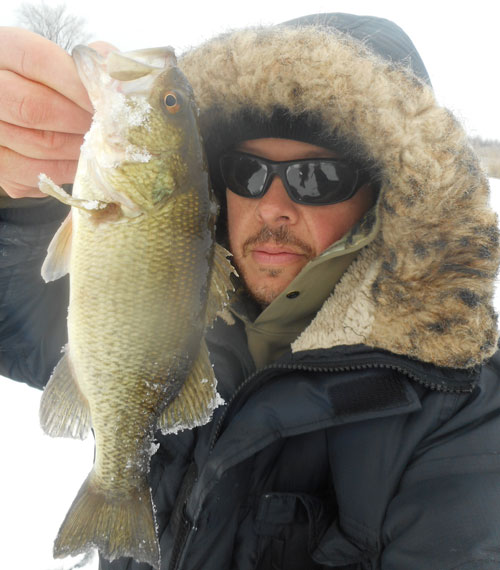 Needless to say, I didn't bother drilling any more holes. Over the next 3 hours, I managed to land a total of 5 bass, 6 pumpkinseed sunfish, 11 bluegills, and 14 perch. No monsters, but the non stop action of constantly releasing cold, wet fish in minus -15 windchill had my fingers sort of frozen by evening. Regardless, I was quite happy with the outcome of the outing, and Zev and I enjoyed a tasty and healthy breakfast of fresh caught perch the next morning.
Hope to get out for some trout next week, stay tuned...