Only fished 2 days in April this year, tying 2014 for an alltime fewest days fished in April since I started keeping a fishing log in 2008. Due mainly to the Corona - Covid 19 pandemic, with travel restrictions from the Quebec government that sort of unclear.
With 6 of my kids stuck at home, as well as me working from home, I deemed my outings to be essential enough for our mental and physical health, to get them out in the sun and off their tablets.
Both outings were for carp, one of the few species open in April that is worth targeting.
April 6 2020:
Weather: 12 degrees Celsius, Sun/cloud, 18 km/h West wind
Water temp: 2 degrees Celsius
First open water outing of the spring season, just days after ice out. Water still near freezing temps, I took Eli along, hoping to put him on to his first carp of the year. Zev came along to try to catch some panfish.
Days was sort of slow as expected. Zev caught a few smaller perch, and eventually we had our first carp run, which came on one of my Fireball popup boilies. Unfortunately, the fish ran into a rock pile near shore, and eli wedged the line into it. Carp got away.
A couple hours later, we got another run on a line baited with popup chili corn. Eli made no mistake this time around, and landed a decent carp in the upper teens.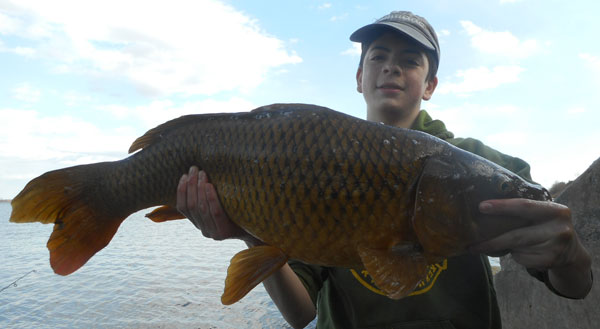 April 29 2020:
Weather: 18 degrees Celsius, Sun/cloud, 25 km/h South East wind
Water temp: 7 degrees Celsius
With warmer water temps since out last outing, I took both Eli and Zev out for carp, hoping to get into a few fish with them. They were anxious to get out again, after having been stuck in the house for 3 weeks since they last fished. Zev decided to forego panfish, for a shot at landing a nice carp.
The outing turned out way slower than I hoped for. It took us nearly 4 hours to get a bite. I grabbed the line, pulled the big carp away from a rock shoal near shore, and assisted Zev in fighting the big carp all the way to the net. Luckily, it didn't put up much of a fight for it's size.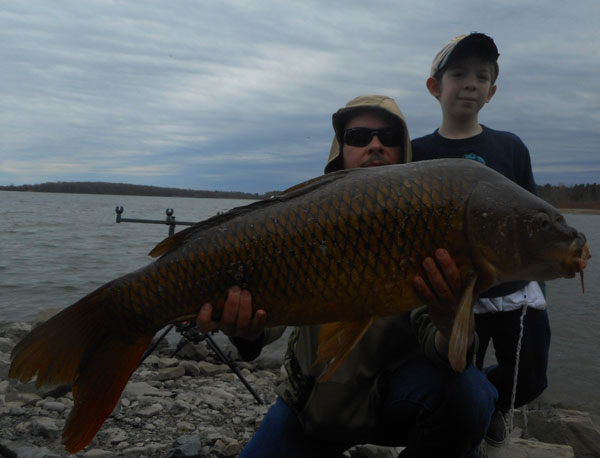 Weighing in a respectable 26.5 lbs, the big carp smashed Zev's previous record by more than double!
By far the biggest fish he's caught to date (with some help from Dad). The carp fell for a Fireball popup boilie.
That's it for April 2020. With pike season opening around Montreal in a couple days, hope to get out to chase them, hopefully from my float tube. Stay tuned.