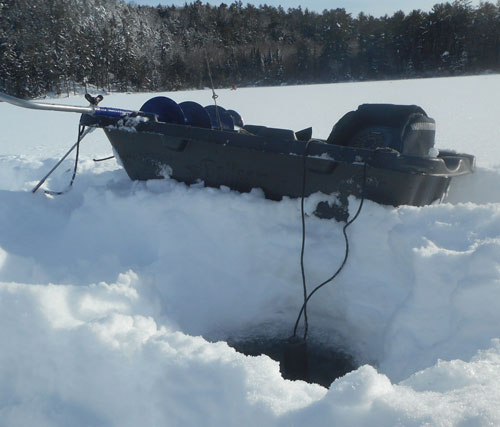 January finally ushered more safe ice all around Southern Quebec, which opened up many more ice fishing opportunities, after a warmer than normal start to the ice season had many of us confined to a few early season spots, for longer than normal.
Many of my fishing peers often set goals for themselves at the start of a given fishing season. These goals typically relate to a particular species, size, or method they intend to attempt catching. Although I can see how setting such goals may drive someone to try until they succeed, I don't like limiting myself and obsessing over such goals. Rather, I prefer to set my goals based on where and how I plan to fish over a given time period, devoting a fair bit of time to exploring new lakes, rivers or techniques.
My goals for this winter are to try a variety of new fishing spots, whether they are new lakes, or simply new areas and depths on lakes or rivers that I've previously fished. Aside from investing my fishing time in pursuit of these goals, I also have wish lists, which are typically related to catching new species on ice, or similar.
After having iced fished only three new spots late in 2020 due to lack of safe ice, I fished a few more lakes I'd never been to during January. As well, I returned to a couple other lakes I first fished last winter, to resume exploring them on ice.
As I spend much of my time on ice running spots with a jigging rod and flasher, most of what I'll catch are panfish, especially perch. Managed well over 100 perch in January, and initiated a couple people at the same time. Some of those perch were really nice sized.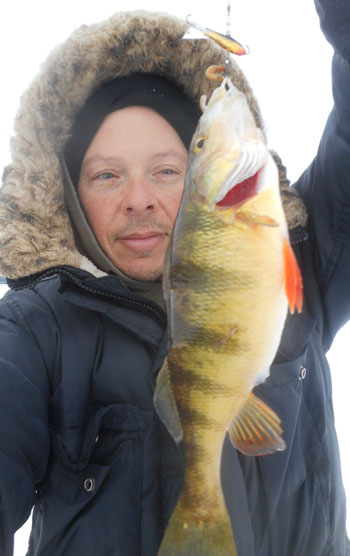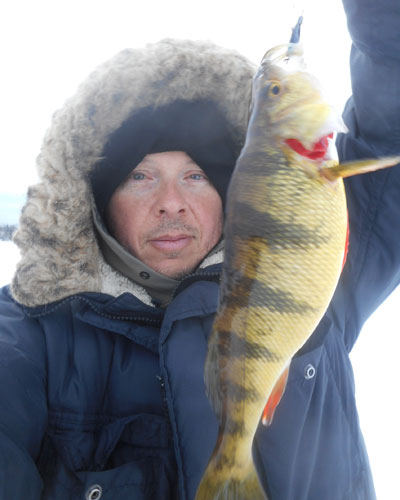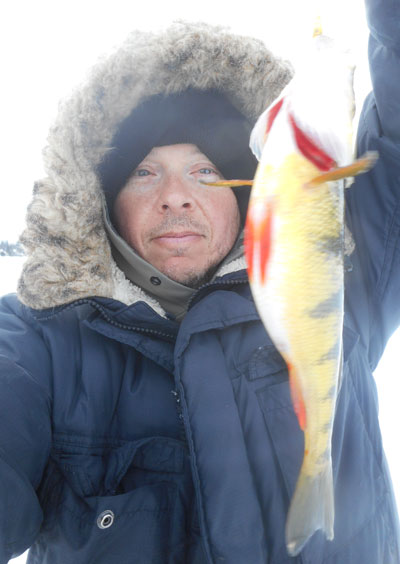 Many of the lakes and river I fish have good bass populations. Sure enough, a brand new lake I fished paid off quickly with my first bass of 2021.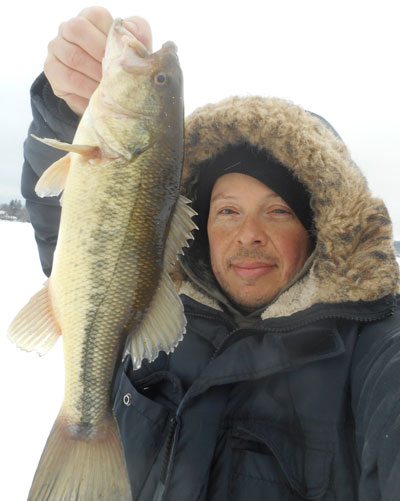 The following week, another spot I had first fished last March paid off, another largemouth bass came to play after five hours of trekking and drilling.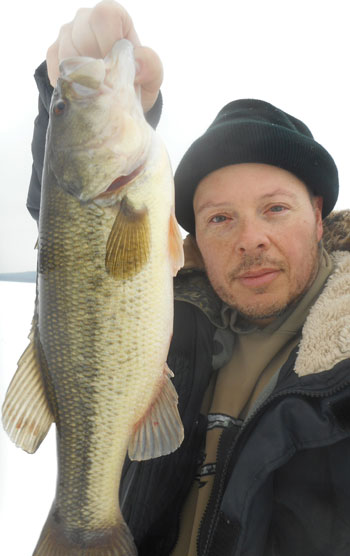 Although I've caught well over 100 largemouth bass on ice, smallmouth bass have eluded me under ice up to this point. Ari and I decided to try fishing another new lake I'd never been to for brook trout. Unfortunately, we weren't doing well with the trout, all we found were some tiny perch, until I drilled a hole over 28 feet of depth and dropped my mini kastmaster spoon down to the bottom. I was immediately rewarded with a nice tug, and when I finally brought the big fish up through the hole, I was elated to see my first smallmouth bass on ice. The stunning 4 lbs bass made not only my day, it made my month, and possibly my entire winter season, as it's my first in 20+ years of ice fishing.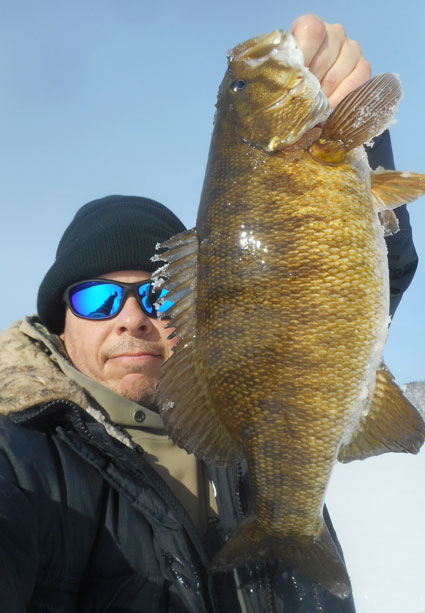 Last but not least, we get to the our region's ultimate ice predator, the Northern pike. Along with the odd musky, Northern pike are the only species I target on ice using multiple lines, specifically, tip ups baited with frozen mackerels. Unfortunately, both times I set my lines for pike in January did not prove productive. However, I had another nice surprise while jigging for perch down in 22 feet. Hooked into what I assumed may have been a decent sized lake trout, handed to jigging rod to the customer I was with, and he managed to land a fat pike, very welcome surprise.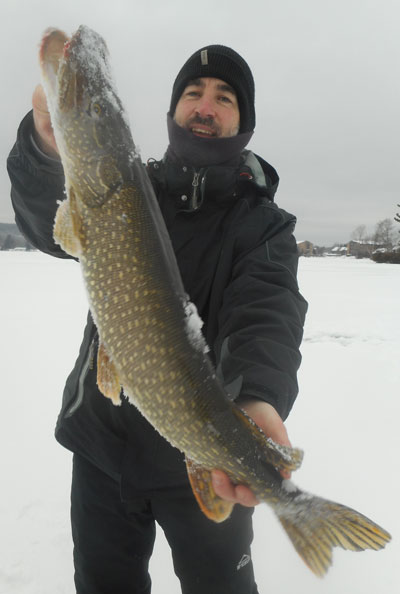 Often overlooked are some of the other benefits and rewards associated with ice fishing. For starters, trekking and hand drilling through deep snow is quite the workout, more so than most other forms of exercise.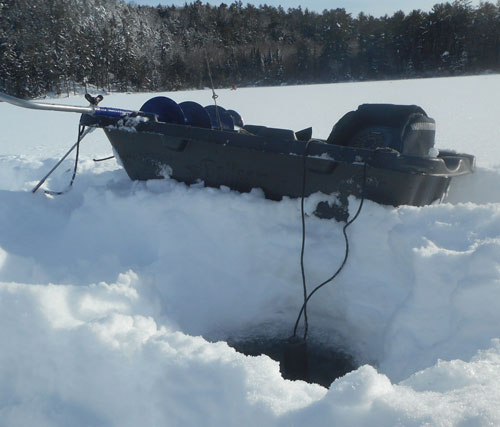 Sometimes, it's the wildlife that would never run into living in Montreal.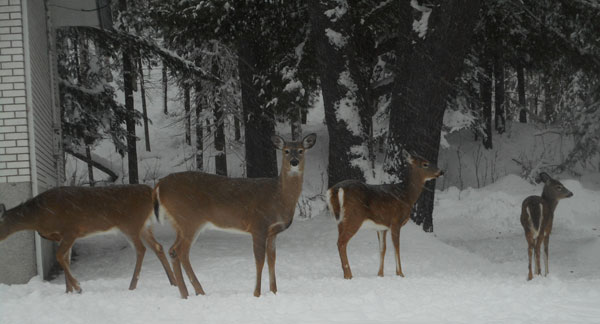 Lastly, one of my goals ever winter is to harvest some tasty fish from clean lakes, and fulfill my primordial desire to literally put food on my table.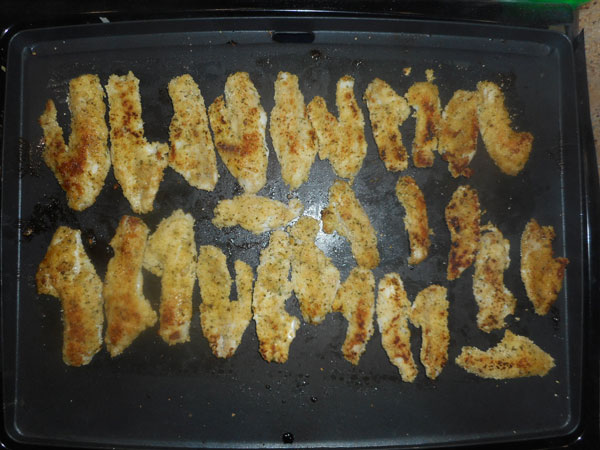 With lots of snow covering many of my spots now, trekking to new spots will be significantly tougher for the start of February. Hopefully weather and fish with both co-operate with my plans.