Haven't been doing to much carp fishing lately, being that my early season hot spot is in Ontario, and the province is closed to visitors until the end of next week. While casting for pike has been quite productive as far as numbers, I finally decided to head back for a few hours of carp fishing with my 9 year old son, after having pre-baited one of my better trophy spots for a couple nights in a row.
Got to out spot around 11 AM, set up two lines, one baited with one of my sweet dream popup boilies, the other with one of my fireball popups. After not getting any hits for a bit over an hour, I reset the lines after a quick lunch.
Success was almost immediate, I hooked into my first carp of the day within 5 minutes or so, on the sweet dream popup boilie. Zev did a good job getting the other line out, and netting the big carp in my new oversized landing net. A nice 26 lbs fish to start the day, also happened to be my biggest of the season up until that point.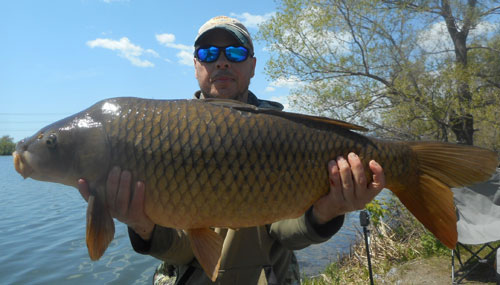 After a couple quick pics by my aspiring camera man, the carp was released in good shape, and I reset the lines. Another hit within less than 5 minutes, this one toyed with the line a few times before making it's run. Patience paid off, and I got a solid hookset. From the amount of drag being peeled of my reel, I had a good feeling this carp was going to be over 30 lbs. When I finally saw the fat carp, I knew it was going to be one of my biggest, due to it's huge girth, as well as the amount of torque it had in each run.
I finally wore it out enough for Zev to net it, and when I lifted it out of the water, I had a very good feeling that it was a new PB. Sure enough, it weighed in just over 41 lbs, beating my previous best of 38.5 set 12 years ago!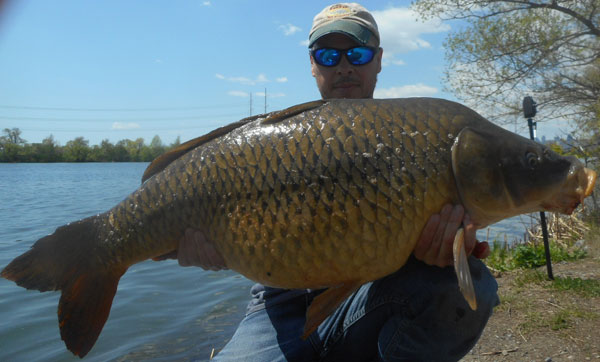 The massive tail on this big sucker gives an idea of where those powerful runs come from.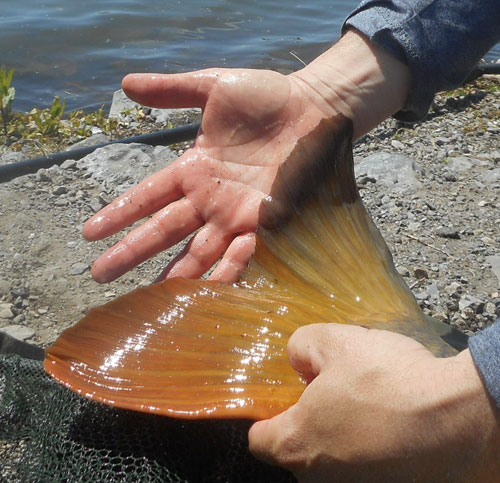 I was ecstatic about finally having broke the 40 lbs mark, into my 17th season of carping. I had a good feeling that spot would eventually pay off with a giant carp, and now I'm very happy to be one of the few carpers that managed to land a 40+ lbs carp in my home province of Quebec.