Finally made it back to Lake Champlain to fish for lake trout for the first time in 8 years. Felt real nice to be able to cross the land border in New York state without needing any covid tests, as well as return to Canada without testing or quarantine.
Having fished Lake Champlain for lake trout with my friend Mike in the past, I knew it could be hit or miss, depending on a variety of factors, water temp and clarity being important ones. Plan was to to hopefully land 2 bag limits of 3 fish each (6 total), as I have a variety of new recipes to try with lake trout, hopefully making them more palatable, as they tend to be fishier and fattier than most other trout and char species.
We got to our first spot shortly after 10 am, right in middle of the mid morning major. With the water temp in the 45F range and stained, everything lined up perfectly. We set up 4 rods with a variety of crankbaits and started trolling. Within less than 5 minutes, I landed my first lake trout of the day, a 31 inch beauty, my biggest lake trout to date!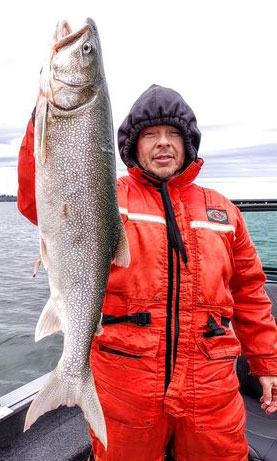 What followed, was by far the best lake trout bite I've ever experienced. We managed to land our 6 fish bag limit in less than 1 hour, and whopping 15 lake trout in about 3 hours of fishing! A couple double headers, and lost a few more as well.
Both Mike and I landed some respectable fish in the 30 to 31 inch range.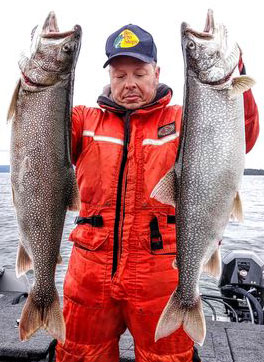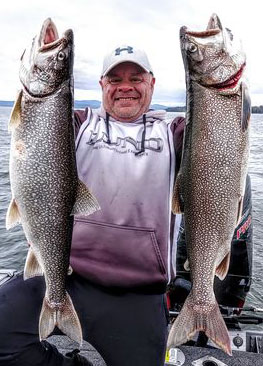 When the bite slowed down, we tried a couple more spots, I ended up landing 1 more lake trout to put our total for the day at 16 landed. We called it a day when rain started coming down after 3 pm.
By fay my best outing on Lake Champlain ever, glad to see that the lake can still produce this sort of quality of fishing.
I cleaned the days catch once I arrive back home, and tried 2 recipes on one of the smaller fish. Both ended up better than I thought, so freezer is well stocked with fish again :)