Having fished carp for nearly two decades now, I can't tell you how many times I've been asked by onlookers whether or not I eat them, how they taste, etc. For the most part, I don't keep carp, let alone eat them. With the exception of some neighbors that occasionally ask for a carp, they are all released in good condition, especially the bigger ones.
I had tried baked carp, smoked carp, and carp soup many years ago, none of which were even close to being edible, at least by my palate's standards. Add the fact that they contain two sets of double y bones, they quickly turn into a nightmare for anyone that hates bones in fish as much as I do.
This season, I made it one of my goals to debone a carp, and find at least one way to cook it that would warrant at least a second bite, if not finish the entire portion (dare I say like it?).
During my first outing of the season to a waterway cleaner than where I fish around Montreal, I harvested a small carp in the 9 lbs range. After keeping it alive in cool water in my keepnet, I bled it out at the end of the day, and remove both fillets from the backbone.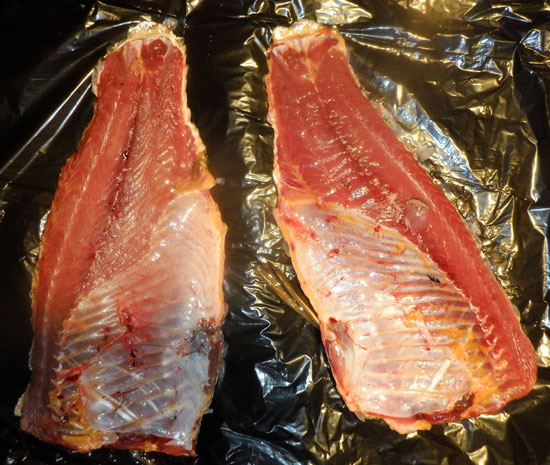 Not too appealing so far, I then proceeded to remove the thick rib bones, after which I separated the fillet vertically along the lateral line. From the I skinned them, followed by trimming the reminder of boneless belly meat from behind the ribs. I then remove thin strips of flesh from around both side of the four sets of remaining y bones, yielding about 1 lb of boneless carp flesh.
After freezing it for a couple weeks, I decided to cook the carp on my outdoor log fire bbq. I thawed out the carp meat, trimmed off some of the remaining darker portions of fishier / unappealing flesh, and tried 2 recipes:
First came the thicker, fattier pieces of carp. Seasoned them in blackened seasoning, and barbecued them over a log fire.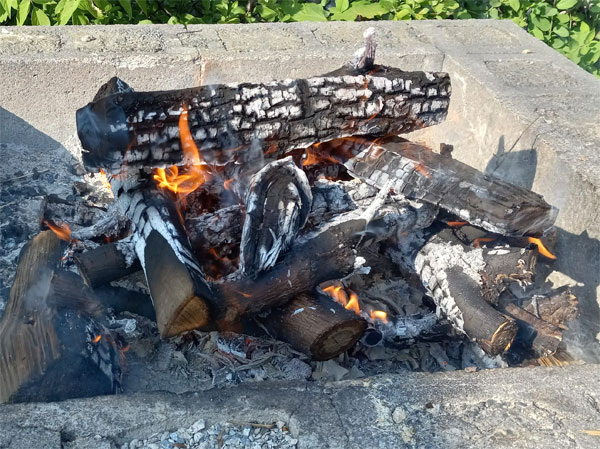 Cooked version wasn't as bad as I thought. The BBQ version with spice ended up similar color to steak, texture slightly softer/fattier. Fish aftertaste still there, but not as bad as I thought, being that I cooked it over log fire, with lot's of blackened spice.
Next came the thinner parts. After dipping them into a beaten egg, I coated them in Italian style seasoned bread crumbs. I then fried them in oil over the fire until golden/brown. Basically an improvised schnitzel style with seasoned bread crumbs. Flesh was similar in color to veal schnitzel, maybe a touch darker. Texture was noticeably less fatty than the bbq version. Taste was also better than bbq version, and agreed upon by my son and his fiancee as well
Overall, both versions were edible, especially if one was really hungry. I may have actually finished a full serving of the fried carp / schnitzel version, but we were having burgers and assorted grilled sausages, which I much prefer, and the carp was just a test / entree.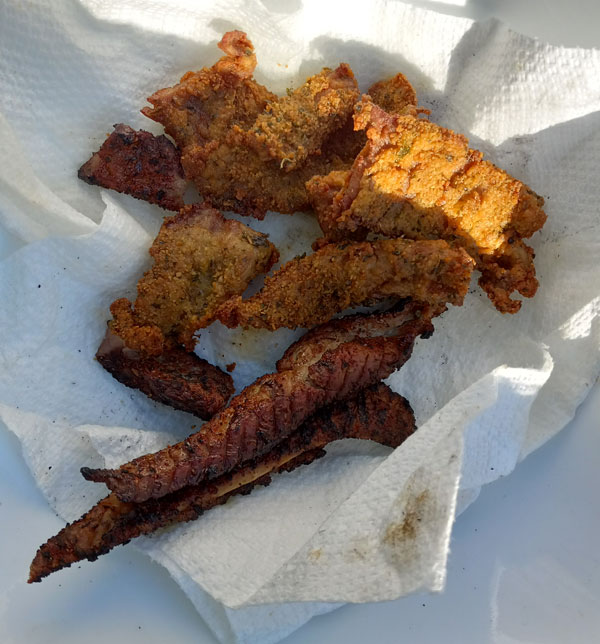 All in all, I'm glad to have finally turned a carp into something palatable. However, not a fish I'd harvest again for myself, simply too much waste, for flesh like likely has more pollutants than I'm used to ingesting from fish I typically harvest.