Another season of slower than usual carp fishing as far as hours spent on the bank in 2023. Didn't do any guiding for carp, and when I did get out to fish for carp, it was mainly short outings of 2-3 hours at a time. Still, I did manage some very nice catches, as well as a significant number of by-catches.
Apr 16 2023:
My first outing of the season, to my usual early season spot right after ice out. Mission was to land at least 1 carp in the frigid water not long after ice out, and to harvest, debone and cook it into something palatable. Mission accomplished, carp fell for one of my Fireball boilies. You can read more by clicking here.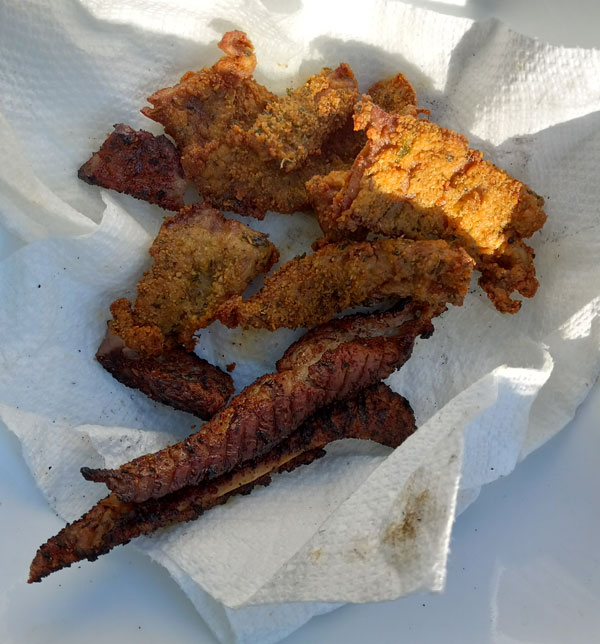 Water remained cold through the first part of May, but i still managed to catch a few more carp, during a couple evening outings a a spot I pre-baited. Best baits were Fireball boilies mixed with range cubes fished on bottom, and Fireball popup boilies.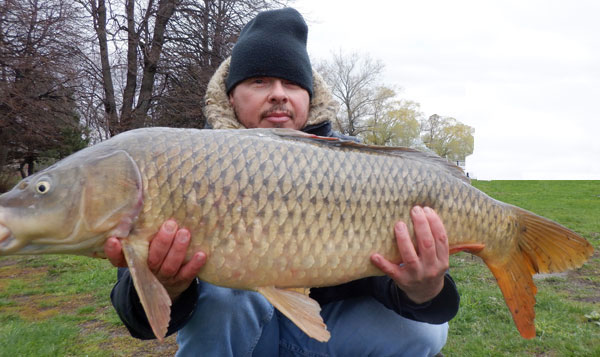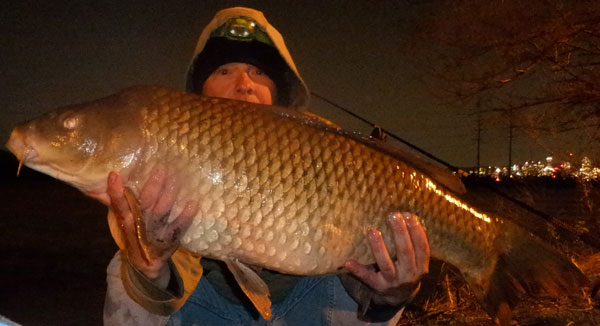 A couple weeks later, with warmer water temperature, I started pre-baiting for carp again. On my first outing, I was surprised by catching my first couple tench during a short outing with my son. The tench seemed to favor my Sweet Dream boilies over any other bait I was fishing with.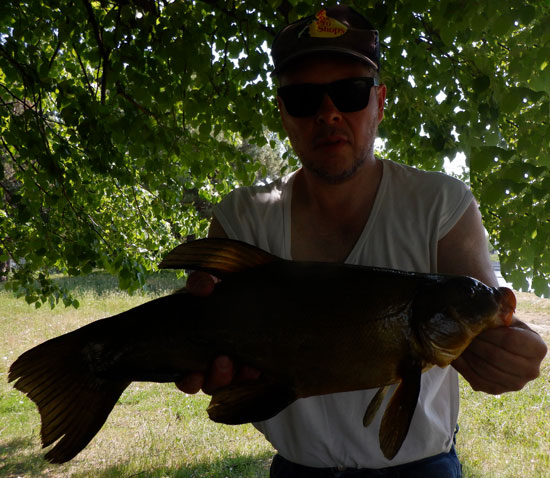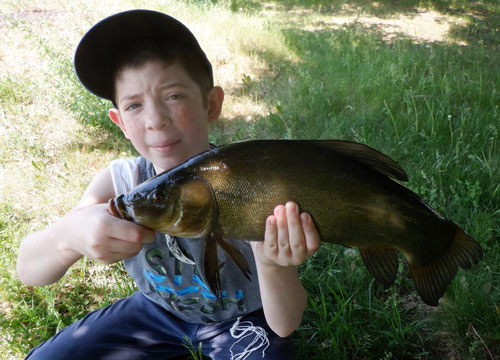 Not much of a fight from tench on rods and reels geared for monster carp, but was nice landing a new species for a change. During the next couple days, we landed a few more carp on Sweet Dream boilies mixed with range cubes, and this nice fatty on the same rig switched up to a Fireball boilie :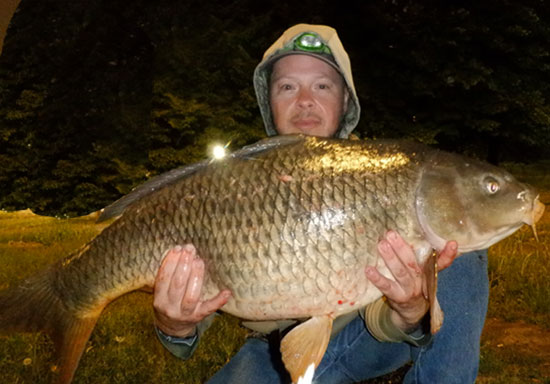 Again, a few more tench were mixed in, seemed like they were getting onto my feed and slowly out competing / pushing out the carp from my fishing spot.
After taking a good 5-6 weeks off of prebaiting due to a few fishing vacations out of town, I started again late in July. Unfortunately, the bait drew in more tench and some channel catfish. At that point, I gave up on that spot for the rest of the season, and determined to focus my time mainly on float tube fishing for bass and pike until the end of summer.
I did get out for one more carp outing in August, back to a spot that doesn't need any prebaiting. Goal for that trip was to put Audrey (my son's girlfriend) onto her first carp. We were successful, and she managed to catch a few carp on a mix of Fireball and Sweet Dream boilies. We even started the day with a double header, first time in a while that that has happened.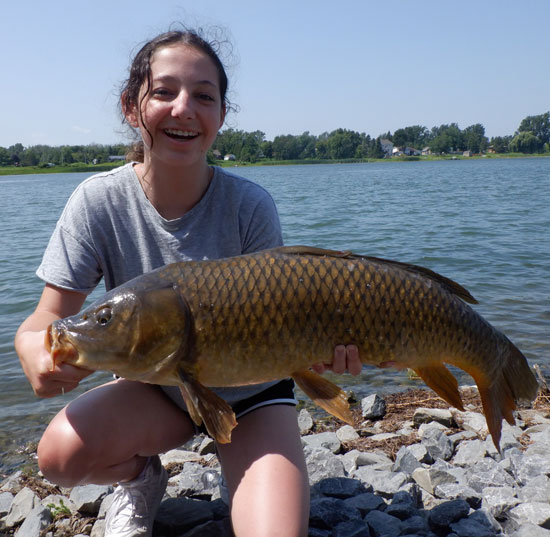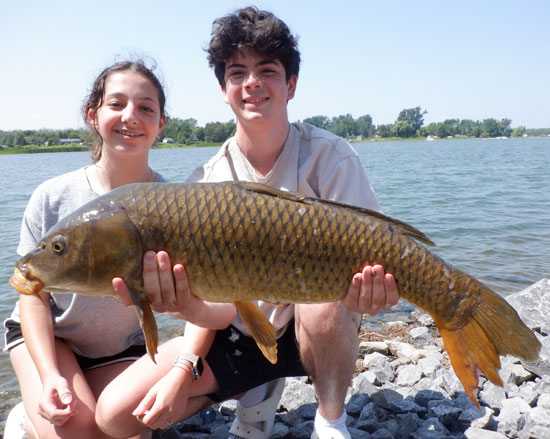 As September rolled in, I was ready to start pre-baiting another spot for carp. Hoping to avoid schools of annoying invasive tench, I focused my efforts far from where I had fished earlier in the season. First, night fishing outing at the spot, I landed a whopping 5 carp as well as a sucker and channel catfish. Bite was nonstop, and I would have stayed for more fish, had I had more time. Carp were hitting a mix of Fireball and Sweet Dream popups boilies pegged with fake corn. This nice trophy sized carp was the biggest of the outing.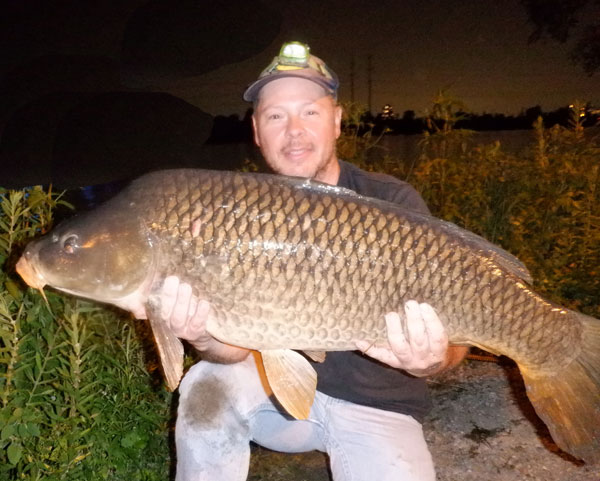 Hoping to replicate the action the following evening, I went back with a friend. Surprisingly, only one channel catfish came to play, no carp at all...
After a 2 week break, I decided to pre-bait another spot where I had some limited success catching carp last fall. Unfortunately, that spot didn't work out either, we ended up getting skunked.
After taking a good 4 weeks off of carping, and very little fishing in general, I started pre-baiting another spot for mid October. First outing resulted in a decent size sized carp, and another one that cut my line in the rocks. A few days later, I returned after some more pre-baiting. Started by rigging my hookbait with double boilies, mixing one Fireball with one Sweet Dream flavor. First fish of the day was an absolute beast of a carp, measuring 40 inches and weighing 36.4 lbs!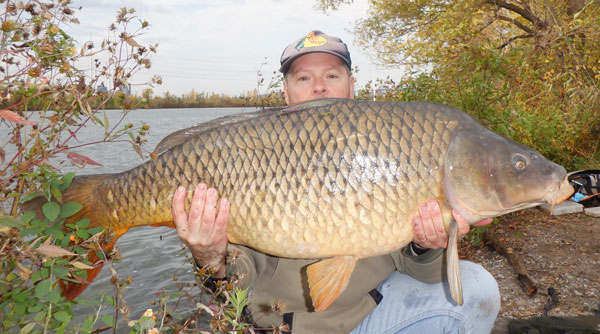 By far, my biggest carp of the season up until that point. I then caught a couple more back to back carp in the mid twenties before I was forced off the water due to high wind bringing in huge beds of floating weeds that kept fouling my presentation.
The following week was very busy for me again, but I made the time to do a bit more pre-baiting at the same spot. I finally fished it a few days later, and the bites were instant. Within 5-7 minutes of my first cast, I landed my fist of the day, nice carp over 25.5 lbs that hit a double popup boilie rig. Fireball and black magic pegged with fake corn.
Less than 10 minutes after casting again, my line went off, and I landed this obese 29 lbs carp.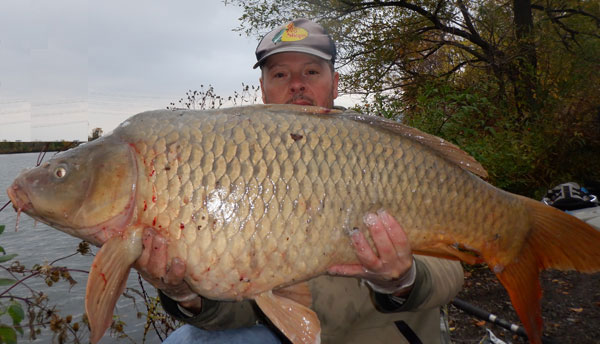 That one fell for a single fireball popup boilie pegged with fake corn. Another 10 minutes later, I got a false run, and then the bite ided down completely, nothing else for two hours. All in all, I fish only 3 times in October, each outing was about 3 hours long. By far the lest amount of time I've spent fishing in October, but those few hours were magical, with all the carp ranging from mid twenties to upper thirties.
I had planned to go out again in November, but that didn't happen. The carp wintering spot I normally fish at before freeze up, will have to wait until next season. Looking forward to hitting first ice as soon as it's safe enough.