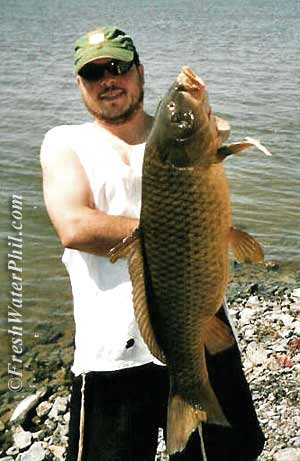 Click here for more carping pics.
Carp are largely ignored by most sport fisherman in Quebec and Ontario, although they are quite sought after in Europe. The St. Lawrence River is a great fishery, where 20LB carp are as common as your average bass or pike. Carp are actually quite easy to hook, and offer a better fight in comparison to most game fish, such as walleye or pike, only to be rivaled by bass (pound for pound). Most sport fisherman don't even bother to catch carp, as they won't take lures and are usually caught still fishing. When the summer heat kicks in, and game fish go deeper, carp fishing is a simple and great alternative to chasing game fish when shore fishing. I only started targeting carp in July 2006, as the pike fishing was slow that day and I kept seeing carps jumping everywhere. I went back the following day, to try carp fishing for the first time, and hooked 10 fish in a few hours. Since that day, I target them whenever I fish waters that have large carp populations.
Techniques: Carp are easily caught still fishing with corn or dough balls. Simply attach a #4 - #2 hook to the end of your line, then attach a sinker about 3 feet above the hook. Thread the hook with whole kernel corn or home made dough balls and cast into water about 10-15 feet deep. Make sure to set the drag loose, as these fish can easily steal your rod, or snap 20-30 LB line that is too tight, by running into rocks (especially when covered with zebra mussels), that are predominant in the St Lawrence river. Many carp fisherman "chum" the water with corn, to attract the bigger carp and crate a "feeding frenzy". Use 20LB+ line and make sure your spool is filled to capacity, as carp can easily run 50-75 yards at a time.
I fish for carp in the world famous Long Sault area or the St Lawrence River whenever I'm targeting them, as it is a bit over 1 hour drive from where I live. It has more carp than almost every other species in the area, many of them are quite large.