After a relatively slow start to the season due to colder than usual April and early May temperature, the carp are finally starting their prespawn feeding. Though I rarely fish on Friday's, I got a half day booking on short notice, again something I rarely do. But there is a first time for everything, got my work out of the way the previous night, and headed out for the morning shift on the water.
I took a father with 2 kids, none of whom had ever caught anything bigger than a 12 inch trout. Figured I'd worry about the learning curve when we got there.
We hit the spot about 9:00 AM. Set up for some more testing using store bought boilies vs. my home made ones. First fish hit within 1/2 hour on the store bought boilie, first time this year that happened. 13 year old Yaacov brough the fish in to shore, just to have it spit the hook a few feet from the net. Not too big of a carp, about 10-12 lbs. Still heartbreaking for a kid to lose the biggest fish he's ever seen on the end of his line. I re-assured him that we'd make up for it.
Next hit came about 1 hour later, this time on my vanilla / hazelnut boilie. His younger brother Shmuly (age 10) was up for this one. He needed a bit of help landing it, as the 17 lbs carp put up a spectacular battle. He was very happy to see it in my landing net, we got some pics with both brothers: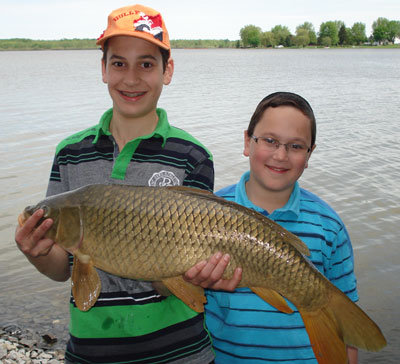 Took another 40 minutes or so, my vanilla hazelnut boilies did the trick again, line started screaming and Yaacov was up for his second shot at redemption. I stood right by him giving constant instructions during the battle, and sure enough, we had a nice 23 lbs carp in the net, his dad held it for the picture: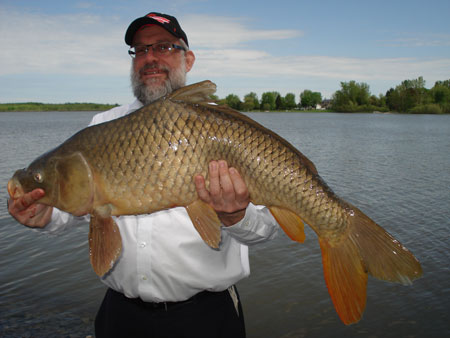 Yaacov had his revenge, about double the size of the one he lost earlier that morning. No more hits in the next hour, and it was already time to leave. I was happy with the quick outing, 3 double digit fish in 4 hours is encouraging as the water temps warm up.
Looks like a panfish / pike outing is next with Victoria day and the kids off school. Hope the warm weather will bring some longnose gar to the surface too, I've been waiting to try my new home made gar lures since last year.