After having a successful catfish outings with the kids on Sunday night, I was itching to go back for more. Being swamped with work for a couple days made it imperative for me to get out as soon as possible. Finally found a couple hours of free time on Wednesday night, headed out to join a friend for some night time channel cat fishing.
Got to my spot just before 8:00 PM. Set up my line with 1/2 of a big shiner minnow. Cast out, cracked open a beer, grabbed a sip and fish on! Didn't even take 3 minutes, and I was fighting a big channel cat in the strong current of the St Lawrence River. The reel that I was trying out was a new "carprunner" reel I picked up online a few weeks ago on super special for $17. I wasn't too thrilled with it the first time I tried it for carp, but one of my customers did land a 10 lb carp on it without any problem. However, carp are fished with loose drag, as opposed to big channel cats in strong current, which require higher drag settings.
The reel could barely handle the big channel cat, making all sorts of funny clicking noises while the gears were slipping, I really though the reel was going to snap or explode into pieces. Luckily, it didn't. I landed my biggest channel cat to date, a nice 16.5 lbs: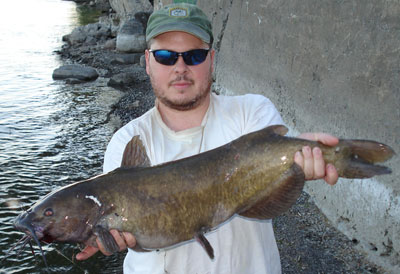 Set up another minnow, cast out an waited. No more hits for over an hour, I decided to bring in my line. Minnow was gone, so I had been fishing a bare hook for a while. Set up another 1/2 minnow, cast out, let some line out and bang, another fish on! Same story with the real, all sort of noises and clicking, I think I was lucky that I was using my 8 foot saltwater Ugly Stick, really has the backbone to fight fish on it's own. Landed the 16 lbs channel cat soon after: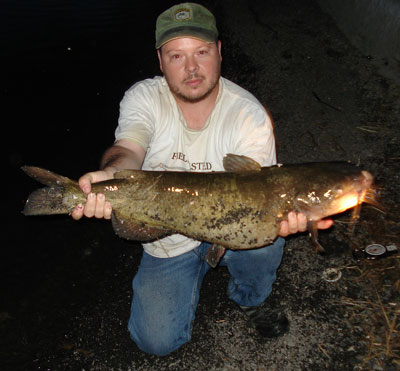 Set up again, no more hits for another hour or so. Minnow was gone again when I reeled in, so it turns out I was fishing a bare hook again. Had to head home after that, but I was quite happy to beat my previous record of 14.5 lbs for a channel cat twice in the same outing.