My friend Tony runs Black Knight Guide service, he invited me out for some mid summer pike fishing. Brought my son Ari along, as he's still in town for another couple weeks.
We met up with Tony around 9:00 AM, started off trolling in 8 to 10 feet of water. Ari and tony tied on Smithwick rogues, I opted for a the Rapala Husky Jerk that Avi found earlier this year, after the excellent success rates I had trolling with it during our pike trip a few weeks ago.
I hooked the first fish of the outing, nothing to big, probably a bit under 3 lbs. Over the next hour or so, we caught another 5 or 6 pike, all in the same size range.
We eventually moved shallower to cast spinnerbaits for pike near weedbeds. Again, we got almost immediate results, hooked up into our first double header of the day within a few minutes.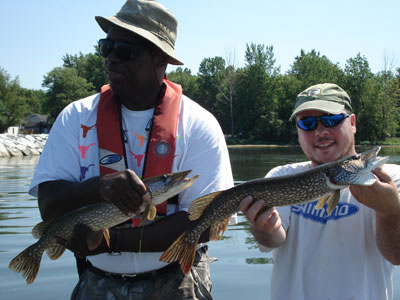 We kept casting, but with the high heat and calm, sunny conditions, I started cooking. Had to jump off the boat to cool off, dont' know how Ari and Tony managed to stay on the boat fully dressed for another hour or so. Eventually, they couldn't take the heat, so we started trolling again to get some of a breeze going on board in order to cool off.
I hooked up to my first smallmouth in a few month, a species that I've completely neglected this season. Feisty small bass, about 2 lbs, lipped it and brought it on board. Just as I was about to unhook it, it gave a violent head shake, I ended up with an ultra sharp Gamakatsu treble hook in my finger, past the barb. Just as quickly, another head shake freed the hook, ripping a nice hole in my finger, and embedding to more hooks in the same finger. Luckily, they weren't as deep, but I was bleeding out all over the place. Ton'y well equipped, I disinfected and patch up the wounds and we continued trolling.
Again I hooked up, this time into a larger fish, first one that pulled drag of my reel. When I finally saw it behind the boat, it was coming in with jaws wide open, as it swallowed my big husky jerk and had it stick in it's gills and jaws.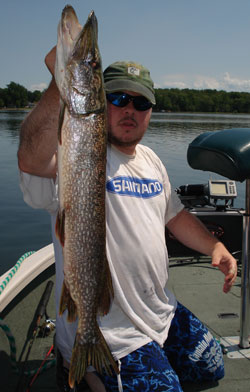 Unfortunately, the fish was bleeding our of it's gills pretty bad, and I had to tear them a bit more to get the ultra sharp treble hook freed, so I kept the fish for a neighbor.
After some more trolling, we switched back to casting another area, after having motored a couple kilometer to cool off nicely. Some more small pike, and we started trolling some shallower water. I tied on a Williams Wabbler (W60 gold / red), and hit another nice pike.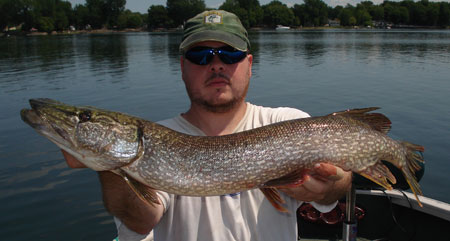 After unsuccessfully casting a frog into weeds, I tied on a white spinnerbait, as our outing was nearing it's early mid afternoon end, as we had to get back early. Sure enough, I got another nice pike on my line, barely hooked, but managed to grab next to the boat just before it spit my hook.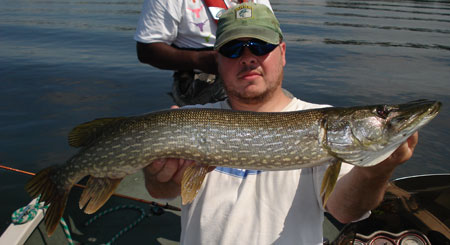 With a couple minutes left, we hit one more spot on the way in to the boat ramp. We each hooked up as the other was bring in a fish, almost a triple header to end our outing.
If you're looking to target pike and catch them in big numbers, I highly recommend Tony as your guide.
He will also put you onto bass, bowfin and sturgeons. Contact Tony by
clicking here.