After doing only two 3 hour outings in the past 5 weeks, I was just waiting for some nice weather to take a day off my busy work schedule to get away from in front of the screen. With 14 degrees, sun and no wind in the forecast, I was ready to head out.
I had one of 2 choices for the venue.
A: Go carp fishing in order to test out a new 12 foot carp rod I just receveived.
b: Go for multi species in various locations.
I decided to choose the second option, mainly beacuse of a tip I received a few days ago from one of my loyal blog readers. "Joe" (not his real name) tipped me off about a waterway in decent driving distance from Montreal that was stocked with speckled trout. Before I continue,
I WILL NOT DIVULGE THE LOCATION FOR OBVIOUS REASONS, SO PLEASE DON'T ASK.
With the temperature falling below freezing overnight, I planned to fish the new waterway first thing in the morning. If I was able to get what I thought was my bag limit (5 trout, open all year in zone 8), I would head to my next spot to chase bass once the day warmed up. Didn't know what to expect, as I don't fish for trout unless I'm ice fishing on stocked lakes. I figured it should be simple enough with worms, took along some small spinners just in case.
Got to the new waterway around 9:00 AM. Set up a 1/2 worm on a small #8 baitholder hook, with a split shot sinker about 5 inches below it, to keep it off any potential snags or debris at the bottom. I stared fishing, nothing doing for the first few minutes. I noticed a few surface splashes about 150 feet away, so I made my way down to casting distance. I caught my first trout on the second cast to that spot. Then another on the next cast. Took less than 1/2 hour to have my bag limit, all nice speckled trout in the 9-12 inch range. Not much of a fight, but great eating.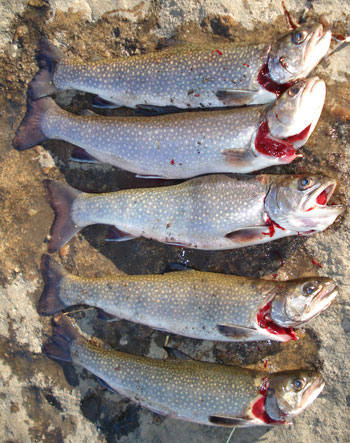 After returning home, I figured out that the limit for the zone is actually 10, as speckled trout are not actually considered trout. Technically (and legally) speaking they are chars. Oh well, live and learn as they say, I'll know better next time.
It was just past 9:30 AM, and my first segment of the day was complete. I happily headed to my next venue, goal was to see if the largemouth bass my kids caught a couple weeks ago were still feeding. Hit my bass spot a bit over an hour later, made my way down power fishing about 500 meters of shore line, alternating between a spinnerbait and square billed crankbaits. With the water still considerable cold, the bass were shut down, no hits during the first hour. After a short break, made my way back up the shoreline, managed a couple small bass on a spinnerbait. Another hour or so later, I reached a nice dropoff, where I managed another couple small bass, again on the spinnerbait. I finally hooked into one that was a bit bigger, probably in the 2 lbs range. The interesting thing about this bass, it was a two tone bass. I've caught bass with some very dark blotches on them before, but not like this one. It's head was completely black, followed by a very pale body and very dark tail. I took a couple snapshots: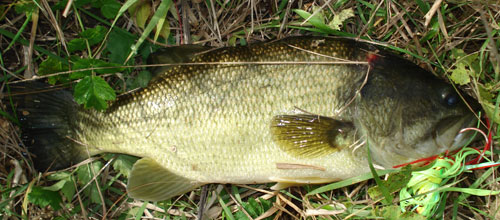 Fishing died down after that. I fished another hour or so, no more bites. Decided to head to my 3rd an final spot on the way back to target pike. Got there around 2:30 PM, fished hard for 1/2 hour, no fish in sight, As I had some worms left, I decided to see what baitfish they were feeding on. Sure enough, I started hooking gobies on every cast. I make it a point not to release any gobies, so I threw them a few feet away from me on shore. Didn't take long for the gulls to start circling, so I fed them the day's catch. The biggest goby was about 5 inches long, and quite thick, far bigger than the norm. The hungry gull had a tough time trying to gulp it down: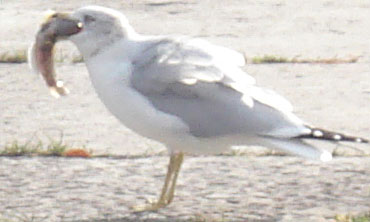 Tried fishing the bottom with a swimbait in gobie color for a bit, still nothing doing, so I called it a day in order to beat the rush hour traffic on the way in.