Now that summer has officially ended, I decided to fish one of my Quebec fall time spots for carp. As the water cools down, more and more carp move into these sort of areas, namely calmer bays out of current with enough depth and oxygen for the carp to school up under ice over the long and cold winter months.
Fishing Quebec for carp in fall at their wintering spots can be tricky at times. Too early, and the fish won't be there in expected numbers, too cold, and they may be shut down for the day. It's really a matter of timing them right in order to get a good bite during cooling water temps.
Another aspect of successful fall time carp fishing in quebec is proper chumming. In contrast to Spring or summer, less is usually better as the water cools down. Though carp typically feed well through most of the fall (September and October), they are significantly less aggressive than spring and summer. Over chumming is a mistake I've seen many carp fishermen do before, and fall time is probably the most often. When a cold water bite is slow, resisting the urge to keep switching baits and feeding an area is crucial to a successful outing.
Headed out for a short 5 hour outing yesterday, plan was to test some different cold water presentations against each other. Was hoping the strong winds and intermittent drizzle would keep other fishermen away, as I don't particularly enjoy the crowded fishing conditions I often get at that spot, and the constant over chumming doesn't help either. Got to my spot shortly after 8:30 AM, place was completely empty just as I hoped for. Set up my first cast with some thawed out frozen corn niblets. Had a false run within less than 10 minutes. As the carp managed to steal the corn off my hair rig, I baited with a larger piece of giant corn. Turned out to be a mistake, the carp weren't interested in the least bit. After a good 45 minutes or so, I switched back to standard corn, adding one piece of Trader Joe's "toasted" corn, chilli/lime flavour. The new set up did the trick, took about 20 minutes or so to land my first carp of the fall, a nice 20 lbs fish: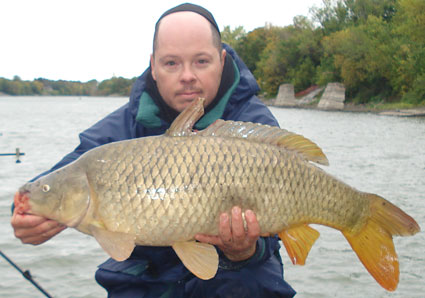 Normally, I'd have gone right back to my set up, but as I was testing different baits, I switched to a home made popup boilie, due to my recent success with them last week. No such luck, nothing hit the boilie line for a good hour. I switched to a cold water formulated boilie made by a friend of mine, his didn't produce any hits for a good hour or so either. Eventually switched back to my original corn set up, but no more takers, ended up leaving around 2:00 PM in order to beat rush hour on the way home.
Didn't notice much carp activity throughout the day at all, maybe 3-4 jumps all day. Will have to wait a good month before hitting that area again, as they a clearly not in the cold water pattern yet. That being said, I have some late summer / early fall transition spots to fish for carp over the next few weeks, hope to have some time to target musky, sturgeon, Largemouth and smallmouth bass as well. Stay tuned...