This fall has been the warmest and driest that I can remember. Late October water temp is still where it normally is in September, hovering around the 60 Fahrenheit mark. Fishing for warm water species like carp has been pretty good, so I figured I'd take one more shot at trying to land some largemouth bass on topwater lures before the season ends.
I have neglected both largemouth and smallmouth bass this season. My last attempt at catching largemouth bass, was back in late June, just after the season opener up North. Luckily, my fishing log has plenty of old entries of where largemouth bass can be found this time of year, and with the water warmer than normal, I chose a day where the outer temp would hit the twenties by noon, making for a nice warm days of calm water and quickly warming shallows.
I got started near mid morning, first spot didn't produce any bass, though I was still wearing a sweater until close to noon. By the time I got to my second fishing spot, the weather had warmed considerably, and water was slightly warmer as well. As I was shore fishing alone, I got started by rigging 2 rods up, one with a Pop R (my go to topwater lure), the other with a spinnerbait. Plan was to work a given area with the topwater, and follow up with the spinnerbait.
Topwater action was good, especially near rocks surrounded by weeds. Over the course of the next few hours, I managed to land 11 of 13 largemouth bass, and 8 bluegill sunfish, mainly on the Pop R. Most of the largemouth bass weren't too big, but I did manage one very nice largemouth bass which weighed in over 4 lbs.
I took a couple selfies with the bass, you'll have to excuse the mediocre photography...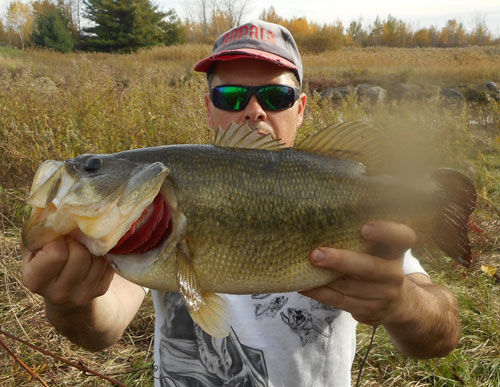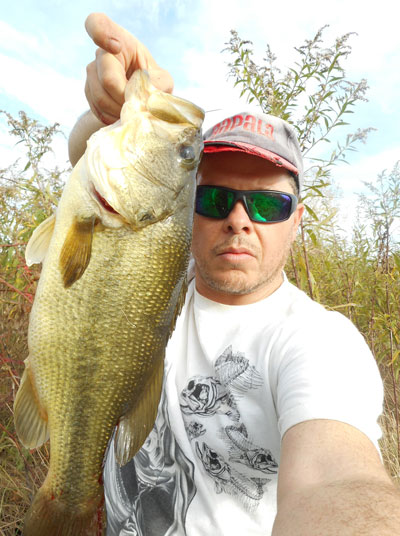 Very nice fight, and a thrill to have landed my biggest largemouth bass of the season on what may likely be my last attempt at topwater largemouth bass fishing this season.